Early one June morning, your editor, Diane LeBlanc, photographer Perry Jackson and I set off for Moncton, NB, where the judging of the contest finalists took place. Professional chefs from the New Brunswick-based Rent-a-Chef had prepared the pies for the judges, who were Arne Fulton of Moncton, Executive Chef at Rent-a-Chef; Ross Mavis, cookbook author and co-owner with his wife Mavis of Inn on the Cove, an intimate country inn and day spa in Saint John; and Marg Routledge, a Fredericton home ecomomist, food consultant, and co-author, with Donna Young, of New Maritime Seasonal Cooking (Firefly Books, 1999).
With everything set up in the community room at Sobeys' Riverview store, these food professionals took their places, cleansed their palates, lifted their forks, and prepared to judge with their eyes and taste buds some of the wonderful pies and jams produced by Atlantic Canadians. It proved to be one of the toughest jobs the judges had ever undertaken.
With names and hometowns of contestants withheld, the judges rated each entry equally on ease of preparation for the average household cook, creativity and comfort value, presentation, and taste.
As spokesman for the trio, Chef Arne said the pies were fun to make and fun to eat.
"They were all very good, and it was difficult to pick a winner."
Difficult or not, the judges agreed on the top three winners in each of the two categories.
Pies and Pastries: first prize went to Carol Yerxa, Harvey, NB, for Cranberry Raisin Pie; Alice Sanderson, River Hebert, NS, came second for her Strawberry-Rhubarb Sour Cream Pie; and Brian Loggie of Miramichi, NB, took third prize with Dorothy's Butterscotch Pie.
Jams and Jellies: First prize went to Marjorie Taylor, Grand Falls-Windsor, NF, for Partridgeberry Jam; Sandra Nowlan of Halifax came second with her Peach and Cherry Marmalade; and Gailene Webb, of Sydney, NS, took third prize with Rhubarb Jam.
After the final scores were tallied, it was Carol Yerxa's Cranberry Raisin Pie that scored highest of all the entries, making it the grand prize winner.
Our congratulations to each of the winners.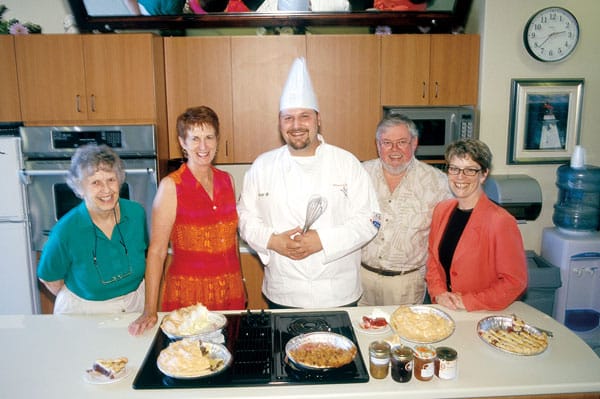 Pie Category
Grand Prize
Carol's Cranberry-Raisin Pie
A Neighbour's Nostalgia Turns Piemaker Into Our Grand Champ
Maybe it was the unselfish goodness of her heart, as well as the great-tasting and eye-appealing pie she created for her neighbours that earned Carol Yerxa, of Harvey, NB, the title of Grand Champion of this year's Comfort Food Recipe Contest.
It all started when her friend, Arlene Moser, expressed a yearning for the cranberry-raisin pie that her mother served every Christmas. Carol had never heard of such a pie, but she secretly started searching for the recipe so she could satisfy Arlene's nostalgic longings.
"Arlene's mother died quite young and the recipe went with her. But Arlene and her husband Gerry are such good people and good friends that I decided to create a recipe of my own. I guess you can call it a Carol original," she says.
The pie has since become a family favourite in the Yerxa home as well.
What Arlene remembered of her mother's Christmas pie may have been Mock Cherry Pie. Generations ago, cranberries and raisins were used to simulate the taste of cherries during the winter months, when the fresh fruit was no longer available, before the freezer became a household appliance.
The cranberries were usually chopped or halved to break down the outer peel and allow the sugar to be absorbed for a sweeter flavour. This step was also recommended by one of our judges for Carol's pie. He said it would prevent having to "chase the fruit around the plate." But I didn't mind the chase. It sort of added to the excitement.
Although Carol uses flour as a thickener, tapioca is often used with acidic fruits such as cranberries and plums. Once the tapioca is stirred into the fruit, it should sit for about 15 minutes to allow the grains to soften and swell.
No matter how it is thickened, this is one beautiful pie. Gorgeous to look at and wonderful to eat.
"It's great served warm, topped with vanilla ice cream," Carol says.
View this recipe in our recipe index.
Second Prize
Strawberry-Rhubarb Sour Cream Pie
Sweet-Tart Combo
The recipe that captured second place in this year's contest exudes both comfort and flavour and is the all-time favourite pie of Alice and Sandy Sanderson of River Hebert, NS.
Just as there isn't a better berry than the strawberry, there probably isn't a better taste combination than strawberries and rhubarb. The sweet strawberry combined with the tart rhubarb has provided comfort to generations of pie lovers. It wasn't long before a dab of sour cream would be added to a piece of warm pie to render the taste treat enjoyed by the Sandersons.
"I've been making Strawberry Rhubarb Sour Cream Pie for at least 25 years, after I got the recipe from a friend whose mother had come from Finland. I think she brought the recipe with her," Alice said.
Although she learned early to make bread and cookies, standing on a chair to mix them under her mother's watchful eye, Alice didn't start making pies until after she was married. Now, whenever there is a community affair in her village, she's the one who's asked to make the pies.
"I make this pie at least once a month during the summer, and when the kids come home they want it. I make it in the winter, too, using frozen strawberries and rhubarb," Alice says.
Nowadays, she replaces the traditional sour cream with yogurt, although sometimes the filling doesn't firm up as well.
(I think draining the yogurt ahead would make for a better consistency. Simply spoon plain yogurt into a sieve lined with a paper coffee filter, place the sieve over a bowl, cover, and refrigerate overnight. ~Marie).
View this recipe in our recipe index.
Third Prize
Dorothy's Butterscotch Pie
Dorothy's Delight
When Brian Loggie of Miramichi, NB, was informed that his entry, Dorothy's Butterscotch Pie, won third place in the pies and pastries category, he expressed one regret: Dorothy was not here to share the honour.
"Dorothy Pell was a dear family friend for many years, as well as a fabulous cook," he said. "She was known for her baking and often made pies for church bake sales.
She passed away in 1998 at the age of 80 years."
But her pie lives on as a family favourite in the Loggie home, where both Brian and his wife Charlotte love to bake.
"This pie is such a big hit with our eight-year-old son, Alex, that he has been known to order it up in lieu of a birthday cake on his special day." While 10-year-old son Mark loves to eat, Alex already shows an interest in food preparation.
Brian thinks it's the final step of caramelizing the second amount of brown sugar that sets this pie apart from other butterscotch pies. "It's an important step and makes all the difference," he says.
View this recipe in our recipe index.
Pastry Please
Since we want you to try these wonderful pies, and in case you don't have a favourite pastry recipe, I'm including here my old reliable Never-Fail Pie Crust from Out of Old Nova Scotia Kitchens. It makes enough pastry for four double-crusted pies and can be wrapped in wax paper or plastic wrap and kept in the refrigerator for up to a week, or longer in the freezer.
View this recipe in our recipe index.
Jam Category
First Prize
Marjorie's 1-2-3 Partridgeberry Jam
A Passion for Partridgeberry
It would have been a disappointment if there had not been at least one entry for partridgeberry jam in this year's recipe contest. Indeed, the one that was entered impressed the judges so much that it took first prize in the jams and jellies category.
Not always easy to find outside of Newfoundland and Labrador, this jam is an all-time favourite in that province, and Marjorie Taylor, of Grand Falls-Windsor, seems to have found an easy way of making it.
"It's as easy as 1-2-3," she says. "Years ago I found it so difficult to make (partridgeberry jam) that I kept trying and testing different methods. Then I started to measure. Now, I go by the 1-2-3 recipe and I really think it's a first-rate jam."
She says she's been making the jam for close to 50 years and is never without a jar in her fridge. "When I see it's getting low, I go down to the freezer, take out a bag of frozen partridgeberries and make another batch," she says, adding that it isn't just to spread on toast. "It can be used in so many different ways. It is excellent as a pie filling, as a dessert with fresh cream, or as a flavourful accent to a turkey or chicken dinner. I use it instead of cranberry sauce. It's so good," she says.
View this recipe in our recipe index.
Second Prize
Peach and Cherry Marmalade
Marvellous Marmalade
Sandra Nowlan, Halifax, NS, likes adding her own twist to tried and true recipes. For her entry in the jams and jellies category, she added crushed pineapple to an old standard, Heavenly Jam. It's a nice addition. Nice enough to earn her the second place prize.
"I developed this recipe, which combines the sweetness of juicy ripe peaches and pineapple with the tang of citrus and the colour of maraschino cherries," she says. "Originally, I made it with slivered citrus peel, but that was time-consuming to prepare, so now I just use the grated rind. The flavour is just as good but the texture is a bit different."
For those who prefer the texture of citrus rind in their marmalade, she gave us the original variation.
"Replace the grated rinds with the following: remove the peel from an orange and lemon in quarters. Carefully shave off most of the white layer. Cut the peel in thin strips and simmer, covered, in a small saucepan with one-half cup (125 mL) water and a pinch of baking soda for 20 minutes. Add chopped orange and lemon sections and cook, covered, 10 minutes longer. Add to crushed peaches and proceed as described."
Sandra, who loves to cook and experiment, has other variations to the recipe, such as replacing one cup of the peaches with peeled and chopped fresh apricots, for a more tangy marmalade, or adding 2 tablespoons (30 mL) chopped candied ginger along with the cherries.
No matter which variation she uses, Sandra always stores her jam in the fridge or freezer. It preserves the flavour and colour, she says.
View this recipe in our recipe index.
Third Prize
Rhubarb Jam
A Family Favourite
Gailene Webb, of Sydney, NS, has special feelings for her mother's rhubarb jam. And so had our judges-they awarded it third prize in the jams and jellies category.
"This recipe was passed down from my mom who shared it with other farm wives in the 1950s and '60s," she says. "It was a requested item for care packages by my sons going to university and also when they served in Bosnia and Somalia."
Gailene was surprised to learn that the recipe predates her mother's time. My own grandmother was making this jam in the 1930s and possibly earlier. As far back as I can remember, it was my favourite. (But, I remind you, I had nothing to do with the judging.)
"As the first fruit of the season, we all looked forward to it as a real treat," Gailene says. "It was always nice when we came home from school and had it on fresh homemade bread."
Although her mother used the 14-ounce (398 mL) can of crushed pineapple, Gailene has dumped in a 19-ounce (540 mL) can.
"You just have to cook it a little longer. It's a very forgiving recipe, and can even be doubled," she says.
View this recipe in our recipe index.