The man from Toronto was only a boy of 14 when he entered the hospitality industry as a dishwasher in a busy family restaurant, but a year later he was a line cook and hooked on the business of feeding the masses. "It was always exciting, with everyone yelling at each other, so ballistic and volatile," says Robert Vinton, chef and owner of The Bistro in New Glasgow, NS. "It's a tough business but I loved it, and by age 15 I knew cooking had to be my career."
Now, at age 39, he's as happy as a clam in the popular little restaurant that seats 38. His story is familiar. A love of food, a desire to cook and driven to succeed, Robert went the route from fast food and roadhouse restaurants to high-end dining rooms, travelling across Canada to expand his experience and find his niche.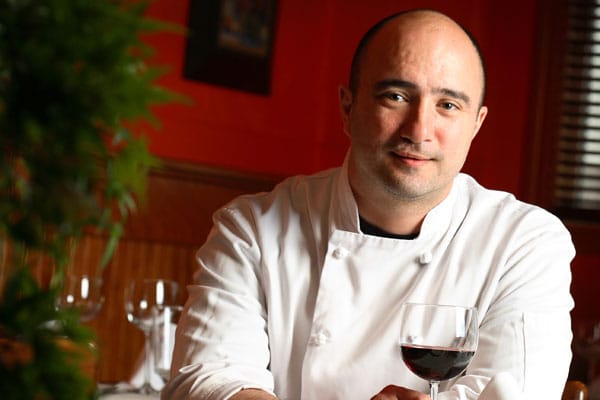 After three years of learning the basic skills of sauces, butchery and desserts at the four-star Delta Rocky Crest Resort in MacTier, Ont, Robert went to Victoria, BC, where he was offered a sous chef position at Swan's Suite Hotel. Within six months, he took over the chef's position. "It was hard work, on the job six or seven days a week, from 5.30 a.m. to 10 or 11 at night."
Within a year, the 21-year-old was burnt out. Taking time to heal and regroup, he accepted jobs as line cook and sous chef while getting his chef's papers and Red Seal Certificate. Then, in Calgary, Robert found a renewed vigour that led to his establishing the first authentic "cowboy cuisine" menu at Bottlescrew Bill's Old English Pub and Buzzards Restaurant and Bar, featuring barbecued sirloin tip with homemade baked beans and slaw, molasses-basted pork ribs and strawberry shortcake, all prepared in a wagon train. He also organized the now-renowned Testicle Festival, featuring, of course, bull testicles, known as prairie oysters.
Busy but not fulfilled, he returned to the fine dining scene with stints at some of Calgary's finest restaurants. In fact it was in Calgary 10 years ago that Robert met Heather Poulin. Something clicked, and they've been together ever since, partners in life and in business.
Originally from Thunder Bay, Ont, Heather has family roots in Scotch Settlement, NB. "We came east for her grandmother's 90th birthday and family reunion, fell in love with the Maritimes, and decided on the flight home that we should move east to realize our dreams," says Robert.
Three weeks later, in summer 2001, the couple were in Halifax. They had no jobs, nowhere to live. Just determination and ambition. Within a week they had found an apartment, Robert was working at da Maurizio and Heather was at The Garden Grill (now Il Mercato), in Bedford.
Although the young couple were happy enough in their new life, it wasn't what the culinary gods had in mind for them. A tiny newspaper ad caught Robert's eye. Somewhere in "North-Central Nova Scotia" a fine-dining restaurant was in need of a chef. Wheels turned, both Robert and Heather were hired, and The Bistro opened in May 2002.
Within four years they bought the restaurant. Having worked in some great restaurants where he says he could never afford to eat, Robert now makes good food accessible to everyone. "The lamb, Happy in life, business and in their adopted hometown, Robert and Heather give back to the community that supports them. For the third year, they are hosting a fundraiser for the Highland Community Residential Services, a not-for-profit organization assisting people who are mentally challenged. In the past two years approximately $20,000 has been raised, as people devour Robert's canapés and sip on martinis. Not bad for a shy man who shuns the limelight, and whose partner dubs him a "blue collar chef." I, for one, like that shade of blue.
Recipes featured in this article