In the world of barbecuing, where flame-grilled meat and cold beer rule, there has traditionally been little room for fragile and tender vegetables.
It's time to retire that prejudice. I was steadfastly against grilling vegetables—until I tried grilled balsamic asparagus.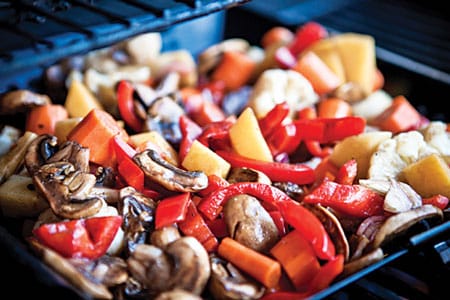 This mouthwatering experience prompted me to try grilling vegetables myself. I tried everything from okra to sugar snap peas. I even tried hearts of romaine lettuce, grilled and topped with smoky bacon, roasted garlic Caesar dressing and shaved parmesan cheese.
Most vegetables do well on the grill, but some really stand out—eggplant, mushrooms, asparagus, corn, peppers and onions, for example.
Grilling times vary, but vegetables are more delicate than meats and can burn easily, so keep a close eye on them.
Great veggie grilling tips
Peppers: Slice lengthwise into quarters; remove seeds. Brush lightly with oil and grill 2-3 minutes per side.
Mushrooms: Remove dirt by brushing with a dry cloth. Brush with oil; grill 4-8 minutes, turning regularly.
Tomatoes: Halve lengthwise. Brush with olive oil and grill, cut side down, 2-3 minutes.
Corn on the cob: Pull back but don't remove husks; remove silk. Soak in cold water for half an hour. Dry and brush with butter, then fold husks back over corn. Grill 5-7 minutes. Turn frequently.
Eggplant: Cut into disks, about ½ inch (1.2 cm) thick. Soak 30 minutes in cold water. Pat dry, brush with oil and grill 2-3 minutes.

Asparagus: Break off tough ends of stalks. Soak for 30-60 minutes. Dry and brush with olive oil. Grill over medium heat, turning often, until tips brown.