Maurice Thiebaut began his culinary career in France at age 13, and has logged a few years since then— although he won't say just how many! He has served as executive chef of the renowned Keltic Lodge, in Cape Breton, and as general manager of Digby Pines, in Digby, NS, and has competed in culinary competitions all over the world.
So, when Maurice Thiebaut tells me he has the best knife sharpener available, it carries some weight.
Maurice is almost evangelical about the Ultimate Knife Sharpener, which has been designed to perform a double function: sharpening (which makes new bevels along the cutting edge) and honing (which creates a new edge).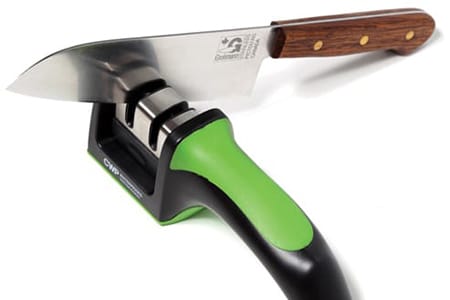 It is equipped with a tungsten carbide head that's ideal for sharpening most household knives. This head can be replaced with a diamond head (included) that works best to sharpen ceramic or very high-quality knives. There is also a ceramic honing edge that can be used with any type of knife between sharpening applications.
Both the tungsten carbide and diamond sharpening heads are designed to keep the blade at a precise angle; no special skill is required. The soft rubber handle provides comfort and safety for both left- and right-handed users. A non-slip base provides a steady platform when sharpening.
Buy the Ultimate Knife Sharpener at the Annapolis Royal Farmers' and Traders' Market throughout the summer; or call or e-mail to order (902) 245-6912 or This email address is being protected from spambots. You need JavaScript enabled to view it.). $29.99 plus tax and postage.