Yearning for a simple, traditional Christmas? Find comfort in Victorian-era fare.
The culture of Atlantic Canada is steeped in tradition. Our ancestors struggled relentlessly to carve out their place on this beautiful land, working hard to build better lives for themselves, their families, friends and communities.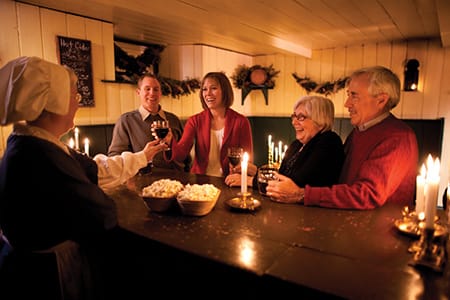 Some of us have happily managed to preserve a thread of the fabric that reminds us who we are—and to see the beauty of life in its simplest forms. Kings Landing Historical Settlement, just outside Fredericton, has preserved an entire community, where visitors can see how life was lived in the central St. John River Valley throughout the 19th century—from the time of the arrival of the Loyalists, refugees from the American Revolution, to the influx of thousands of Scottish, Irish and English settlers.
Christmas was, of course, an important source of many of the traditions we hold dear today, and visitors to Kings Landing throughout the months of November and December can experience these traditions at an authentic 19th century Christmas dinner at the village's King's Head Inn.
Everything from the music to the decorations-—the entire ambiance— is true to 1855. Dinner guests are greeted by Christmas music as they arrive; they may choose to sit for a few moments by a roaring fire in the pub. The candlelight dinner—you can choose between roast turkey, prime rib with Yorkshire pudding or, my recommendation, roast goose—is served by hosts in period dress, in a room decorated with evergreen boughs and garlands of popcorn and cranberries.
For those who can't be there in person, the King's Head Inn has graciously shared three favourite traditional holiday recipes from The Kings Head Inn Taste of History.
Recipes featured in this article
Do you have a recipe to recommend to Alain, or is there a food topic you'd like to see covered in Saltscapes? Send an e-mail to This email address is being protected from spambots. You need JavaScript enabled to view it..