Your freezer is your friend when it comes to entertaining on short notice.
The holiday season is a traditional time to visit with family, friends and long-lost acquaintances—that's one of the things many of us love about this time of year. But it's also the time of year when folks tend to show up with very little notice, and although we might not have it any other way, it's good to know we have enough food on hand to keep our visitors happily sated.
This is where your freezer—and your cheese drawer—can make a difference. Your freezer may already be stocked with cookies and other Christmas treats, and you might even have a casserole or two in there, but what if your company arrives mid afternoon or evening?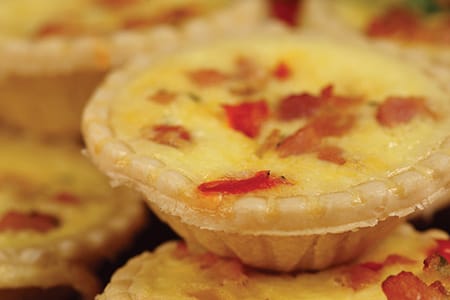 Savoury hors d'oeuvres, or light bites, that can be prepared, frozen, then popped in the oven when you need them, are the answer. They can be as simple or as complicated as you want them to be, and they can be a welcome change from the overload of traditional holiday sweets.
The simplest hors d'oeuvres rely on pre-made tart shells and puff pastry. The tart shells are ideal for mini quiches, and the puff pastry can be used to make everything from spanakopita to salmon popovers. A sprinkling of old cheddar or pungent parmesan can add an extra bit of oomph to these snacks.
Another great tip is to keep sliced herbed panini bread in the freezer; it can be thawed quickly and used to create a variety of appetizers. I like to make mini pizzas using, for example, fig spread and prosciutto, pesto and grilled chicken (from the freezer, if I have it), balsamic reduction and flank steak (again, I try to keep some steak precooked and frozen)—all using ingredients that might not be what you'd have on your typical Friday night pizza. I also like to use different cheeses like goat cheese, asiago and pecorino.
To keep things fresh, you can top any mini pizza with arugula just after it comes out of the oven—if you have some fresh on hand.
The key is to build up your freezer supply gradually so you're not adding stress during the holidays. In the weeks leading up to Christmas, if you happen to be having spaghetti and meatballs, make some extra meatballs and freeze them to make sweet and sour meatball hors d'oeuvres later. If you're making lasagna, prepare a little extra meat sauce; freeze it and thaw it with a bit of your frozen pizza dough to make mini calzones when company comes. The same goes for salmon: prepare a few extra fillets and make some mini salmon cakes, then freeze them.
A little more time on a November weekend will pay off when the doorbell rings unexpectedly over the holidays.
Recipes featured in this article: