The foods we eat reveal a lot about who we are and where we live, and often point to our connections with other people—from past and present, at home and afar.
This was brought home to me recently while I was having dinner with friends. We had been invited for a traditional German dinner, and when the plates arrived, I was much surprised. There, beside my roast beef, was a white fluffy ball that looked and tasted just like the poutine râpée (an Acadian potato dumpling) my grandmother used to make.
It turns out that Acadian poutine râpée is a descendant of the German kartoffelknödel. Potato dumplings are a favourite throughout Germany. In the north they are called kartoffelklöße, and in the south, kartoffelknödel. Kartoffel means potato and both kloß and knödel mean dumpling.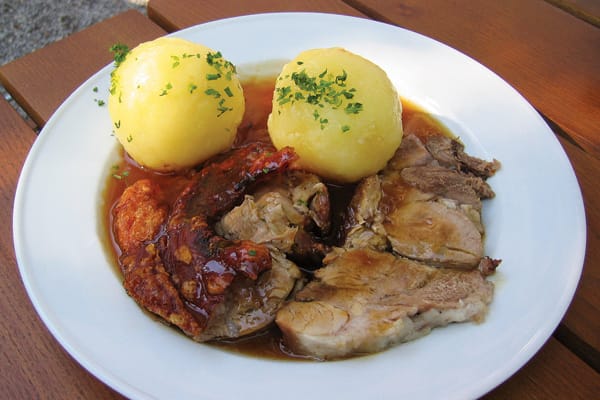 The main ingredients and method of cooking poutine râpée and kartoffelknödel are nearly identical. A mixture of raw grated potatoes and cooked 
mashed potatoes is formed into balls which are then boiled. Poutine râpée has bits of salt pork tucked into the centre and is eaten as a meal with a little salt and pepper, or some sugar. Kartoffelknödel occasionally have a crouton or bacon bits in the centre, but typically have no filling and are eaten as part of a roast dinner.
Though poutine râpée is known throughout Acadia, it is most popular within a 25-mile radius of Moncton. In the late 1700s, immigrants of German descent from Pennsylvania settled in Moncton, and historians believe that it was these settlers who introduced the potato dumpling to the Acadians.
Relatives of the potato dumpling show up at many other tables in central and northern Europe. In the Czech Republic, where they are almost a staple, bramborove knedliky are made from mashed potato, flour and egg. In Sweden, pite palt are made from raw grated potato and barley flour, and filled with fried bacon, onion and allspice. To eat them, you lop off the top and add some butter and lingonberry jam.
The national dish of Lithuania is a potato dumpling, and is served with a sour cream and bacon sauce. The shape of the dumplings (zeppelin-like) gives them the name, cepelinai, which is Lithuanian for "zeppelins."
The English of course, have left many culinary offspring in Atlantic Canada. One of these is Newfoundland's figgy duff, a steamed pudding whose main ingredients include breadcrumbs or flour, raisins, molasses, and spices. (In Newfoundland, "figgy" refers to raisins, and "duff" means pudding.) It's often eaten with a molasses sauce after a Jiggs' dinner.
A similar boiled pudding using flour and raisins also appears in Acadian cuisine. The Acadians have several names for it: poutine en sac (pudding in a bag), poutine aux raisins (raisin pudding), and poutine de Grand'mère, to name three, and serve it with a brown sugar sauce or molasses.
Figgy duff is the humble descendant of the traditional—and much showier— English Christmas pudding.
There are many variations of course, but Christmas pudding typically contains much more dried fruit, as well as candied peel, eggs, alcohol, and sometimes nuts and flour. Served with brandy sauce and flambéed, "Christmas pud" makes a grand entrance during the holiday season. Though its origins go back to the 15th century, this pudding is still enjoyed in regions with former ties to the UK.
If our regional food has been influenced by other nations, we, in turn, have left our mark on the cuisines of others. This is perhaps no more evident than in the case of salt cod.
For centuries, fishermen from Europe, and later, North America, sailed to the Grand Banks of Newfoundland. When their ships were full of salt cod, a highly valuable commodity, they sailed on to trading ports or returned home. For this reason, you can find some version of salt cod fish cakes on almost every continent.
In Portugal, where salt cod is considered the national food, there are reportedly hundreds of recipes. One of these is for pastéis de bacalhau, an appetizer version of salt cod fish cakes that can be found on many restaurant menus in Portugal. The seasonings vary, but the main ingredients are always potato, salt cod (like our own fish cakes) and parsley.
Similar salt cod fish balls and fritters, with minor variations, show up in Spain, Italy and Brazil. In Jamaica, salt fish fritters are spiced up with a little curry powder and use flour in place of mashed potatoes.
And, if you should find yourself in Macau, China, with a hankering for some salt cod cakes, you could order ma gai yao cao and be pleasantly reminded of home. Served as appetizers, these almond-shaped salt cod balls are made with the same mixture of salt cod and mashed potatoes as our downhome fish cakes.
Halfway around the world, or in your neighbour's kitchen, you never know where one of Atlantic Canada's culinary cousins might show up. One thing's for sure though…
It'll be right some good.