Marie Nightingale, our intrepid founding food editor, looks back on the highlights—and lowlights—of her tenure as head chef and bottle washer
.
Can it really be 10 years? So many memories of foods tested, re-tested, styled, photographed and published. One early photo shoot lasted for 10 hours on a hot summer day when the temperature registered more than 30°C. Even the fresh strawberry pie was sweating. And there was no curl left in my hair.
Soon the letters started coming from far and wide. Comfort food was still in style.
There was the Montreal reader who offered a prize to the guest who could identify the mystery ingredient in the Baked Beans Cake (see page 52). The prize—a bubble-blowing kit—went to the person who suggested something in "the beans and lentils" category. That was just the beginning of the talk around town about that cake.
Almost as much attention had earlier been give to Grizzlenuckles (Mar/Apr 2003)—those tasty, easy-to-make squares with only four ingredients. An Australian reader made them for a funeral reception and had several calls asking for the recipe.
That's the way I like it. Find something unique and delicious, and get people talking. And writing.
A letter from a subscriber in Warren, Maine, credited Ginger Garlic Broth (Jan/Feb 2002) with having cured her husband of a cough he'd had for almost a month. "All medicine should work that well and taste that good," she wrote. A reader in Penticton, BC, wrote to thank us for the Potato Candy recipe (May/June 2005). She had enjoyed what she called Potato Fudge while growing up in Yarmouth, NS, but didn't have a recipe for it.
Then there was the family that made it through a complete chocolate menu (Jan/Feb 2003). "It was thoroughly enjoyable," wrote Brenda Burgess, also of Yarmouth. "The kids particularly liked the Chocolate Soup and Triple Chocolate Biscuits, while the adults preferred the Chocotinis and Chicken Mole."
It was almost as much fun as Braised Turkey with Popcorn Stuffing (Sept/Oct 2006). Before you ask, the popcorn is already popped.
You loved Hoffle Poffle (Mar/Apr 2003), the Big-Batch Freezer Meatballs (Nov/Dec 2005), Rhubarb Brown Betty (Mar/Apr 2006), German Apple Cake (Sept/Oct 2007), Lemon Blueberry Bread (Sept/Oct 2004), Broccoli-Carrot Slaw (Sept/Oct 2005), Baked Ham Slice with Cherry Sauce (Mar/Apr 2001).
Then there was the time that Lisa Gautreau made me blush. Formerly from Moncton, Lisa was working in Chicago with chef Art Smith, contributing food editor for Oprah's O At Home magazine. In 2005 Lisa wrote to Saltscapes and said, "He gets me to bring him your magazine every time I go back to the Maritimes because he loves Marie Nightingale's food column." (I should've had my people call his people—that would've put the curl back in my hair.)
But I digress. On the following pages are 10 favourite recipes from a decade of dining, selected by Saltscpapers. Good food, after all, is meant to be shared.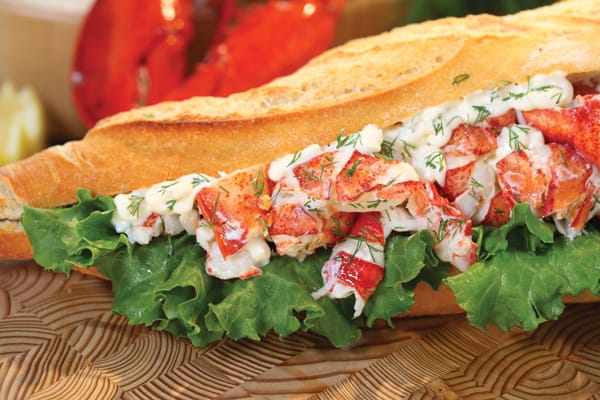 Recipes featured in this article: