Chanterelle Country Inn, Cape Breton
Bryan Picard is the executive chef at Chanterelle Country Inn, located in the North River Valley on Cape Breton's Cabot Trail. Like many chefs, Bryan's days are consumed with kitchen work, foraging for fresh ingredients, coming up with new recipes and greeting the inn's many guests. If all that wasn't enough, Bryan writes one of the Maritimes' most successful food blogs, The Bite House (thebitehouse.com.) If you've ever wanted to peek into a chef's kitchen at home, you'll enjoy this site.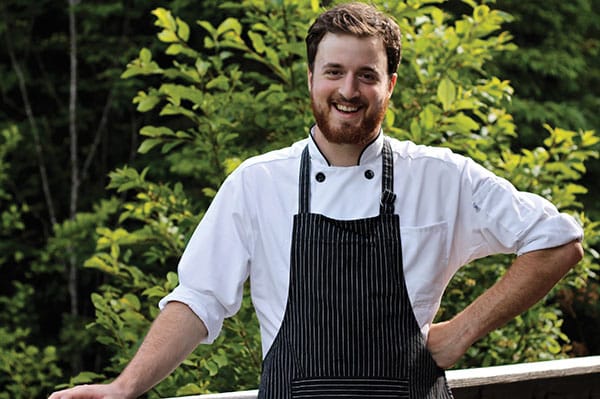 When not working, Bryan enjoys reading, gardening, golfing, listening to music and enjoying NS wine or home-brewed beer; in fact, Bryan may have found a new passion. "Making your own beer is actually quite easy if you can follow a recipe," he says.
We're not sure where he'll find the time but when talking to Bryan you get the impression that once he sets his mind to something, great things happen.
Brian was the winner of Taste of Nova Scotia's Cutting Edge culinary competition at Saltscapes Expo 2012.
Q Where are you from?
A I'm from the rural French-speaking village of Saint-Hilaire, which is 10 minutes by car from Edmundston, NB. We always had a huge garden in the backyard, which meant fresh veggies in summer and fall, and a store of potatoes and onions for winter. There were fields to roam, forests to explore, and lots of family and friends around.
Q What inspired you to become a chef?
A I always did well in school but realized soon after starting a degree at university that I wanted a career that was hands on. I applied to cooking school (Institut de tourism et d'hôtellerie du Québec) in Montreal, having always loved to cook, and I'm glad I followed my instincts. The best thing about being a chef is that there's always something new to learn. Around the world, people use so many different techniques and combinations of ingredients.
Q Who do you look up to?
A Hugh Fearnley-Whittingstall for his views on food and for his simple, seasonal style of cooking. He's the chef behind River Cottage, both the televised series and the cookbooks. I would say he inspired me to move back to the country, start a garden, and become more aware of the challenges of serving honest food.
Q What accomplishment are you most proud of?
A This past winter I had the opportunity to work in Copenhagen at the Michelin-star restaurant Kadeau. While there, I learned a lot about Nordic cuisine and felt very much a part of their team. They use a lot of techniques like pickling, drying, fermenting, smoking and curing, all of which I'm now studying more carefully. Meeting like-minded chefs has been a great way to share ideas and to start collaborating. A few examples of chefs from Nova Scotia would be Andrew Aitken and Sarah Griebel from Wild Caraway and Mark Gray from Brooklyn Warehouse.
Q What is your favourite ingredient to work with?
A Mushrooms. We do a lot of foraging at the inn and are very lucky to have them growing on the property. Species vary each year, but we always have chanterelles and boletus, among some of the best. They don't need much preparation to be delicious. I often simply sauté them in butter with garlic.
Q What kitchen tools can you not live without?
A I've started playing more with dehydrators. They are fairly easy to use and a great method of preserving fruits, vegetables, mushrooms and flowers. You can make all kinds of chips and powders. A recent favourite of mine has been the beet chip.
Q Do you have any cooking tips to share?
A Always taste and season, not just with salt, but with vinegars for acidity and with maple syrup or honey for sweetness. For a spicy edge you can experiment with spices and peppers. I'm a fan of hot smoked paprika, but it's all about balancing flavours. Let's say something's too sweet, you can add something sour to balance that out, and vice-versa.
Q If you could cook for any three people who would they be and why?
A Neil Young, Levon Helm and Roy Orbison. They are a few of my favourite musicians, and I think we'd all have a great time. I'd probably have a barbecue and corn boil, nothing fancy. That'd be cool!