A U-pick with a sense of humour
Driving any farther into the Dempsey Corner Orchards and Farm Market parking lot, outside Aylesford, NS, is impossible—scampering ducklings and chicks block the way. A pair of young goats nose the car. Over by the old farmhouse, chickens and a rooster scratch about the yard; piglets and a heifer hang out behind a fence. I abandon the car and make my way—taking great care where I step—to a regal old barn, its 150-year-old lines still plumb and true, in search of Allison Maher, the ebullient matron of this mayhem.
Inside, Allison runs what she refers to as her "charm-your-pants-off Tea Room," a bakery and a retail shop where she says she does her piece for peace. It's stocked with handmade gifts like sweaters from Nepal, baskets from Ghana and as Allison puts it, "Anything I find that might help someone somewhere." And it's this generosity of spirit, this open-hearted welcome of everyone and everything to the bounty that is Dempsey Corner Orchards that defines this generations-old small farm in David Bowlby's family since 1853. Well, that and his wife's quirky sense of humour. Turns out, the rooster in the petting zoo roaming the yard is named Russell Crowe, the two piglets Oinkphelia and Hamlet.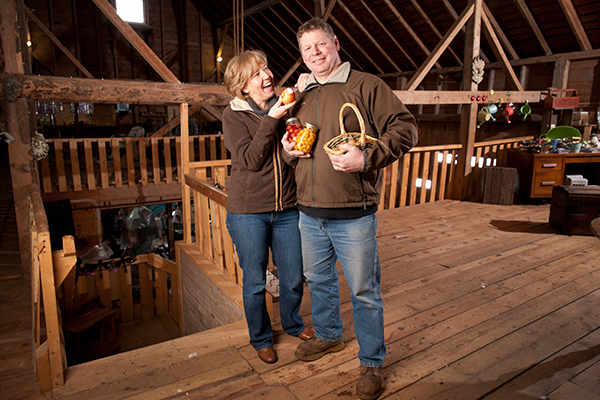 Good old-fashioned work ethic helps too—both Allison's and David's. Tons of Allison's own preserves line the shelves, imaginative recipes like Fire Engine Jelly and, what's this? Hot Toddy Mix in an old time medicine bottle. "It was the original cure all, fix all," explains Allison. "I read it in a Newfoundland novel about fishermen. They packed the men in as tightly as they packed the fish. If the men came down with something, the captain would order this hot toddy mix. In the book it says to fill the cauldron with rum, add cloves, cinnamon and nutmeg, whole oranges or cranberries and fresh rum at the end."
Aside from the cauldron, Allison has reproduced the recipe so it's both delicious and loaded with health benefits. "Cloves are a natural antiseptic, honey a natural antibiotic, oranges and cranberries are loaded in vitamin C. It's lovely. Even better if you have a cold. I've heard it described as apple pie in a glass," says Allison.
There's a bottle of The Perfect Pear. "I'll have to call it jam, but it goes great on toast or a pork chop." Pink Lemonade Jelly awaits the sweetest of sweet tooths, and Allison says, "I like the Pumpkin Pickles and turnip pickles with horse radish." One of her most intriguing preserves is Lebanese Pickles. "They're way too easy to make. And they're beautiful. You use turnip and a couple slices of beets to turn them a fantastic pink."
They are getting into the winery business too and will be selling the first batch of cherry wine this summer. Grape wines will follow in the coming years.
It's a walk up the slope of North Mountain and into the old orchards to the real attraction at Dempsey Corner. Out past the Apple Golf Range, where laughing guests whack apples into chunks for the heifer and goats, beyond Firestone Henge—a ring of tires half buried in sand for the kids—and past the vegetable U-dig, are the orchards. Up here, you can sense the generations of farm hands that worked these gnarled trees. "I'm walking around with the past every day," says Allison. "The Victorian home in the front yard is a perpetual reminder. I can't leave the house and not be surrounded by six generations of Bowlbys. We still have the courting carriage that David's grandfather used when he picked up his grandmother for their very first date at a church social."
Allison does the row call for their U-pick, including 57 varieties of apples, many of them heritage like the russet, shipped from this farm in barrels to England during the war. She says British visitors get misty eyed about them. "We have 12 varieties of cherries, 15 of plums, five kinds of blueberries, four of raspberries. What we say is sampling isn't stealing. It's being an informed consumer. That's the fun part."
If I had to choose just one fruit from this orchard, I'd go for the peaches. The ripe ones are soft to the touch and fall into my hand. I sniff… inhale… and bite. The juice squirts out. Allison differentiates with prejudice between her peaches and those in a grocery store. "When you bite a peach, it's not supposed to crunch. If you pick a peach in Georgia, they are fantastically sweet—as long as you eat them in Georgia."
I pick a bulging bagful, thank and pay Allison as much for the experience as for the fruit and preserves, then wade through the barnyard animals back to the car. On the drive home, the scent of peaches fuels my appetite until I just have to pull over and retrieve one from the trunk. Biting into it, I remember Allison's words, "It's okay. The juice is supposed to run down your chin."
Recipe