Our Kilted Chef, Alain Bossé, serves up a new cookbook
My son, Iain, was about six years old the first time he ate steamed mussels at a restaurant. His dad and I hesitated when he said what he wanted to order, both assuming our picky eater would never manage to eat an entire dish of mussels by himself. He pleaded. We relented. His plate arrived, piled high. After we gave him a quick primer on how to eat them, he was off—and was finished in less than five minutes.
A man sitting alone at a nearby table, began to laugh. "I just got in from working out West," he said. "Watching that young fella scoff those down lets me know I'm back home."
Iain has probably eaten his weight in mussels since that day but I have to admit, although it's always a small cause for celebration when steamed mussels are spotted on a restaurant menu when we eat out, I've never, ever cooked them at home. It never even occurred to me.
Reading Alain Bossé's cookbook Mussels: Preparing, Cooking and Enjoying a Sensational Seafood, therefore, was something of a revelation. Who knew there were so many ways to serve this lovely blue-shelled bivalve?
Having carried out an informal, unscientific survey, I suspect there are a few like me. And it would seem Bossé and his co-author, Linda Duncan, know that, too.
"This book is for those who are passionate about mussels and looking for new ways to cook and eat them, and for people who love mussels but only eat them in restaurants because they are not sure how to store and cook them at home," they write in the introduction.
With his trademark kilt and knee socks, and a kitchen full of culinary credentials, Bossé is well known to Atlantic Canadian cooks and beyond—as an ambassador for the region's food. In this, his first cookbook, he's teamed up with Duncan, also known as "Mussel Mama" (don't we all need one of those?) for her work with the Mussel Industry Council in PEI. In this 196-page book, which includes an alphabetical recipe index, the "humble mussel" is fittingly promoted to centre stage, served in everything from pastas, soups and salads, to cocktails, pickles, pizza and even strudel. (Who knew, indeed?)
The book opens with a foreword by chef Michael Smith, followed by a highly readable introduction to mussels, written by Bossé and Duncan, with information on how mussels grow, where and how they are grown, along with background on the sustainable farming industry that produces them. For mussel novices—me, for example—there are tips for choosing, buying, storing them, as well as, of course, cooking them.
In the next six beautifully laid out chapters, Bossé and Duncan—along with a few guest chefs, peppering recipes along the way—introduce readers to fresh, creative items such as Mussel Bruschetta, Summer Fig and Mussel Salad, and Tacos with Tequila-Flavoured Mussels and Black Bean Salsa.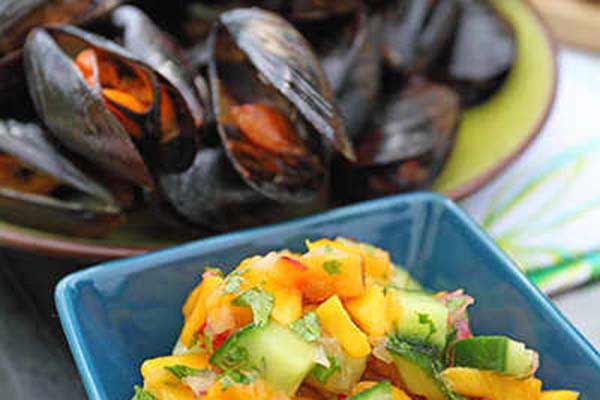 Almost all 77 recipes in the book get full-page treatment, along with a full-colour photo on the facing page, which is good because let's face it, we want to see what food looks like (and it looks like real food). Photography was happily undertaken by Perry Jackson, who, the authors note in their acknowledgements at the back of the book, also proved himself a worthy recipe tester.
While many of the recipes are created with contemporary tastes in mind (such as the recipe for Coconut and Panko Mussels) the authors have included the classics, as well, such as Simple Steamed Mussels and a variation on Moules Marinières,"the grandmother of all mussel dishes," Bossé writes.
Offering a few personal glimpses—in the introduction to Cottage-Style Grilled Mussels, Bossé's inspiration comes from his Boy Scout days, where he says he first learned to cook—the focus stays squarely on the main attraction, the mussels. Those who already confidently cook with them will have new recipes to be inspired by, and those who only think of mussels as an item to be found on a menu outside the home will be encouraged to give them a try. Iain, now 11, is hoping Root Beer Mussels will be our first home cooked mussel adventure. Who knew!
Mussels: Preparing, Cooking and Enjoying a Sensational Seafood, by Alain Bossé and Linda Duncan; Whitecap Books; $29.95
As readers may recognize, the Kilted Chef is Saltscapes' food editor.
Recipe: