New Brunswick's wine industry is ready for take-off
"You can ride this one," says David Craw, pointing to an older model ATV in his shed. "It has no brakes, but don't worry. You'll be able to stop." With zero experience on ATVs, I need a quick lesson on the throttle and gears before I hesitantly climb aboard and click her into gear. Following David out of his yard, we cross the road down into his seven-acre vineyard, spread before us on a gentle slope here in Cambridge-Narrows, NB.
David and his wife, Sonia Carpenter, started Motts Landing Vineyard and Winery as a retirement project, planting their first grapes back in 2001 and 2002, but already they're leaders in the making of quality grape wines—and one of the reasons the New Brunswick wine industry is poised to take off. "We'll be a force to be reckoned with," says David, president of the New Brunswick Grape Growers Association (NBGGA) and a former commercial airline pilot. Fourteen wineries appear on "The New Brunswick Winery Route" map, just released by NB Liquor, most of them along the warm waters of the southern and eastern coastlines, and up the lower St. John River valley. David says Motts Landing is one of four grape growing wineries in the province, a number that will soon expand to seven. "We have the best growing conditions in New Brunswick," he says.
Other New Brunswick growers claim excellent conditions for hardy viniculture as well. Richibucto River Wine Estate, an hour north of Moncton, produces wines entirely from 20 varieties of their own French and Minnesota hardy hybrid grapes that ripen in the short growing season. Winegarden Estates Winery and Distillery in Baie Verte, a kilometre from the Nova Scotia border, claims pioneer status. They made the first Cuvée from 100 per cent New Brunswick grapes in 2001. Here since 1983, and focusing on fruit wines, grape wines and spirits, the Rosswog family preserves a 150-year-old family tradition from Germany's Black Forest region on their farm. Today, they produce several varieties of grape wine.
Back at his vineyard, David drives down along a bumpy grass lane next to his ripening crop; I'm taking up the rear. We skirt a live trap for the raccoons that gorge on the maturing fruit. David pulls his ATV up short. Following at a safe distance, I gear down and coast to a stop beside him. He's willing to invest a small fortune in time, energy and money because he believes in the future of the industry in this province and particularly in this area.
"We sometimes see fog in the distance creeping up the river from the Bay of Fundy, but we almost never get it," he says, stooping to cradle a bunch of royal blue Sabrevois grapes in his fingers—so round and taut, they look ready to burst.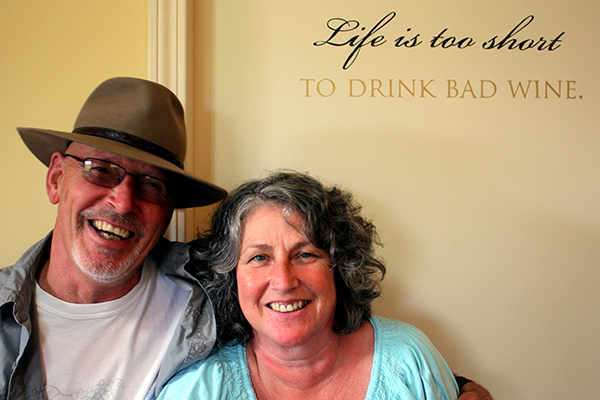 The Sabrevois—a good blending grape because it lowers acidity naturally—is just one of 36 varieties David has trialled in his vineyard, though he makes wine with just eight, like Prairie Star developed at the University of Minnesota. "The grapes we grow are bulletproof," says David, referring to those varieties that produce well in spite of the cold New Brunswick winters.
The NBGGA just landed funding for a grape variety trial in four locations with four new white varieties that show great potential for unique New Brunswick wines. The association's vice president, Tony Rickett of Dunhams Run Estate Winery on the Kingston Peninsula, downriver from Motts Landing, is involved in the trial. He grows 11 acres of grapes. "We're not on the wine map in Canada yet, but we are getting there," he says of New Brunswick's position as a grape wine producer.
On our way back up the slope on our ATVs, David and I bump along the stony trail between a row of L'Acadie Blanc and another of Muscat. The ride is bumpy because David has added dozens of truckloads of stones to the soil, because they hold the heat. With the hill on my side, I have no worries about stopping at the top. We park the ATVs and make our way to the small store on the side of the barn. Inside, David's wife joins us to taste the wines.
Sonia has deep family roots in this area and its agricultural history. A retired environmental technologist who specialized in small fruit, she grew up on her family's farm, just 10 kilometres from here—she and her three siblings being the sixth generation to do so. Her mother, a retired chef, still lives on the property. "This always was an agricultural area," Sonia says. "When I was a kid, we had 70 acres of strawberries and the earliest peas." Though not a sommelier, Sonia has a highly developed palate, thanks to her heritage and her former line of work. She knows her wine. But their success as a small winery doesn't mean they want to become a global player. "We never want to get any larger," says Sonia, as I taste last year's Muscat, a peachy semi-sweet tempered by cold-climate acidity. She adds, "We just want to be the best."
Motts Landing is indeed small. David and Sonia rely on one part-time staff person and a lot of volunteer pickers. The family helps out on the bottling line. Sonia's mother, now in her 80s, runs the crusher. "She's like a little kid. She gets mad if she gets left out." Sonia's daughter sells their wines at local markets.
"We don't want to be open all year," Sonia adds. They finish up their business around Christmas each year and head off to wineries in other parts of the world—usually New Zealand—to help out. They return inspired and armed with knowledge they can put to work at home. "Our summer clothes go right into our suitcase," says Sonia. While they want to maintain the small scale of their own winery, David and Sonia are keen to grow New Brunswick's wine industry to compete with the likes of Nova Scotia, a province with a 20-year head start. That's why the NBGGA hired Martha Reynolds with a $50,000 federal marketing grant. Her company helped the Nova Scotia Wineries Association put it where it is today.
Motts Landing may not be leading the New Brunswick wine industry downhill without brakes, but it's certainly giving it the throttle.