Savoury or sweet, this Polish dish is a classic
Only a handful of dishes can be found in almost every culture and cuisine. Perogies, Poland's national dish, are one of those. Though they come in different shapes and are known by different names—dumplings in Japan, won tons in China, tortellini in Italy and samosas in India, for example—perogy-type dishes are all made of unleavened dough stuffed with either a sweet or savoury filling.
Michelle Ciach grew up in Toronto and moved to Halifax, NS eight years ago. Her grandparents emigrated from Poland so perogies were a big part of family celebrations when she was young. Her grandmother made them with beef, mushrooms and onions, but kept her recipe a closely guarded secret.
After her grandmother passed away, Michelle worked hard to recreate the dish in honour of her. Now Michelle's version of her family's classic perogy recipe is so popular that she and a group of friends get together for one day every November to make batches of them.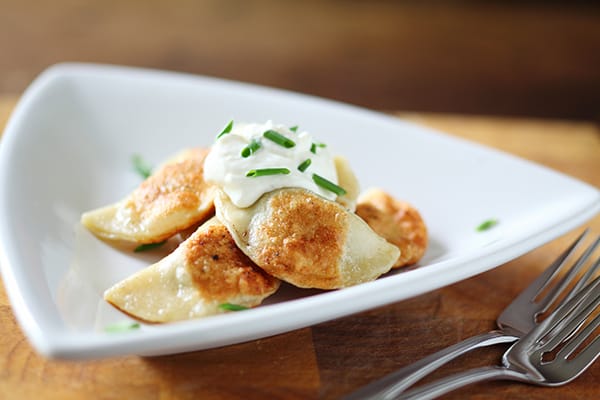 The most popular perogies in Canada are the ones filled with cheese, mashed potato and onion (referred to as Ruskie perogies in Poland). But perogies can be sweet too. The dough for both is basically the same, made of flour, eggs, milk and oil. Some people add sour cream to the mix for extra flavour, while others add potato.
Preparing perogies is a two-step process: first you add the perogies to boiling water and leave them until they float to the top. Next, remove the perogies and coat them in butter before freezing or frying.
Savoury perogies are usually fried in bacon fat or butter and served with bacon pieces or sour cream. The sweet ones are fried in butter and then served with either sour cream or apple sauce.
As for the filling, traditional savoury perogies are filled with potato, ground meat, cheese and sauerkraut; the sweet ones often have jam, curd or berries hiding inside.
Recipes