Impress guests this Christmas with Louisbourg Seafoods' award-winning snow crab
If you're looking for something elegant to serve your guests this holiday season, consider the snow crab. And if you're looking to serve some of the best snow crab in Atlantic Canada, consider getting it from Louisbourg Seafoods.
Fished out of cold Atlantic water's off the coast of Cape Breton, Louisbourg Seafoods' snow crab is some of the best tasting shellfish you can find. In 2012, the Nova Scotia company even won an award from the International Taste and Quality Institute, an organization dedicated to testing and promoting superior food and drink.
Founded by Jim and Lori Kennedy in 1984, Louisbourg Seafoods fishes and processes not just snow crab, but sea cucumber, sea urchin, redfish, northern shrimp and lobster. Since opening 30 years ago, the company's grown to include four processing plants and a fleet of fishing vessels. The Kennedys also employ 500 people, and have even launched their own Mira Bay brand of seafood.
Sometimes referred to as queen crab, snow crab is exceptionally sweet and tender. And according to Derrick Kennedy, Louisbourg's plant manager (and Jim's brother), it's a perfect Christmas seafood choice. "Snow crab would be an alternative to say lobster because the meat yield is higher," says Derrick. "It's easier to get out of the shell and, dollar for dollar, it's a better bargain."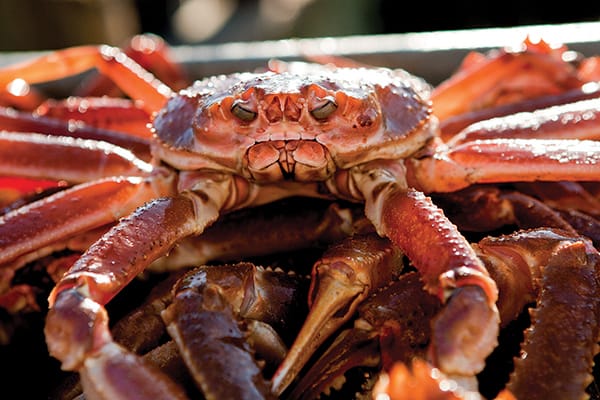 The annual snow-crab harvest in Atlantic Canada each year totals a staggering 22 million pounds, five million pounds of which Louisbourg processes. Once the crab's been harvested, Louisbourg starts processing immediately. First, workers remove the body, leaving two sections known as clusters—the legs, claw and a shoulder—which are washed, sized and packed into pans in 30-pound allotments.
The meat is cooked for 12 minutes in fresh water, then put into cold water to stop the cooking process. After cooling, the crab is put in a brine freezer, a tank of salt water, constantly kept in motion at -20°C so the water doesn't freeze. After being in the brine freezer for about half an hour, the frozen crab is removed and dipped in clean fresh water to both wash off the excess salt and create a glaze—a thin layer of ice that protects the meat from freezer burn.
I ask Derrick how snow crab is best enjoyed. His answer is simple: "Any way you like."
Recipe