The cult of local food is spurring an organ-meat comeback
He wasn't trying to fool anyone, but when chef Jesse Vergen put "Coeur de Boeuf" on the menu at his Saint John Ale House, he was trying to up the cachet of a little-respected cut of meat. In fact, he tells the story of a group of women who came in for a business lunch the day before our meeting; each ordered the dish, served bistro-style with a glistening clump of arugula and hand-cut fries.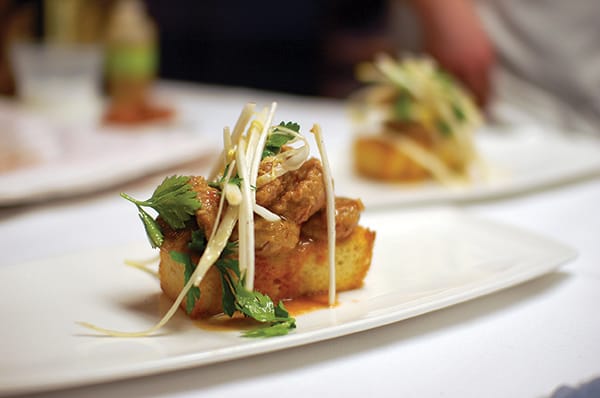 "If I put 'beef heart with french fries' on the menu it wouldn't be as sexy," says Vergen. "If you can bridge that gap between somebody having something they're comfortable with, and something that they're not necessarily comfortable with, that's when it's a success with offal."
Offal, a catchall term for organ meats like kidneys, liver, heart and tongue, as well as less-used offcuts like heads, trotters and ears, is the gory vanguard of homespun food culture. As demand for local meat from ethically raised animals increases, using the whole animal—nose to tail—is the natural next step for thrifty and enterprising home cooks and chefs.
With the wider appeal of his offal dishes, Vergen, who runs his own small farm, is upending stereotypes of who eats offal, and in what form. When we sat down for an interview, beef heart, which also made an appearance in a tartare, wasn't the only organ on Vergen's menu. There was a porchetta di testa, a savoury, herbaceous cured meat made from a rolled pig's head, alongside striated deep-red and pure-white cured hog snout, and pork skin bruschetta with briny capers and black olives.
Charlottetown's Terre Rouge Bistro, opened by Dave Mottershall and John Pritchard in October 2012, was only in business a few months before it started serving daring dishes featuring offal. "When we first opened we had a shaved beef tongue sandwich on the menu," says Mottershall, who is now cooking in Toronto. "Some people were kind of taken aback by that, but we earned their trust."
He laughingly recounts the time their meat delivery guy showed up with hours-fresh pigs blood, which meant they had to immediately jump into action to make blood sausage, or boudin noir, before it spoiled. "It's not like making salami. It's blood and it's just everywhere. We made it at the end of dinner service, and were there until one, two in the morning."
He says they were always asking farmers for pigs heads, chicken feet and other kind of weird ingredients, most of which sold well. At one point they featured crispy pig head, or pork torchon, a dining room favourite, and the blood sausage sold better than they ever could have imagined. "We only made eight portions," says Mottershall. "At the end of the night I couldn't believe we had only one left."
It's important to remember, according to both chefs, to use strong balancing flavours when preparing offal, which moderate and offset the musky taste commonly associated with the cuts. A good example is kidneys, which Mottershall uses in his patés and terrines, and which are complemented by strong seasonings and lots of salt.
As restaurants increasingly use more of these so-called "lesser cuts," so are home cooks. In fact, at Highland Drive Storehouse in Halifax, professional butcher Bryton Bordage says he gets orders from customers for beef tongue, liver, pig trotters and lamb sweetbreads.
When the shop first opened, demand for sweetbreads, thymus glands extracted from the neck of an animal, was particularly high. "That's something that's harder to obtain because there's only a small amount in each animal, either lamb or veal," says Bordage. "I had a few people who came in and were begging for them, so we did go out of our way to get it."
While it's usually older people looking for offal, he says he's learned not to prejudge the strange things some customers will ask for. Usually demand for a certain cut will spike, says Bordage, when a celebrity chef promotes a recipe, or the local newspaper features an otherwise-unknown piece of animal.
"That's a lot of the reason why we're here," he says. "To get people into doing other things, or buying a cut that you need to put a little more time and effort into but the reward of that is much, much greater."
Todd Perrin is chef and co-owner at Mallard Cottage in Quidi Vidi village, just east of St. John's. He says their team tries to butcher whole animals as often as possible, which means offal naturally makes it on to the menu periodically.
"If I get a whole pig, I have to use it all," says Perrin. Plus, he says the farmer he buys his lamb from has a backlog of liver, kidney and brains, which means he can get it for a better price and experiment with ways to make it more delicious. When customers hear about the cuts, their first reaction is to "screw up their face," says Perrin.
"People just don't see it as being potentially as good as a steak, but if liver is done properly and cooked properly, it can be as good as, and sometimes better than, a steak. Try it and see," he says with a chuckle.
Part of getting more people to eat offal, says Perrin, is education and familiarization. "Personally, I love offal," says Perrin. "But it's relatively new here on the East Coast. There aren't a lot of restaurants who are doing much with offal, but the food culture has grown exponentially." He says diners are more adventurous than ever, and willing to put themselves into the hands of a chef they can trust. "You could never open this restaurant here in this town even 10 years ago. We were confident that the timing was right." Back at the Saint John Ale House, Vergen says the kitchen put out more than 30 orders of grilled beef heart in one day of lunch service. In fact, sales and reviews were so good they might one day, he muses, put it on the permanent menu.
Recipe