Our readers serve up a simply scrumptious selection of recipes
IT'S ALWAYS ONE of my favourite times of the year when I get to inform seven participants from our annual recipe contest that they are the winners. This year did not disappoint. With maple syrup and cranberries as our two feature categories, we had lots and lots of entries from one end of Atlantic Canada to the other, and some from regions across Canada and the US, as expats wanted to be part of the fun as well. It was a challenge to whittle the list down to a "top 10" for our judges. There were lots of great recipes to make and wonderful flavours to taste, but we were dedicated to the task and a decision was finally made.
The judging this year took place in New Brunswick; we convened in Fredericton, the beautiful capital city, at the Crowne Plaza Lord Beaverbrook Hotel. Manager Walther Lauffer and his team helped us get all the recipes ready for the judges. All four of our celebrity judges: Yvon Poitras of the NB Maple Federation, Cathy Madott, a well-respected home cook, Karen Pinchin, a local food writer, instructor and chef, and chef Scott Albert from 540 Kitchen, did an amazing job of sampling and scoring. It was a difficult job but by the end of the day they chose a grand prize winner, before determining the top three in each category
It's always a lot of fun to get on the road with the ladies from Saltscapes magazine. Each year we visit a different part of Atlantic Canada; it's exciting to explore new places and always special to revisit others.
This year I joined Linda Gourlay, Jodi DeLong and Sylvia Ernst mid-way through their trip, meeting up with them in Moncton for an evening of laughter and great food, and a special sort of magnetism that only Moncton can provide. (That is a bit of an inside joke. You know what they say… what happens in Moncton stays in Moncton.)
The next morning I headed to Fredericton to work with the kitchen team at the Crowne Plaza to assist in getting the dishes ready for the next morning's judging. That evening, I met up with some old friends for a great dinner at 540 Kitchen, especially their amazing gnocchi. The Saltscapes ladies played a few games of crib in the ongoing tournament that starts the first day of the trip and ends the last day with the crowning of a champion—always fun and colourful to watch. I can't wait until next year. Congratulations to our winners!
A final note: all the winners should be proud as very few points separated the grand prize winner from the others. I hope you will enjoy the recipes as much as we did.
All Maple Recipes
Grand Prize: Maple Pistachio Crusted Salmon
Marcia Hatfield-Nason, Hubbards, NS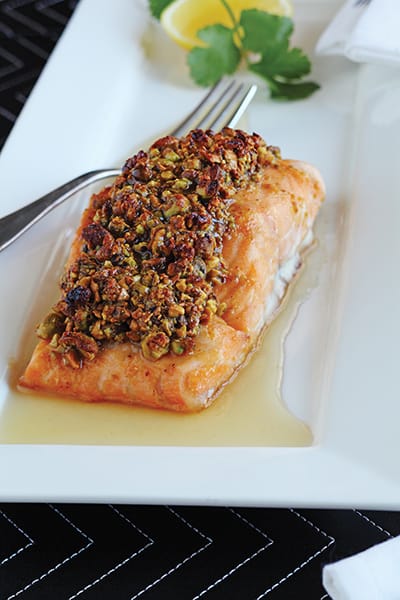 MARCIA IS A cook after my own heart; she doesn't follow recipes, preferring to experiment with a pinch of this and a dash of that. Her grand prize-winning salmon is the result of such experimentation. Eating at various restaurants, she noticed that salmon was often paired with walnuts and pecans, but not being a huge fan of those particular nuts she decided to try pistachios—her husband's favourite—and a winning dish was born.
While Marcia doesn't claim to be an avid cook—saying she cooks in fits and starts depending on her mood—her husband thinks she is talented, noting he can look in the fridge and see nothing, yet Marcia is always able to put a delicious meal on the table.
Growing up, Marcia's mom owned The Sea Winds restaurant on Cape Sable Island and later went on to work for another restaurateur in Pubnico, where she learned Acadian cooking. Marcia, however, never had the urge to follow in her mother's footsteps.
These days Marcia, a mother to three grown children, has parleyed what she calls her ability as a jack of all trades and master of none—along with her love of antiques and collectables - into a burgeoning business that involves helping people looking to downsize or relocate "lighten their load" by holding onsite estate sales.
Marcia was thrilled to win the grand prize: a Bosch 500 Series dishwasher, valued at $1,549.
4 6 oz (175 g) wild salmon steaks or fillets
1 lemon, juiced
1 cup (250 mL) shelled pistachios, coarsely chopped
2 tbsp (30 mL) brown sugar
2 tbsp (30 mL) olive oil
Salt and freshly ground black pepper, to taste
1/4 cup (50 mL) maple syrup
Arrange salmon on baking sheet.
In a bowl, mix lemon juice, pistachios, brown sugar, olive oil, salt and pepper. Press mixture firmly on salmon steaks or fillets. Drizzle with maple syrup and bake at 375°F (190°C) for approximately 15-20 minutes. (Check for "doneness," keeping in mind salmon will continue to cook slightly when removed from oven). Makes 4 servings.
First Prize: Morning Cereal Bars
Debbie Godfrey, Charlottetown, PEI
A SUMMER resident of PEI, Debbie Godfrey loves to cook healthy food. When that food tastes good as well, she's doubly happy. Her Morning Cereal Bars fit the bill. Debbie loves that the cereals in this recipe are interchangeable so you can use whatever you have on hand. Added bonus? The end result is a surprise every time. The recipe originally came to Debbie through her co-worker Gwen, and as a peanut butter fan she immediately fell in love. When she took a bar home to her husband and he was just as enthusiastic, she knew she had to get the recipe.
A small animal vet, Debbie and her husband reside in Ontario in the winter months but travel to the Island at least five times a year as they have a cottage rental business in Stanhope (with the lovely names of Island Dream Beach and Island Solitude Beach). Debbie likes to welcome guests with a basket of home-baked treats, often including these cereal bars.
When asked about her love of cooking, Debbie said her mom was, and still is, a fabulous cook. She recalls coming home from school to the smell of homemade bread and sweets. Debbie also remembers her mom entering her baking in to the local exhibition, and winning prizes for her efforts. Of course, when Debbie heard she was a winner in our contest, her mom was the first person she called. Debbie wins a $120 Sobeys gift card.
1 cup (250 mL) Raisin Bran cereal
1 cup (250 mL) Special K cereal
1 cup (250 mL) natural peanut butter
1/3 cup (75 mL) tahini
1 cup (250 mL) maple syrup
1 cup (250 mL) oatmeal
1/2 tsp (2 mL) vanilla
2 cups (500 mL) muesli
1/2 cup (125 mL) ground flax meal
1/2 cup (125 mL) dried cranberries
Crush Raisin Bran and Special K cereal into small pieces; set aside. In a pot set on low heat, mix peanut butter, tahini and maple syrup together for 4 minutes. Remove from heat and mix in all other ingredients, including crushed cereal.
Press mixture into greased 8x13-inch pan and refrigerate for at least 45 minutes before cutting into bars. Makes 12 bars.
Second Prize: Eastern Sausage Maple Gravy
Kimm Moore, Fredericton, NB
KIMM MOORE grew up in Virginia and then spent many years living in North Carolina where, as she says, "anyone worth their salt cooks sausage and gravy."
Several years ago Kimm's husband came to Halifax to attend a conference and brought the family along. They fell in love with the area and a few years later, when Kimm's husband got an opportunity to work at the University of New Brunswick, they jumped at the chance to relocate. They've been proud Canadians for eight years now.
Kimm was delighted to discover many people here cook biscuits and that got her thinking about how she could give one of her favourite childhood dishes a little more of a Maritime feel. Kimm took her standard sausage and gravy recipe and added maple and cayenne. It's a real winner and during the testing we couldn't get enough of it.
Kimm now works as a personal caregiver. Her clients love it when she brings them biscuits, however they haven't tried the gravy yet—they don't know what they're missing.
Kimm wins an $80 Sobeys gift card.
1 lb (500 g) ground sausage
1/4 cup (50 mL) maple syrup
1/3 cup (75 mL) olive oil
1 tbsp (15 mL) water
1/2 tsp (2 mL) cayenne pepper
1/4 cup (50 mL) flour
2 cups (500 mL) milk
1 tsp (5 mL) salt, or to taste
1 tsp (5 mL) black pepper, or to taste
8 tsp (40 mL) extra maple syrup
4 prepared buttermilk biscuits
In a saucepan over medium heat, brown ground sausage; drain off fat.
Add maple syrup, olive oil, water and cayenne pepper; heat through. Stir in flour and mix until dissolved; cook 1 minute. Slowly add milk and cook, stirring occasionally, until gravy is thick and bubbly. Add salt and pepper to taste.
Cut warmed buttermilk biscuits in half. Spread 1 tsp (5 mL) maple syrup over each half and top with gravy. Makes 4 servings.
Third Prize: Maple-Fried Chicken Drumsticks
Cindy Robinson, Middleton, NS
WANTING TO fulfill her grandchildren's request for maple-dipped chicken nuggets, Cindy Robinson figured she could improve on nuggets and came up with this winning recipe. Her grandkids were thrilled and we can see why: they are delicious.
Cindy has won twice before, a first and second place win. Now she's aiming for a grand prize. Stay tuned. Cindy wins a $50 Sobeys gift card.
12 large chicken drumsticks
1/2 cup (125 mL) apple cider vinegar
1/2 cup (125 mL) orange juice
1/2 cup (125 mL) maple syrup
2 tbsp (30 mL) kosher salt
2 tbsp (30 mL) fresh black pepper
2 cups (500 mL) flour
1/2 cup (125 mL) potato flakes
1/2 tbsp (7 mL) white pepper
1 tbsp (15 mL) kosher salt
1/2 tbsp (7 mL) garlic powder
1 tbsp (15 mL) onion powder
1 tbsp (15 mL) paprika
1 tbsp (15 mL) poultry seasoning
Vegetable oil for frying
Extra maple syrup for dipping
Wash chicken. Pierce drumsticks to allow marinade to penetrate. In a large plastic freezer bag, add drumsticks, apple cider vinegar, orange juice, maple syrup, salt and black pepper. Seal and refrigerate for at least 4 hours.
Mix remaining ingredients, except oil, in food processer. Pulse 3 to 5 times. Place dry mixture in large bag or bowl.
Remove marinated chicken from bag. Shake off excess marinade (do not rinse) and discard. Toss drumsticks in dry mixture until coated; place on wire rack. Let sit 20 minutes at room temperature. Fry in pre-heated fryer at 350°F (180°C), turning occasionally, until crispy golden and juices run clear; about 7-9 minutes.
Place on wire rack to drain excess oil and let rest 5 minutes. Makes 6-8 servings.
All Cranberry Recipes
First Prize: Caribbean Cranberry Chicken
Carla Mendres, Winnipeg, Man.
AS A TEENANGER Carla Mendres visited a friend whose mother was from the Caribbean. She fell in love with her cooking, in particular the tradition of browning chicken in brown sugar. As an adult, Carla worked to recreate the recipe—a dish so popular it has been in regular rotation in her kitchen ever since. She adapted Caribbean ingredients by using what is available here, such as trading out the herb, shado beni, with cilantro. When she saw a notice about our contest she added cranberries; we're glad she did.
Carla is married and loves to spend time with her nieces and nephews. Carla wins a $120 Sobeys gift card.
3 garlic cloves, crushed
1 jalapeno, seeded and diced
1 2-inch piece of fresh ginger, grated
1 yellow onion, diced
1 tomato, seeded and diced
1/2 cup (125 mL) fresh cilantro, washed and loosely chopped
1 tsp (5 mL) salt
1 tsp (5 mL) worcestershire sauce
1 tbsp (15 mL) ketchup
3 sprigs fresh thyme, leaves removed
8 bone-in, skinless chicken thighs
1/2 lime, juice only
2 tbsp (30 mL) cooking oil
2 tbsp (30 mL) brown sugar
1 cup (250 mL) water
1/2 cup (125 mL) dried cranberries
In a large bowl, mix the first 10 ingredients (the marinade). Squeeze lime juice over chicken pieces and add chicken to the marinade. Place in the fridge for at least 4 hours, or overnight.
In a large frying pan on high heat, heat oil and brown sugar until hot and bubbly, about 3-4 minutes. Add chicken and pour marinade over top. Don't move chicken; cover and let cook for 5 minutes, keeping heat on high. (Don't worry about burning the chicken, the high heat sear is essential for caramelization and will ensure the meat is flavourful.) Remove lid and turn chicken over; cook uncovered for 10 minutes. Add water and dried cranberries; cover and cook for 20 minutes. Remove lid again and cook for an additional 5-10 minutes to reduce the liquid and form a lovely, sticky glaze. Serve over dumplings or rice. Makes 4 servings.
Second Prize: Cranberry Lemon Almond Cake
(with a maple syrup/cream cheese topping)
Yvonne Wilkinson, Stellarton, NS
A BARBER, a tailor and a great cake maker: that description sums up Yvonne Wilkinson. When not working at her first two mentioned professions, Yvonne loves to be in the kitchen. When she saw our contest (while in the waiting room at her dentist's office) she went home right away to start cooking. After trying an appetizer, an entrée and a dessert, Yvonne decided the dessert was the best. We agree. It's lovely and moist, and the icing is over-the-top delicious.
Yvonne moved to Stellarton from Corner Brook, NL, by way of California. She loves to hunt and fish but her real passion, other than cooking, is sailing. Yvonne crews on a 31-foot boat, aptly named The Fun.
When asked for some interesting details about herself, Yvonne said in her younger days in California she entered a total of 120 bikini contests and placed first in 110 of them! Yvonne wins an $80 Sobeys gift card.
Cake
1 cup (250 mL) sugar
2 eggs
11/4 cup (300 mL) flour
3 tbsp (45 mL) maple syrup
1/4 tsp (1 mL) pure almond extract
1 tsp (5 mL) baking soda
1/2 tsp (2 mL) salt (optional)
1/4 cup (50 mL) lemon juice
2 tsp (10 mL) lemon zest
1 cup (250 mL) cranberries
Cream sugar and eggs; add next 7 ingredients and mix well. Fold cranberries into mixture and pour into prepared 9x9 square cake pan. Bake at 350°F (180°C) for 30 minutes or until golden.
Topping
1 8 oz (250 g) pkg cream cheese
1/4 cup (50 mL) icing sugar
1/2 tsp (2 mL) cinnamon
5 tbsp (75 mL) maple syrup (separated)
1/4 cup (50 mL) slivered almonds
1 tsp (5 mL) lemon zest
In a medium bowl, mix cream cheese and icing sugar. Add cinnamon and 3 tbsp (45 mL) maple syrup. Spread evenly on cooled cake. Use remaining 2 tbsp (30mL) maple syrup to soak slivered almonds. Sprinkle lemon zest on frosted cake, add soaked almonds on top.
Third Prize: Cranberry Bliss Bars
Lynn Grant, Rothesay, NB
TWO YEARS ago, Lynn Grant won with a savoury pesto cheesecake. This time she takes third place with these bars—a divine combination of white chocolate, cranberries, cream cheese and orange.
Lynn is a retired school teacher who loves tutoring and volunteering at the school to get her "kid fix." Lynn loves reading food blogs and credits Thyme for Food for inspiring her recipe. She wins a $50 Sobeys gift card.
3/4 cup (175 mL) butter or margarine
11/2 cup (375 mL) brown sugar
2 eggs
1 tsp (5 mL) vanilla
21/4 cups (550 mL) flour
11/2 tsp (7 mL) baking powder
1/4 tsp (1 mL) cinnamon
1/2 cup (125 mL) dried cranberries, roughly chopped
3/4 cup (175 mL) white chocolate chips, roughly chopped
Melt butter or margarine and pour into large bowl; add brown sugar and mix until combined. Add eggs and vanilla and mix.
In a separate bowl, place flour, baking powder and cinnamon; whisk until mixed. Add dry mixture to wet mixture; combine until smooth. Add chocolate and cranberries; mix by hand until incorporated.
Spread batter in a 9x13 pan lined with parchment paper and bake at 350°F (180°C) for 18-20 minutes, until bars are set. Cut into 12 bars.
Frosting
1/2 cup (125 mL) cream cheese, softened
1 cup (250 mL) icing sugar
1/2 cup (125 mL) white chocolate chips, melted
1 orange, zest and juice
Beat cream cheese and icing sugar on medium speed for about 1 minute. Add melted chocolate, orange zest and half the orange juice. Mix on high for 1-2 minutes, adding more juice if too thick.
Spread over cooled bars. Store in fridge until ready to use. Makes 12 bars.