It's easy to get caught up in paint colour and cabinet choices when renovating or building a new kitchen. But if you're looking for a room that's as functional as it is stylish, try choosing your appliances first and building your kitchen around those key pieces.
Choose your appliances first; it's more fun than you might think
IT'S EASY TO get caught up in paint colour and cabinet choices when renovating or building a new kitchen. But if you're looking for a room that's as functional as it is stylish, try choosing your appliances first and building your kitchen around those key pieces.
Just don't think of it as a tedious task: from fridges to dishwashers, appliances now come in so many types and styles that choosing the right stovetop might be the most fun you have while renovating. We've got a few suggestions to get you started on your dream kitchen.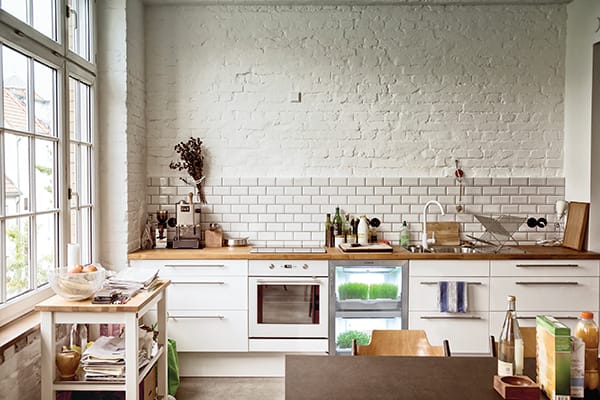 Stoves and ovens
Built-in wall ovens and glass cooktops are replacing the freestanding range in popularity, and more and more people are opting for full-surface induction cooktops. These look the same as electric glass-top stoves, but induction elements are made with copper wire, and need to be used with ferromagnetic pots and pans such as cast iron, stainless steel, or cookware specially made with a magnetic lining.
"Small inductor coils beneath the glass generate a current, but instead of getting hot they generate a magnetic field," explains Steve Preiner, a director of marketing with a high-end appliance retailer in Toronto. "The iron in the pot intercepts that field and the resistance between the two heats the pot."
The beauty of the new generation of full-surface induction cooktops is that the entire surface of your stove is a cooking area. That means you can put large pots or pans anywhere on the stove and they'll heat evenly.
Another new cooktop trend is the combiset: a variety of different types of cooking surfaces in one unit. Buyers can choose from sections including induction, gas or electric burners, a built-in wok, a teppanyaki (Japanese iron griddle), steamer or barbecue.
Top off your brand new stove with a stainless steel range hood, which also come in a wide range of styles and features. The Thermador Masterpiece Downdraft ventilation system, for instance, doubles as a cool gadget. Tucked away in the back of the cooktop, it rises 13 inches at the push of a button, making it a great option for an island stovetop. Another neat and tidy option is Thermador's chimney drawer hood, which has a slide out canopy, so the hood itself looks compact until you turn it on and extend it.
Now on to the oven: one of the most popular types of ovens available is convection, which has one or two fans inside to distribute the heat more evenly. Some models even have an element around the fan. "Convection cooking ensures items on each rack cook at the same temperature. Electric ovens may cook cookies too much on the bottom or top racks and just right in the centre rack," says Kris Hodges, who owns an appliance showroom in Dartmouth, NS.
Some manufacturers take convection to another level with combination steam-convection ovens. Steam ovens usually cook food more quickly. And since they use moist heat, you can cook chicken, fish and vegetables on different shelves with no transfer of flavour. Adding convection to this mix will help you brown and crisp food once it's been steamed.
Plus, you can also use the "refresh" feature on your steam-convection oven instead of the microwave to reheat leftovers quickly. "It takes 10 minutes, introduces some moisture and [leftovers] taste just like the first day we had it," says Kevin Melanson, a district sales manager based out of Dieppe, NB, with a national high-end appliance manufacturer.
If you're looking for an oven that will do the cooking for you, Miele has an oven with a Masterchef feature that allows cooks to choose the meat type, say prime rib, and the doneness, say medium-rare. The oven will then choose the correct temperature and time, and cook your meat to perfection. Get a Dacor oven and you can use the "IQ" option to pair it with your smart phone to preheat the oven as you head home.
Microwaves have also come along way since they were first introduced as big hulking boxes in the 1950s. Now they've moved off the counter and into the wall or even into a drawer, and some even come equipped with smart options. The Miele Speed Oven, for example, has the same power as a full convection oven.
Fridges and dishwashers
When it comes to fridges, "stainless is still king as far as a finish," says Steve Preiner. But some homeowners looking to buck the trend are ordering fridges, freezers and dishwashers with a custom panel to match their cabinets. Cabinetmakers can get specs from the appliance manufacturer; the appliance arrives without an external finish, ready for the custom panel.
To add a European feel to your kitchen, check out Bosch's new horizontal installation, which runs across the wall rather than vertically. This gives a consistent height and ease of access. Or take a look at column refrigeration, which includes separate vertical fridge and freezer units that come in a range of sizes. They can be installed side-by-side or separately in different parts of the kitchen.
You can even give your kitchen an industrial feel by adding a refrigerator with stainless steel interior walls to hold the cold, like those from Gaggenau. Or grow a mini garden with the Urban Cultivator, an appliance designed to grow fresh herbs and micro-greens in your kitchen year round. The cultivator, which looks a bit like a wine cooler, features automatic watering, lighting and temperature control, and it's a great option for foodies.
When it comes to dishwashers, the quieter the better, especially with open-concept kitchen/living rooms where people are entertaining or watching TV in the same space as people cleaning up. And many new dishwashers also have china and crystal settings, more flexible stacking options, movable shelf sections and a third upper rack for flat storage of silverware or cooking utensils.
With so many great appliance options available, it's not hard to have fun picking out the best ones to suit your new kitchen.