Fleur De Sel and Salt Shaker Deli, Lunenburg, NS
NESTLED IN a heritage property in the picturesque town of Lunenburg, NS, Fleur De Sel restaurant combines classical French cooking and Atlantic Canadian foods with whimsical flair—thanks to chef Martin Ruiz Salvador.
Despite his Spanish name, Martin is a Nova Scotia boy through and through: his early years were divided between Nova Scotia's South Shore and Halifax.
After high school, he worked as a cook for a few years, and spent some time working in Banff, Alta, where by chance he reconnected with Sylvie MacDonald, who he had known since he was 12 years old. They renewed their friendship and eventually married. "Sylvie certainly pushed me toward getting involved in cooking more seriously," says Martin, noting that she encouraged him to study at Le Cordon Bleu College of Culinary Arts in Scottsdale, Arizona.
Not long after, he got a job at a Michelin-starred French restaurant in Dublin, Ireland, where he developed a passion for French cooking; later, he moved to Lyon, France, where he did stints with crème de la crème chefs Jean-Paul LaCombe and Frédéric Côte. He also explored the culinary traditions of Corsica—an experience that strongly influences his cooking style today.
About six years ago, Martin and Sylvie opened a second, more casual restaurant in Lunenburg, called Salt Shaker Deli; as with Fleur De Sel, Sylvie manages the business and runs the front of the house. "Sylvie is my rock," says Martin. "She is the best partner I could ever ask for."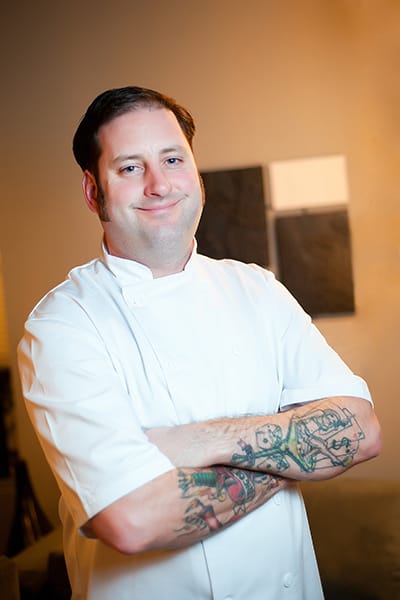 That sounds like a recipe for success.
Q What inspired you to become a chef?
A Parents. All the parents I have had in my life—including my in-laws, step-parents and grandparents. They have made it possible for me to not only figure out what my goals are, but to achieve them.
Q What accomplishment are you most proud of?
A Having been chosen to represent Nova Scotia at the Canadian Chefs' Congress in Grand Pré, NS, last year, and cooking at the James Beard House in New York in 2008.
Q What is your favourite ingredient?
A All seafood. Shellfish is fantastic, especially here on the South Shore.
Q What kitchen tools can you not live without?
A A very powerful blender and a sharp, sharp knife.
Q What are your favourite cooking styles?
A Country cooking of all types—Canadian, French, Spanish; I like any food that takes a lot of time to develop flavour, and that warms your belly.
Q Do you have any cooking tips to share with us?
A Never overcook your food. If you think it needs another five minutes, it probably doesn't—although you should always be careful to fully cook chicken and pork.
Q Do you have a favourite cookbook?
A I have many favourites; right now I am really enjoying the Joe Beef book (The Art of Living According to Joe Beef: A Cookbook of Sorts, by David McMillan, Frédéric Morin, and Meredith Erickson).

Joe Beef is a great restaurant in Montreal that recreates old French classics using local ingredients without losing any of the traditions or flavours.
Q What foods do you eat in secret?
A I don't really eat any food in secret—I love pizza, burgers, fried chicken. There is a time and a place for everything.
Q Q If you could cook for any three people who would they be and why?
A Aidan Byrne; he was my first chef at a Michelin-starred restaurant in Dublin. I would like him to see how far I have come.

I'd also like to cook for my grandparents, some of whom I never met; none was able to see what Sylvie and I have accomplished. And [Roman Emperor] Caligula—I heard he threw some great banquets.