How Frank and Jackie Scott have shared their love for Scotland, and scotch, on both sides of the Atlantic
What happens when a witty and dashing Canadian bagpiper is competing in Scotland and meets a cheeky and intelligent lassie? Well, they court, marry and become a small powerhouse on the eastern coast of Canada, of course.
Jackie, born in Edinburgh, confesses that she didn't want much to do with whisky, tartans or bagpipes back then. Frank, on the other hand, was passionate about all three. Their first chance encounter was in early 1985 but it wasn't until four years later that the couple began dating and went on a small trip to the Speyside area, where Frank managed to talk her into visiting a few distilleries. One of their first stops was the very picturesque Tamnavulin, where they ended up doing a tasting with a couple celebrating their 40th wedding anniversary. (Frank has vowed to return to that very distillery when they celebrate theirs.)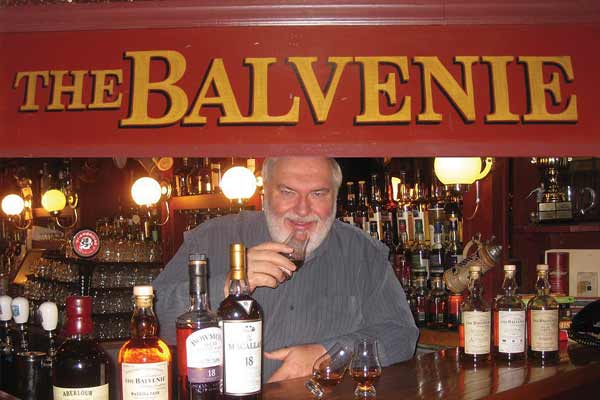 Of love, and whisky
Back in Canada, and still courting Jackie, Frank and a long-time friend opened a pub in Fredericton, NB, in 1989, called the Lunar Rogue. Amidst getting the bar established, Frank continued his pilgrimages to Scotland and in 1991 finally convinced Jackie to emigrate to Canada to begin a new life together; the couple returned to Jackie's beloved homeland two years later to get married. Slowly but surely, Jackie had developed a liking for scotch and over time she became an integral part of the administrative side of the Lunar Rogue.
But let's take a step back for a moment to look at the world of whisky and how things have changed since Frank and Jackie were first starting out in the business. For those not familiar with scotch, there are more than 100 working distilleries in Scotland, and the Speyside region—an area approximately double the size of Prince Edward Island that encompasses about 60 per cent of the country's distilleries—is the focal point for whisky lovers worldwide. Today, many of the distilleries are open to the public and receive thousands of visitors by the busload each year for tours, to taste whiskies and spend time in visitor centres or onsite restaurants. However, the small and intimate distillery visits the Scotts experienced more than 25 years ago were spontaneous and quite rare.
And if they were rare in Scotland at that time, there were almost no avenues for Frank to share his love of whisky on this side of the Atlantic. So, in 1995, Frank and members of his local tasting society started the New Brunswick Whisky Festival, the first of its kind in Canada. Jackie was one of the non-profit festival's first and few volunteers. Along with sharing knowledge and passion for good whisky, part of the goal was to raise and donate funds to charitable organizations in the community.
As the festival and the pub grew in popularity, with each passing year the Scotts found themselves even more immersed in all things whisky. Visits to Scotland were increasing exponentially. After the Spirit of Speyside Whisky Festival was created in 1999, Frank and Jackie became regular attendees—her parents lived a few hours away and they had also made lasting friendships with stillmen, distillery managers and people from the area.
Whisky tours
In 2004, as if their life wasn't already full enough, the Scotts began organizing group trips from NB to Scotland and the Spirit of Speyside Festival. Going to Scotland with the Scotts is a truly memorable trip, so much so several individuals have traveled with them repeatedly.
On a recent trip, I was not only fortunate enough to be a master class presenter at the Spirit of Speyside festival, I was also at the opening dinner where Frank and Jackie were presented with one of the festival's most prestigious awards—the honourable International Whisky Ambassadors Award, awarded for their role in introducing Scotland's national drink to a new global audience and the passion they've shown in doing so.
"The Scotts are great friends of the festival and have done a power of work over the last 10 years in promoting it across the Atlantic. Thanks to them, hundreds of people have been introduced to the lovely area of Speyside and to our festival. I am sure their work has greatly influenced the fact that Canada is now one of our quickest growing markets. Please stand up and raise a dram if you are here tonight because of Frank and Jackie!" festival chairman James Campbell proclaimed that night. We stood and raised our glasses to deafening applause.
This past year brought more accolades when Frank was nominated to the Keepers of the Quaich, an exclusive and international society that recognizes "outstanding commitment" to the scotch whisky industry. He and Jackie travelled to Scotland in April to receive the honour.
The dram beats on
After more than 25 years into business, the Lunar Rogue is considered an integral part of the city's history—just about everyone knows where to find the quaint traditional- style pub with its gorgeous stained glass windows. The pub has won international awards and is known as one of the best whisky bars to visit east of Toronto. The list of whiskies available to taste surpasses 500 different bottles from all over the globe. Too much choice? You can find Frank behind the bar ready to recommend a dram or spend time talking whisky and dispensing advice.
As for their NB whisky festival, Frank is still the chairman and Jackie works relentlessly with the large committee of volunteers to ensure it runs with little to no glitches. The name changed to the New Brunswick Spirits Festival and celebrated its 20th anniversary last year as the longest running and one of the most popular festivals in Canada.
What's in store for the Scotts? There is no slowing down in sight it seems and, of course, there are still a few distilleries Frank would love to visit before he considers himself done.
When asked the secret to their success, Jackie answers simply: tolerance. Not of each other necessarily but of the constant changing circumstances of life. They have seen the whisky industry at its lowest and also its best. The Scotts have tumbled through a few difficult phases and said goodbye to friends and family along the way but at the end of each day they consider themselves blessed and lucky to have been part of it all so far.
It's hard to fathom that one couple living in the small province of New Brunswick would have such a considerable outreach. Many individuals in both the UK and Canada owe them much when it comes to personal whisky journeys and I, for one, count myself part of that fortunate group.
Frank and Jackie are the epitome of what Atlantic Canada is all about. Are they rich? Not from a financial perspective, but for them it's not about the money. They love all of it: the people, the experiences and sharing their passion for whisky.
Whisky Lassie's Scotch 101
With puzzled faces they stand staring at the wall of whisky hesitantly picking out a bottle only to put it back on the shelf. That's when I walk over and ask, "You like whisky?" Sheepishly they answer: "Yes, but I don't know much about it". Ah, the whisky novice. I love them because they are keen but free of any snobbery. Being new to whisky might be overwhelming but can be a journey of discoveries. All you need to start are the basics. Ready?
1. What is the difference between scotch and whisky? Scotch is whisky but it can only be made in Scotland. In general, whiskies all start the same way: A mashed cereal which is fermented, distilled, aged for at least three years in oak barrels then bottled at a minimum of 40 per cent alcohol by volume. Rules vary slightly in some countries.
2. What is single malt? Let's stick to Scotland where the regulating body, the Scotch Whisky Association (SWA), stipulates: Must be made in Scotland, exclusively from malted barley, pot still-distilled at one single distillery and aged a minimum three years in oak barrels.
3. What does region mean? The SWA recognizes five: Lowland (light/unpeated), Speyside (light/fruity), Highland (maritime/lightly peated), Campbeltown (salty/industrial) and Islay (medicinal/heavily peated); however, styles are blurring so the trend is tilting toward using four flavour profiles. Light: citrus, apples or pear-type fruits and cereal notes. Light whiskies include AnCnoc, Deanston or Glenkinchie, whereas the delicate profile has subtle nuts, floral, vanilla or light wood influences which can be found in Dalwhinnie, Glenrothes or Jura. Rich is bold and warm like chocolate, leather, spices or dark fruits. This category includes GlenDronach, Glenfarclas, Glenmorangie, Macallan or Tomatin. The last is smoky, which reveals hot spices like ginger or cinnamon, medicinal or salty and, of course, organic or smoky notes ranging from hints of smoke like Glen Garioch to soft peat in Highland Park or Talisker. Springbank whisky is a happy medium compared to the smouldering beach fire found in Ardbeg, Laphroaig or Lagavulin.
4. What does the age on the bottle mean? SWA policy stipulates that it must be the age of the youngest scotch used to make the single malt but there most likely is older whisky in the bottle.
5. Does older scotch mean better? No. Technology, better cask management and trends are leading to "no age statement" whiskies and some distilleries are doing this well. Tomatin Legacy, Glenlivet Alpha or Talisker Storm are great examples of scotch matured and bottled without an age statement.
6. Is it bad to add water? Some will say yes but others, no. My opinion is: try it without water first and if you don't like it then add a few drops to your whisky.
So go back to the wall of whiskies and start navigating. Don't be nervous and get ready to start the whisky journey. It's yours to enjoy.
Slainté!
Let's raise a dram to the Scotts. Long may they reign as the quiet and unassuming force they truly are.