The lore behind the love affair with that ubiquitous waxed tube of meat
No doubt you've heard the saying: "You're full of baloney." It usually refers to someone who is offering up a bit of nonsense, but it could be taken quite literally in Newfoundland and Labrador—given the popularity of the food it refers to.
"Baloney" is a variation on the word bologna, a cold cut meat product made of chicken, pork, beef, turkey and other ingredients. It is sold by the millions of kilograms in the province each year. Scott Warren of Maple Leaf Foods—a major manufacturer and distributor of the product—says the average resident eats about five pounds of bologna every year.
"If you do the math, that's 250,000 pounds per year of bologna, or over 115,000 kilograms. For every man or woman who doesn't eat it, another one eats 10 pounds!" says Warren. "Our bologna is also popular in provinces where many Newfoundlanders have gone to work and live, such as Cambridge and Guelph, Ont, and especially Fort McMurray, Alta. Approximately half the bologna volume from our plant in Ontario is shipped to the Atlantic provinces, and over half of that comes to this small island of only 500,000 people."
While there are many stories about the initial link between the province and bologna, Warren says one theory is that Italians who came to fish in the 1900s bartered for water and fuel with large emulsified sausage from Bologna, Italy. His company's bologna has been a mainstay of Newfoundlanders' diets for over 100 years, he says, adding that the food's popularity is due, at least in part, to the physical isolation of many communities.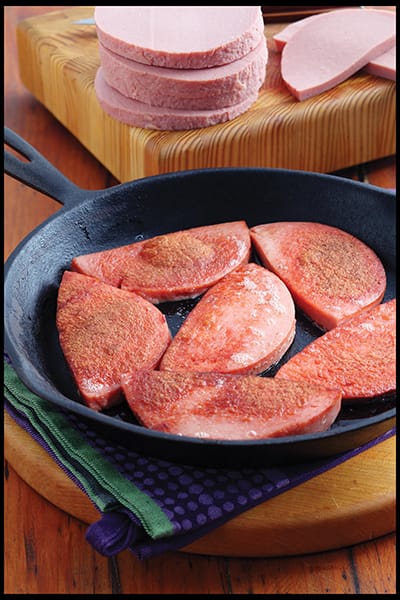 "The island is comprised of over 500 communities, and prior to 1965, most were not connected by car. Residents were looking for a stable form of protein—besides codfish—that would keep in their root cellars," says Warren. "Many communities didn't have electricity or refrigeration back then. Our bologna fit that bill perfectly. It was coated in wax, and its 'best before' was over four months from the date of production. It was shipped to these communities by coastal boats, once every couple of months, at the most. Most importantly, it tasted great, especially when fried"—a preparation that's often referred to as "Newfoundland steak."
Getting the right slice
Gayle St. Croix now calls Calgary home, but has fond memories of growing up in St. Mary's Bay, NL, and sharing her bologna with the members of her family—including the four-legged members.
"My earliest memory of bologna was when I was trying to get my beagle, Ginger, to come home. He was old and had wandered down the road. His hearing and eyesight were going, but he loved bologna, so I waved a slice in the air about 20 feet from him, and he toddled back up the road to me," she laughs.
St. Croix's family ran a small store in the community. She learned to use a meat slicer at a very young age, and remembers that bologna was among the most popular items in the store.
"People would come in for a snack and ask for a slice—'Not too t'ick and not too t'in.' Getting the right width on the slice was important. And the day that the delivery man would bring the bologna to the store, Dad would cut a nice fresh slice off for my sister and me to enjoy.
"My dad was a fisherman, and when he stopped into the store in between hauling nets, he'd often slice a thick slice off for himself and down it with a cold bottle of Lime Crush," she says.
A whole new level
Andrew Hodge, executive chef at the Holiday Inn St. John's-Government Centre, in St. John's, NL, says bologna was a regular menu item at his home when he was growing up; his family dined on it at least once a week.
"When I was a child, my father and I would cut bologna into little pieces and drizzle it with plain white vinegar as a nighttime snack," he recalls. "We would chat about some of our hunting or fishing adventures—definitely some of my favourite memories."
As a young boy, Hodge enjoyed a cut of bologna pressed between two thick slices of his mother's homemade bread. Today, he takes bologna to a whole new level.
"I would say my favourite way now is still on a sandwich, but I tend to jazz up my sandwiches a little more; I might add some grainy mustard, fresh arugula, heirloom tomatoes or even some sauerkraut. I could eat these at least once or twice a week."
Chef Hodge says bologna is one of the most versatile deli meats; it can be paired with nearly anything—even wine—which may contribute to its popularity.
"If I had to pick a wine to pair with bologna, I would pick a nice bold merlot," he says. "The flavours of black cherries and currents blend nicely with the rich, fatty flavour of the bologna."
His advice: "Don't be afraid to try something different; you might just surprise yourself."
Traditional staple
High school principal Lisa Martin, of La Scie, NL, grew up eating her bologna several ways—fried, boiled and added to stews.
"My favourite was my mother's stewed bologna; it was similar to a soup, but with gravy and vegetables. I've tried several times to make it myself, but I can't seem to get it to taste quite right. Her recipe cannot be duplicated for some reason."
Martin says she believes it's important to share the province's roots and traditions. When teaching her Grade 5 students social studies, she discusses the foods that were prepared and consumed in "the old days," and takes her students on a field trip to a local tourism attraction where they are served traditional Newfoundland foods, including bologna.
"If they haven't tried it before, most students are surprised by how good it actually tastes.
"They also like hearing about how other people eat bologna, and the different condiments that can be used with it. Most students like it with ketchup, but there are a few who enjoy pancake syrup with their fried bologna."
She believes it's a staple in Newfoundland and Labrador cuisine because it's easy to cook and accessible, as well as inexpensive.
She adds that it's a big hit when roasted over an open fire in the winter.
"Our unique culture separates us from everyone else in Canada, and we are a very proud of that," she says. "Our students need to learn why we are distinctive. The traditional foods of Newfoundland help define us, and set us apart from every other place on Earth."
As for Gayle St. Croix, she has not yet introduced her two-and-a-half-year-old daughter, Lucy, to the world of bologna, but she says she may just make a quick stop at the convenience store on her next trip back to St. Mary's Bay.
"Next time I'm driving through Goobies, if I see a big stick in their cooler, I'll ask for a nice t'ik slice for Lucy and me to share."
Recipes