The gals' quick getaway involved learning about a remote part of Atlantic Canada… and the gals learned that three days were merely a sniff at the feast
Inspiration, vision, leadership, communication, rhythm and perseverance—these are in the recipe when something new is planned. Building a subdivision? Creating a symphony? Planning a trip? The ingredients are the same, though the outcomes will vary.
This past year was a special one for our gang, the East Coast gals living here and elsewhere in the country. Our inspiration was to celebrate the half-century mark of two of our members; our vision was to find an appropriate place to celebrate. Turkey? Nah, can't afford it. St. Pierre? It takes too much time to get there. Fogo Island, Newfoundland? Yes! Michele from BC, Yvonne from Ontario, and Linda, Mary and I from Nova Scotia met in Halifax one August day to begin our sojourn.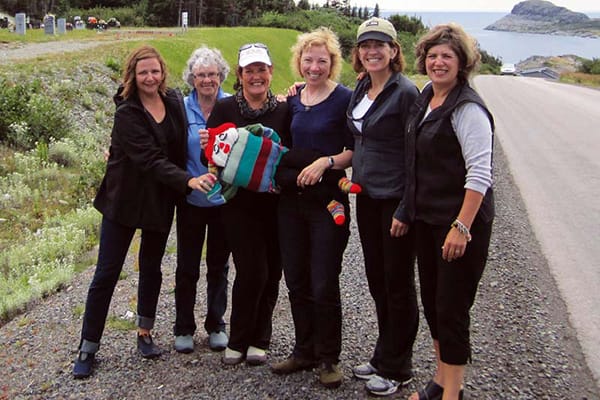 Leadership and communication was provided principally by Mary, who arranged the itinerary. We flew to St. John's, partied on George Street, rented a vehicle and drove to Fogo Island, on Newfoundland's northeast coast, where we spent three superb days.
We knew little about this island other than it was touted by the Flat Earth Society to be one of the four corners of the Earth. Our trip was to be a quick jaunt to learn about a remote part of the East Coast, but perhaps our greatest learning was that three days were merely a sniff at the feast!
Fogo Island has a population of 3,000 people in 11 communities, with magic names like Joe Batt's Arm, Seldom and Tilting. The terrain is strikingly captivating: largely rock with patches of grass and low-bush growth. Ragged, jagged, weathered rocks come in every imaginable colour and shade—electric blue, deep red, grey granite, emerald green, ebony: take your pick.
Arrangements had been made for us to stay at Sadie's House, one of several old houses on the Island restored to accommodate visiting artists. We arrived, bunked in, then headed to Nicole's Café in Joe Batt's Arm. There we were joined by our hosts from the Shorefast Foundation, Zita Cobb, Elisabet Gunnarsdottir and Maria Giovannini. I can't recall having a more interesting time with people I had never met. Unfortunately Elisabet had only one evening to spend with us, but during our short time together she conveyed her passion for the people and places of the Island. Originally from Iceland, she had been working in Norway, and was enticed to Fogo Island to help develop a venue to attract artists. She says she has found her home at last.
Let me inject a word or two about the Shorefast Foundation. It was set up to achieve the vision of economic and social revitalization of Fogo Island. Those are trendy catchall phrases aren't they? The Foundation people essentially initiate ventures that help Island residents help themselves.
We met one chap who had been living in St. John's, and was poised to head to Fort McMurray when he was asked to return to Fogo Island to renovate Sadie's House. That was six years ago. Now he has 35 people working with him on a number of renovation and construction projects.
We met missus who started Growler's Ice Cream Parlour, serving gourmet ice cream (my weakness). We visited a new gallery and purchased unique items crafted by local people.
Fogo Island has a long, rich history, connected to the sea. Although the fishery is shrinking, the sea, the people, and the weather-beaten rocks all remain. The rhythm of the sea reflects the nature of the people—the ebb and flow, storm and calm, wild and tamed. This inspires and forms the foundation for Fogo Island becoming a centre for visitors, blending the culture and the artistic essence of its people.
Passion drives what's happening on the Island—passion for the people and the place. The leader of the pack, Zita Cobb, exhibits this sentiment with fervour as she talks about the past and the future.
Zita stayed with us for much of our three days on the Island. She introduced us to everyone who crossed our bow; she took us to the craft gallery, showed us restoration projects, arranged a boat tour through the tickle to see the fishing stages, talked her cousin into treating us to lunch—and became a friend that we value and will keep.
She talked about the future, and how the Islanders are collaborating to introduce change to their lives while still respecting traditions. We knew we weren't merely listening to dreams; we kept seeing signs of the vision manifesting into reality.
The core of the rebuilding process focuses on the artistic community. The intent is to provide infrastructure for artists to come to Fogo Island, stay for a period, do their thing (write, paint, photograph), interact and share with local people. The first sign of the vision is in place—the Long Studio, a most impressive building affixed to rocks, facing the sea.
An inn and other studios are under construction. Architect Todd Saunders, a Newfoundlander now living in Norway, was enticed to design these facilities to support an influx of artists and tourists. His designs reflect the importance of rocks, sea and fishing stages to the cultural history of the people.
There are two places I like to visit when I travel—taverns and cemeteries. I like to see the liveliness of the living and the tributes paid to the dearly departed. I asked Zita for directions to both. She took us to a couple of cemeteries but said she wasn't sure where to find a bar or tavern. She thought there was one on Fogo, but had never been there.
She suggested instead that we do what the locals do: attend a "shed party." She assured us that any time we saw a light on or people gathered in a shed we were welcome to join in. So we did. We had a wonderful grand time with a group of local people gathered in a shed and on the rocks.
A couple of guitars provided the accompaniment for a lot of off-key singing; there was a bit of drinking, a crab boil and a lot of laughter. It was a good-old downhome fun time!
How often have you thought, "If only I had the money I could..." or heard, "the government should pay for…." It takes more than money to do what is being done in Fogo Island. It takes passion, understanding, collaboration, zeal and stick-to-it-ive-ness. And it takes a desire to achieve something special. I can't help but think of other places on the East Coast that could mix up a similar recipe, with different ingredients. I see it happening in Northern New Brunswick where several communities along the Bay of Chaleur are collaborating to change from a paper mill-centred lifestyle to something new. The grit of the Acadian and Scottish heritage of the people will drive them to succeed, I'm sure.
Saying farewell to Fogo Island was difficult. Maria joined us for breakfast and to wave goodbye as we headed to the ferry. We shared our sadness at leaving and promised each other that we would return soon. Can't wait—and next time we won't need an excuse.
To learn more online about the Shorefast Foundation and Fogo Island, check out shorefast.org and fogoisland.net. Watch for a feature story on Fogo Island's new ventures in an upcoming issue of Saltscapes.