Move over meat—make room for veggies to get sweet and tender on the barbecue
AS A KID, I thought there were two categories of vegetables: carrots and peas. Partly that could be attributed to my family's food preferences but also, what was readily available. Today, our farmers markets and supermarkets display rows of diverse veggies, ranging from yellow carrots to pea shoots, baby bok choy to escarole—and that's just the tip of the iceberg lettuce.
One of my favourite ways to prepare vegetables is grilled: this gives them a depth of flavour. When vegetables are grilled their natural sugars tend to caramelize, giving them a wonderful sweetness.
First up on the grill… romaine lettuce. Who'd have thunk? I take a nice thick head of romaine, split it in half, then brush it with a little olive oil and sprinkle salt on it. Place it cut side down on the grill over medium heat. While I'm at it I cut a few lemons in half and grill them as well; not too much, just until they are turning a rich dark brown on the edges. I use the romaine and lemon to make a traditional Caesar salad with a twist (see Grilled Caesar Salad, right; grilled Romaine also works well with bacon and blue cheese, and cherry tomatoes and goat cheese.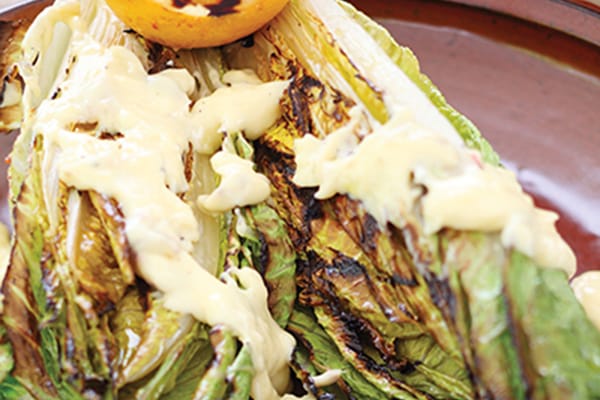 Corn is another vegetable that grills really well. Some people prefer to remove the husk altogether but I leave it on—although I do strip the husk down to the base to remove the silk tassel so it doesn't catch fire; then I slip the husk back up around the corn. Soak the cob in water for about 15 minutes, give it a good shake and place it at the back of the grill on the top shelf, turning often. It takes about 20 minutes for the kernels to become tender. Then slip the husk off and enjoy the rich, deep flavours, slathered with lots of butter, of course.
Tossing together soft vegetables, such as squash, zucchini, red onion and sweet peppers, with olive oil and balsamic vinegar and placing then in a grilling basket makes an amazing accompaniment to steak and chicken. You can also skewer vegetables; just be sure that what you place together takes roughly the same cooking time. Because vegetables are more delicate than, say, a steak, they need to be cooked at a lower temperature. If that's not an option, place vegetables on the upper rack of your barbecue.
Be sure to take full advantage of our growing season, and dare to be different. Leaving your comfort zone for the grilling zone produces great results!
Recipes