How pasture-raised chickens make for flavourful, cost-efficient meat, and happy campers
WE'VE BEEN inundated with the eat local philosophy for some time now, becoming acclimatized to terms such as organic, grass fed, and free range. But how do you know if you're getting what you pay for?
The best way is to become acquainted with the person who is growing or producing the food you're eating.
Sometimes this takes planning, but it's well worth the time—and there are gems throughout our region. Some are well advertised and some take a bit of hunting. A farmers market is a great place to start. Even if the producer you're seeking isn't there, the vendors who are there can probably point you in the right direction.
Here on Nova Scotia's Northumberland Shore, we are fortunate to have Holdanca Farms, located in the Wallace area. Johanne and I happened to find them while on a drive through the countryside, and have been making regular trips there ever since. Granted it's a 90 minute return drive for us. Is it worth it? Absolutely. I know what I'm getting, and I know who I'm dealing with.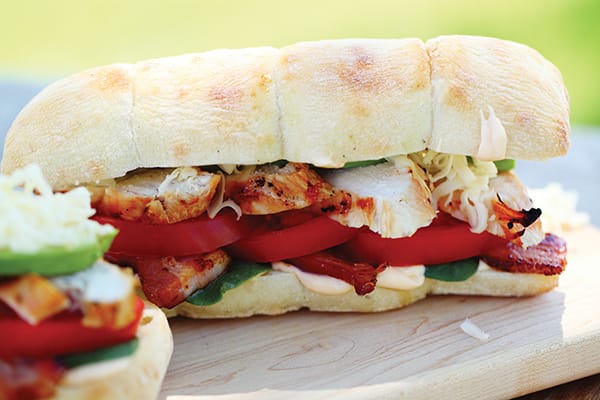 Holdanca Farms is owned and operated by John Duynisveld, an agricultural scientist, and his mother, Bernice. The 500-acre farm is dedicated to raising pasture-fed free-range poultry, along with other animals such as turkey, beef, pork and lamb.
There's some interpretation over the term free-range. In some cases, it constitutes a bird that's allowed up to 15 minutes of "yard time" a day, but regulations don't indicate whether it's a grass yard or a concrete one. In either case, 15 minutes is not enough time for a bird to do what it does best: scratching and foraging.
When you drive by Holdanca farms you see the bird pens way off in the back pasture, where the birds eat grubs, grass and insects, and they receive abundant exercise; the pens are moved daily, so chickens always have a fresh grass source. The birds are also raised on feed that's free of growth hormones and antibiotics, and they grow at a natural rate—all of which affects the quality of the meat.
The interaction with customers makes John happy—he enjoys hearing that the flavour of his chicken is unparalleled. When I asked him for his favourite chicken recipe, he responded that good quality, well-raised chicken needs only a bit of salt and pepper.
Another farm that takes pride in its free-range product is W.G. Oulton & Sons, located in the Martock area of Hants County, NS. Owners Wayne and Nicole Oulton have the same approach to farming: they like to keep things as green as possible. In fact they were winners of the 2011 Environmental Farm Stewards of the Year award, created through a provincial and national government partnership.
In addition to free-range chicken, the fourth generation family farm produces cattle, sheep, free-range turkeys, quail and partridge, several types of deer and elk, and other exotic animal species including emu and yak. With its abattoir and meat shop on the property, Oulton has become a destination for people from Halifax and beyond.
The benefits of this type of responsible farming are huge, including a healthier, chemical-free product that's sold either fresh or flash frozen, which locks in natural juices and flavours. People say there's a higher cost to buying these types of birds, but consider this: mass-market chickens may be pumped full of water to make them look enticing, which means the big, juicy-looking breast you put into the oven is going to shrink down to half, if not less than half, of its original size. So while the cost of free-range meat seems high, it's actually not.
Recipes