Gadgets and cookbooks can make gift giving easier but there are tons of them on the market—especially at Christmas time—and no one likes to spend money on a mediocre product. So, let's remove some of the guess work with gift ideas that will appeal to family members, friends and office buddies too. We've put them through their paces so you can be sure you're getting your money's worth!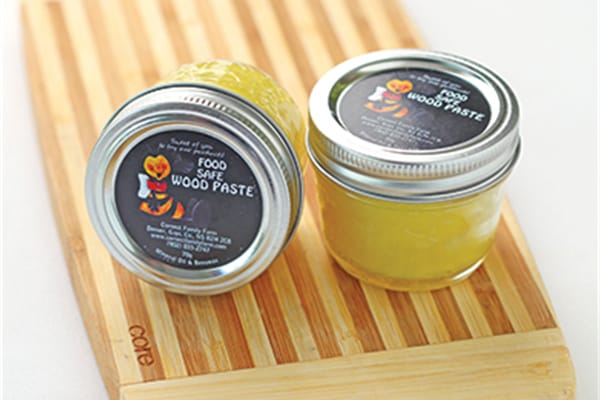 1. Produce saver
A variety of produce savers, taking the form of sprays, bags, containers and washes, have become available in in recent years. This is one of the best. Using the same technology employed by producers and growers to ship their produce to market, the refillable Bluapple absorbs ethylene gas, which is produced naturally by plants, causing food to ripen and spoil. If you're unsure about it being food safe, the fact that the used packets can be safely added to your houseplants should dispel any worries. A set of Bluapples and a one year supply of refill filters are available at thebluapple.com or at Bed Bath and Beyond locations; $9.99 for a pack of two, one-year refill kit also $9.99
2. Straight from the Line
Cordon Bleu-trained, Jason Lynch is executive chef at both the renowned Le Caveau Restaurant at the Domaine de Grand Pré Winery in Nova Scotia and the Black Spruce Restaurant in Gros Morne National Park in Newfoundland. Yet somehow this busy chef found time to write a cookbook, and a fascinating one at that. Kitchen professionals will appreciate his straight talk on the state of the restaurant industry today and foodies will love the variation of recipes—from omelettes to soups, sauces, mains and decedent desserts. This is an honest assessment of cooking and buying local, and some of the challenges one can encounter along the way. The photos are moody and dark yet appealing and comforting as well—they make me want to hide in the kitchen and work my way through each recipe from start to finish. Try Citrus Crusted Scallops with Curried Yogurt Dip, Leg of Lamb in Moorish Marinade and Panna Cotta with seasonal Berries to start. Available in both print (paperback) and digital format from Able Sense Publishing; $29.95
3. The Burger Stomper
The Canadian-made Burger Stomper burger press caught my attention with its sturdy and durable feel. Made of heavy stainless steel (nonstick and dishwasher safe), it produces two sizes of patties—a standard 6 oz. and a 2 oz. slider—in a quick, clean process that ensures even cooking. Comes with a five-year warranty and is sure to be a hit with the grilling enthusiasts on your list! Available through amazon.ca; $29.99
4. Wine cooling sleeve
I love this wine cooling sleeve by Trudeau. Store the gel-filled wrap in the freezer and then, when the need arises, simply wrap the Velcro straps around a room temperature bottle of wine to chill your vino in just five minutes. Keep wine cold without the condensation created by a bulky wine bucket. An attractive design, it folds away neatly, not taking a lot of valuable freezer space. Comes with a five-year warranty. Check trudeaucorp.com for a location near you; $14.95
5. Musicians, Memories & Morsels
The East Coast is synonymous with good food and amazing music; Granite Records' cookbook beautifully ties into both. In Musicians, Memories & Morsels, subtitled An East Coast Story Cook Book, favourite Maritime musicians reminisce about their favourite food memories. The Stanfields share a recipe for Pitch Perfect Pesto, Lennie Gallant offers up an amazing Acadian Meat Pie and Dave Carroll sings praises for his mom's Spaghetti Sauce with Sausage and Meatballs. Available online at musicianmorsels.com; $29.95
6. Dreamfarm Supoon
The Supoon Mini by Dream Farm is the only scraping spoon I have come across that will clean every last bit of peanut butter from the jar. Many have made the claim, but this spoon comes through. Its neat design means the spoon never touches the counter, and it comes in a bunch of funky colours. Made from durable silicone; dishwasher safe and heat resistant up to 500°F. Available online at dreamfarm.com; $7.95
7. Measuring bowls
Finely dicing onions or other veggies to transfer into a measuring cup can be messy but these measuring bowls from Cuisipro have a flat side, allowing you to simply scoop in your chopped ingredients. Made in sets of either three or four with easy pour corners, these bowls are dishwasher safe and stack for easy storage. Available at Cucina Moderna locations and online at amazon.ca; $9.99 to $11.99
8. Pure Infused Maple
Chris and Anna Hutchinson of Hutchinson Acres in Lake Paul tap syrup from the sugar bushes of rural Nova Scotia, infusing it with five decadent flavourings: Vanilla, Cinnamon and Star Anise; Lavender and Chai; Chipotle and Lemongrass; Cinnamon, Nutmeg and Cloves; and Maple Gastrique. Available at fine food shops in Nova Scotia or online at pureinfusedmaple.ca; 375 mL bottle for $25, or purchase a sample pack of all flavours; 5X50 mL for $25
9. Ice cream ball
This gadget, introduced to me at this year's Saltscapes Expo by chef Roland Glauser, appeals to the young and the young at heart. No electricity required; simply put rock salt and ice in one end and ice cream ingredients in the other, before attaching the inflatable cover and letting the kids go at it. Delicious ice cream is just a few kicks away. Perfect for picnics, camping trips and barbecues, it's durable, lightweight and portable. Made by YayLabs! Available online at amazon.ca; $32
10. Maritime Seafood: Chowders, Soups & More
Chef Paul Lucas from Prince Edward Island wowed William and Kate with his creations when they toured the Island in July 2011, and I'm sure you will be just as impressed with his new cookbook. In Maritime Seafood: Chowders, Soups & More, chef Paul begins with the base for all successful dishes; a flavourful stock. Once you've mastered this technique he builds on that foundation, teaching methods for creating mouthwatering dishes guaranteed to make your friends and family feel like royalty too! Acorn Press; $19.95
11. Stacking colanders
I like to keep fresh fruits and vegetables peeled and washed; ready to grab and go. These stacking colanders from Trudeau make the job easier with three sizes for every need; dishwasher safe with a five-year warranty. Check trudeaucorp.com your nearest location; $19.99.
12. Wood paste
I have fallen back in love with my wooden cutting boards since discovering Cornect Family Farms wood paste. Made from food safe mineral oil and Nova Scotia bees wax, this scent-free paste has restored lustre to our boards and will keep them looking good for years to come. I liked the results so much I tried restoring an all-natural piece of wood furniture with smashing results! E-mail This email address is being protected from spambots. You need JavaScript enabled to view it. for shipping details; $10 for a 70 g jar.