DON'T LET THE ultra-casual atmosphere at Evans Fresh Seafoods and Restaurant deter you or you might well miss out on some of the best seafood in the Maritimes. Located at Alderney Landing, near the ferry terminal in Dartmouth, Evans is not your typical sit-down restaurant. Offering counter service and general seating (food is delivered to the table), Evans serves up amazingly fresh product along with a great view of Halifax Harbour. Beautifully prepared fish in a nice light batter (a gluten-free version is available upon request) with hand-cut fries and homemade tartar sauce is their most popular menu item. Other menu options include large plump clams, lobster rolls, lobster poutine, scallops, a fish burger and fabulous chowder.
Evans began its life in Dartmouth selling fish at the weekend market (fresh fish is still available for sale). Fisherman Evan d'Entremont of West Pubnico caught the product and his son-in-law Jimmy Kerr sold it. Together they processed and packaged the fish for sale. When more space became available in Alderney Landing, management asked Evan if he would be interested in becoming a permanent seafood vendor. That's when Evan's daughter Joline and her husband Oussama came into the picture. Both had been working in Montréal but got "hooked" on the idea—aren't we glad they did!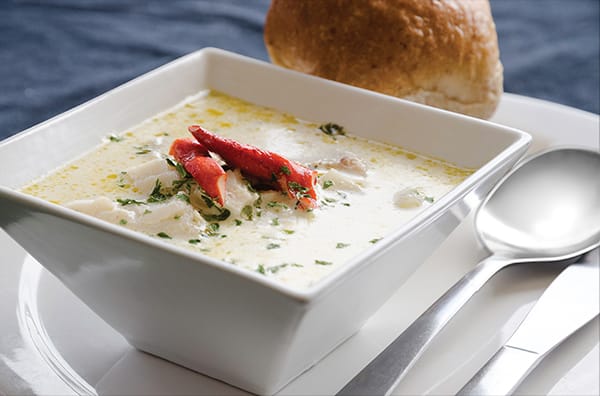 Open Tuesday through Friday, 10am-7pm, and weekends, 11am-5pm. Information: 902-466-2118.