Big Spruce Brewing started with a passion for great, flavourful craft beers. Owner Jeremy White was an avid home brewer who moved with his wife Melanie to a farm in Cape Breton only to discover that there was not an abundance of hops growing in the province. So, he started to grow his own. That decision led the couple to plan an on-farm craft brewery and the founding of Big Spruce Brewing Company.
The name reflects both the Cape Breton wilderness and an old spruce tree that grows at the edge of the brook behind the Whites' house. "And besides," Jeremy says, "Molson Canadian was taken."
With "punny" names, such as Cereal Killer Oatmeal Stout, Bitter Get'er India Black IPA, You Spin Me White Round and Hoppily Married Harvest IPA, Jeremy and Melanie have brewed 37 different brands or one-offs and view the fun names as part of the creative process. "I want names that make people laugh, think, or that at least trigger an emotion," says Jeremy.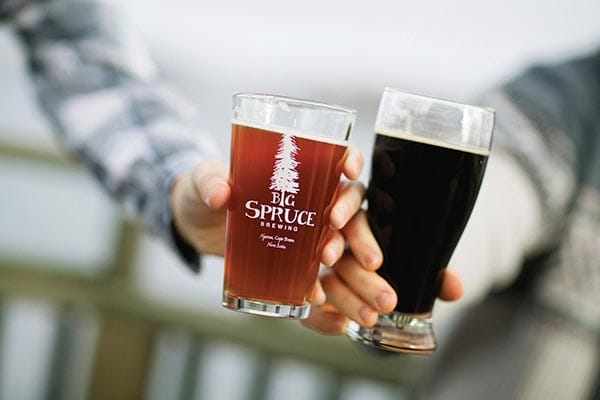 "Anyone can call a beer Pale Ale. We take it a step further."
Apparently the strategy is working. Demand for their product started high and is only continuing to grow.
As to why they chose Cape Breton as their base of operation, Jeremy says this: "Where else can you buy a 100-acre farm for the price of a fancy car? People only see the economic depression here and often overlook the opportunities: cheap, quality land, culture, people, the great outdoors…. It really is a fantastic place."
If Big Spruce is on your must-do list this summer (and it should be!) visit them at 64 Yankee Lane Road in Nyanza, Cape Breton (just west of Baddeck). Open Monday to Friday 10am-6pm and Saturday 12pm-4pm. If you can't make it to the farm for a tour, be sure to look for their craft beers in bars, pubs and restaurants throughout Atlantic Canada. ~AB