A delicious romp on the wild side
Chef Michael Smith does nothing in half measures. To wit: when The Inn at Bay Fortune reached its "best before date" three years ago, he and his wife, Chastity, bought the inn and proceeded to do a 180-degree overhaul. Chastity turned the property into a Canada Select 5-star country inn and Michael created the FireWorks Feast that now sells out every night, rain or shine. It's a winning combo and a spectacular success.
In some ways, chef Michael has come full circle. Back in the 90s, this is where he made a name for himself and put the Inn on the map for food aficionados. However, he's quick to point out, "I'm not that guy anymore. Things had to change dramatically." He took most of the winter of 2015 to figure things out and came up with three key F words: Farm. Fire. Feast.
"The first thing we had to do was to re-establish the herb garden and start the farm. There's an 8-acre vegetable farm here with the best organic market gardeners on PEI working for us—Jeff and Carey Woods. They are us, and we now grow everything that we serve."
He adds, "Secondly, we built a new kitchen—a fire kitchen. It's a 25-foot-long brick-lined affair that includes a smoke house, open hearth, rotisserie, grills, plancha (flat top griddle), and wood-burning oven. One hundred per cent of whatever is cooked is prepared with live fire—and not just prepared with live fire but prepared impressively and interactively with guests."
The third component, the feast, was a riskier proposition. His gut told him to get rid of the concept of "fine dining" and cut to the core. Goodbye to white linen table cloths and pretentious names on menus. Hello to communal dining at long country tables. Think: one giant kitchen party!
Yet when the daily paper, The Guardian, ran a front page story outlining the concept of the FireWorks Feast before the Inn opened, a former guest called and said, "I've been coming for years and I'm never coming back. I'm not sitting at a table with somebody I don't know. You're ruining it!"
"I didn't sleep much after that, but when we finally got it up and running, within just a couple of days we knew we had a hit. On several levels our feast is obviously a celebration of the island," says the culinary entrepreneur, "but it's also a shared communal experience. Some people are put off by this, but by the end of the meal they're over it. They're not only over it, they're way past it. This is the Maritimes. This is how we roll!"
The FireWorks is actually an atelier—a workshop of chefs who are passionate about food. But it goes beyond the notion of learning culinary arts. "We are all about creating the maximum aesthetic for young chefs at the beginning of their career," says chef Michael. "This includes rediscovering, respecting, and reimagining the food ways of the past."
In the process, the chefs-in-training, referred to as the Fire Brigade, do it all. They work the land, forage, harvest the vegetables, light the fires, preserve and ferment, and bake the old fashioned way. They also serve all the food and engage with guests.
Yours truly had the pleasure of taking part in the FireWorks Feast last summer. Here's a bird's-eye view:
Dinner is a seven-course meal spanning four hours. We gathered at 6pm for the first course, called the "Oyster Hour" and roamed outside and around the property, visiting (and eating at) four deliciously-different food stations.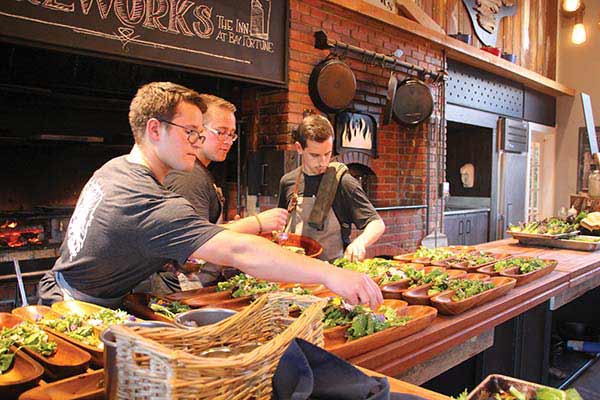 We started in the upper corner of the herb garden where one of the chefs grilled sausages over a maple-wood fire and offered us bite-sized hunks that we dipped in a farm-made mustard sauce and various herbs. Chef Michael joined us in the herb garden and fielded questions.
Closer to the Inn, we enjoyed slivers of seasoned lamb which were cooked in cast iron pans over the fire pit then wrapped in bok choy, grilled, and finally laced with a curried onion cream.
Inside the Inn, Lucky Lime oysters were shucked and served with a dollop of Bloody Mary Ice in what used to be the gasworks kitchen. Eventually, we roamed into another area for smoked catfish on inn-made seedy crackers drizzled with Cajun-spiced aioli.
At each stop we chatted with the chefs, learned where the food came from and what was involved in its preparation. And that was just the first course!
The next six courses were staged in the FireWorks kitchen where we sat at long tables, elbow to elbow with strangers. But they weren't strangers for long. All the menu items had basic names like "Bread & Butter Board," "Chowder Kettle," and "Today's Catch," yet each course was sensational. Even the simple "Home Grown Salad" featured 33 ingredients from the farm.
Words fail. After a dazzling desert that consisted of a parsnip sponge cake and home-made ice cream strategically placed at intervals and dramatically "dressed" with various concoctions, on a sheet of butcher paper that had been rolled out the length of the table—we bid our adieus to new friends and waddled back to our rooms.
And there you have it. Farm. Fire. Feast. A delicious romp on the wild side deserving of another F word. Fabulous.
Changes for 2017
For many reasons, chef Michael has never been happy with the notion of guests leaving tips or gratuities. "This is a ridiculous system. It's really asking you to pay for your dinner twice." He also feels that it doesn't acknowledge the work of many, so this year he's jumped on the HI (Hospitality Included) bandwagon. This means that the price of the FireWorks Feast ($125) includes all gratuities. "This carefully considered policy allows us to fairly acknowledge the professionalism of everyone on our team with an industry-leading wage and benefits package."
Recipes in this article