In which an enthusiastic "shroomer" in Pictou County shares his love of chanterelles
Johanne and I were enjoying a quiet lunch at home last fall when the doorbell rang. We weren't expecting anyone and since we were sitting near the kitchen window, we instinctively looked to see who was there. What we saw made us look at one another in disbelief; the man standing there had an uncanny resemblance to Santa Claus, at least to my mind. Johanne insisted that Santa is a bit garish and this gentleman resembled the more dignified and decidedly more handsome Father Christmas. We opted to pursue the debate at a later time and invite the caller in.
The gentleman was Bob Whitman and he had come to share one of his passions: chanterelles. Bob hails from Lansdowne, Pictou County, and has been foraging for chanterelles for many years. I learned more from him in one visit than from hours of research.
Chanterelles are my favourite mushrooms, so buttery and smooth there is no comparison. I am not the only one who feels this way; chanterelle spots are a closely guarded secret. They grow in wooded areas, especially at the base of birches and hemlocks. Their distinctive yellow colour and trumpet shape makes them pop against their background. Typically found in late summer and early fall, chanterelles thrive in wet conditions so heavy rains may bring the crop out earlier.
Chanterelle Gold
If you're fortunate enough to find gold, cut the mushrooms at the base rather than pulling them from the ground. Just like most mushrooms, chanterelles have a poisonous "look alike," called jack-o'-lantern mushrooms. There are a few distinct differences to look for; chanterelles grow in soil and have ridges under the cap but do not have gills (picture a portobello and you'll know what a gill looks like) whereas the jack-o'-lantern variety has the gills and grows in rotten or decaying wood. If you're hesitant, take along an experienced "shroomer" until you are sure you know what it is that you're looking for, and never eat a wild mushroom unless you are absolutely certain that you know exactly what it is.
Simply Delicious
Back home, give the chanterelles a light brushing—it's best not to rinse them, but if you do let them dry well. Once they are prepped there are many ways they can be prepared; I prefer the simple ways of eating them, sautéed in butter or made into a soup.
Bob came bearing gifts: a bottle of pickled chanterelles—something I had never tasted—and, they were absolutely delicious! Bob has also used the mushrooms to flavour vodka and I was surprised to learn he froze them as well. He sautés them with a bit of celery and onion and adds a small amount of chicken stock before freezing the mixture. To use, he simply thaws it, adds it to a sauté pan and when it's warmed through he adds sour cream. Bob tells me this is amazing served with pork tenderloin. I have to say his excitement was contagious and it was wonderful to talk to someone with such a passion for such an amazing ingredient.
After a delightful visit we bid farewell to Bob, knowing that we'd definitely meet again.
As he walked down the driveway Johanne murmured something along the lines of "Christmas should come more often." I pretended not to hear and instead focused on my jar of pickled mushrooms.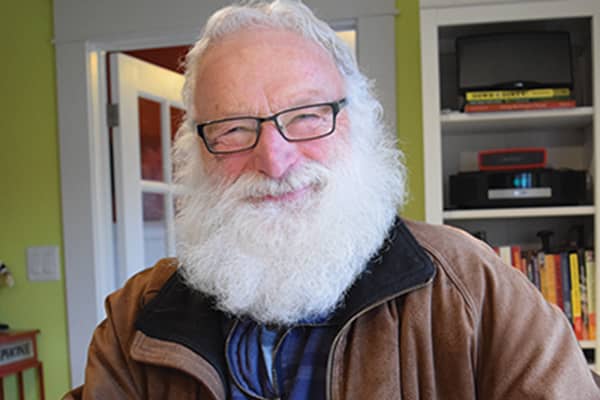 Recipes