1809 Restaurant & Bar, Miramichi, NB
Growing up in Launching, PEI, Jesse MacDonald had no aspirations to become a chef but food was very much a part of his life—both his parents fished together every spring and summer, and his grandfather had a large 50-acre farm that had been in the family for five generations.
For Jesse and his family "farm to table" wasn't a fad, it was a way of life.
In 2010—after having worked in the "dish pit" at Rodd Brudenell River and getting a taste for the restaurant industry—Jesse attended the Culinary Institute of Canada before apprenticing in some of the most recognizable kitchens on the Island, such as The Inn at Bay Fortune, the Red Shores Racetrack & Casino and at two of the Rodd Hotel and Resort Properties: Brudenell River and Crowbush Cove.
These days Jesse works away from his beloved Island home, at Rodd's Miramichi location, where he is executive chef at their 1809 Restaurant & Bar. Under his guidance, Rodd Miramichi River Hotel was awarded the Five Star distinction. At just 25 years of age, I predict chef Jesse MacDonald's name will become synonymous with the growing culinary movement in New Brunswick.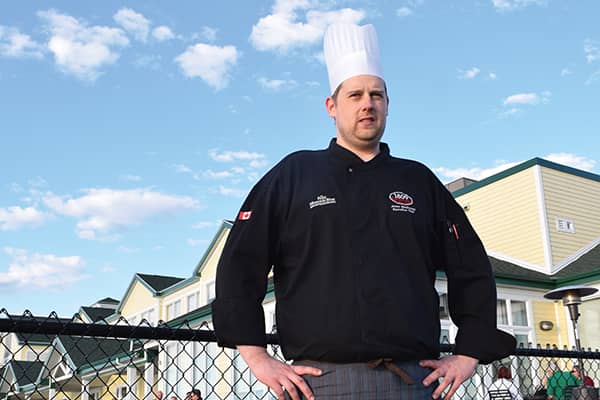 Q What accomplishment are you most proud of?
A My answer is twofold. My father died in the fall of 2008 when I was 17. He captained a lobster boat, with my mother as his hired hand for the fishing seasons, and with his sudden passing we were left in a tough spot. I ended up taking his place and captaining our family's fishing fleet for two spring lobster seasons, with my mother, again, as my hired hand for the seasons.
It was hard for both of us but I can't tell you how proud it still makes me to think back to what I was able to take on at such a young age.
I took over the executive chef position at 1809 Restaurant & Bar at the Rodd Miramichi River at 23. I don't think I would have been able to take on that challenge at such a young age if I hadn't had the experience of taking over my father's fishing fleet. It allowed me to be tougher and more resilient than I even knew I was.
Q What is your favourite style of cooking?
A Over the years I tend to find my style as being very rustic. It borrows a lot from the Italian cuisine, as I feel that here in the Maritimes we are so similar in regards to our region and what we have available at our fingertips, much like in Italy. However, no matter what my inspiration is behind a certain dish, you will always find solid classical French influence.
Q What do you see as the upcoming trends in food?
A I think the "small plates" or "tapas" style of establishments will continue to grow in popularity. On a deeper level, I think diners are going to continue to want a genuine experience when they go out to eat. Food is becoming closer and closer to being the universal language spoken right across the globe; it brings people together.
Q Do you have any cooking tips you could share with us?
A A recipe is just a guideline. The best way to come out with a flawless dish time after time is taste, taste, taste! Your toughest person to impress with your own cooking should always be yourself.
Q What foods do you eat "in secret"?
A Pogos with A LOT of ketchup.
Q What do you not like food wise?
A Believe it or not, I hate lobsters.
Q If you could cook for any three people, who would they be and why?
A I would probably go with my mom, Colleen, my Gram Noreen and my late father, Mike. I still miss him every day. Those three deserve the most credit for where I am today.