Get down and groovy!
For years my sister-in-law, Monique, was in charge of planning the Christmas dinner menu. The rest would add in a few items here and there, mostly sweets, to supplement it. One of the things you could always count on was Monique's Cranberry Jelly Ring. It was simply cranberries (and a few other ingredients) suspended in Jell-O and served in place of cranberry sauce. It was such a nice complement to the turkey, it was something we always looked forward to.
That jelly ring gets brought up a few times through the year. I'm always surprised at how many people have a favourite Jell-O recipe in their past. For my wife Johanne, it's orange Jell-O with grated carrot and pineapple and Dream Whip folded in. In fact, talking about it got her so excited she immediately phoned her mom to see if her old Tupperware jelly mould was hiding in the depths of some little-used cupboard but, alas, it had met the yard sale fate many years ago.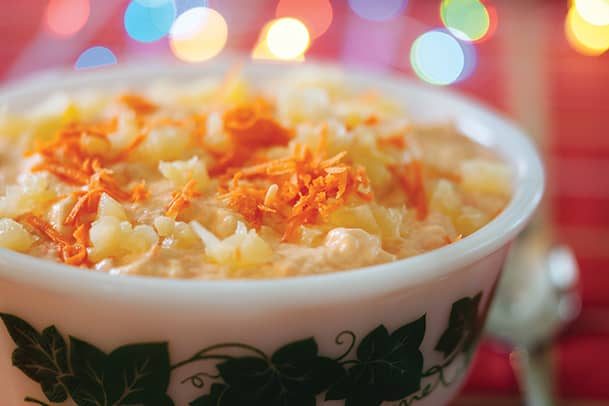 Johanne said her mom often used fruit cocktail and Jell-O as a quick weekday dessert and replicating it proved harder than she had first thought, as knowing exactly when to add the fruit cocktail seemed to be a bit of a science. Add it too soon and it sinks, add it too late and it floats. Who knew?
I've noticed restaurants are getting onboard the "retro food train" as well. Many menus have chicken-pot-pie, shepherd's pie, tuna melts, and mac and cheese as regular items now. Granted, some are hardly recognizable in an effort to bring them into the 21st century.
Why the resurgence in popularity? These are foods many of us ate growing up; in fact, I think "retro food" is just another way of saying comfort food.
That being said, some of the retro foods I've come across do need to stay firmly in the past. I found a recipe that had been published in a leading womens magazine in the 60s for "Ham and Banana Hollandaise." It looked easy enough: simply wrap sliced ham around a banana, top with hollandaise sauce and bake. Simple is the only thing I think that this recipe has going for it. I should add a disclaimer here: I didn't test this recipe as I couldn't find a focus group willing to participate, but I'm confident that it would have been deemed a flop regardless. (No letters, please, should you decide to serve this at your next holiday party!)
If you're still talking about your mother's tuna noodle casserole then, by all means, make it. I'm not sure when we deemed that certain foods were too "outdated" for today's dinner table. Yes, many recipes included processed and canned foods, and we're moving away from that, but every now and then it's OK to let a tuna melt make you feel warm and fuzzy inside. And if hamburger and macaroni casserole (goulash, if you're feeling fancy) makes me retro, then I can get down and groovy with that!
Recipes