A taste of Gros Morne offers "the goods from the woods"
This is what's in our freezers," says Ian Stone of Tour Gros Morne. "A bunch of cod, a halibut, some moose." Rebecca Stone, Ian's wife and business partner—marine biologist and passionate, self-taught cook—sets before me a trio of appetizers she has prepared to begin tonight's wild feast. The scoop of cod ceviche, honey garlic moose meatballs and sticks of moose jerky are paired with three beers by Quidi Vidi Brewing Company Limited, Newfoundland's largest craft brewery.
Ian and Rebecca run their Finer Things Food Tour out of Norris Point and Rocky Harbour, twin enclaves inside Gros Morne National Park, a UNESCO World Heritage Site in Newfoundland. Ian is starting tonight's four-stop tour upstairs in the Cat Stop Pub and Grub, a small restaurant with a large outdoor deck beside the passenger ferry that travels between the dock in Norris Point across the bay to Woody Point.
The feast is based on the wild flavours of Gros Morne, but Ian is no coldwater cowboy. He is part of a new wave of young Newfoundlanders who have lived away and returned to their beloved province to share its bounty and beauty with visitors in ways inspired by their travels.
The ceviche—raw fish marinated in lemon or lime juice, a preparation of South American origins—is paired with Iceberg, a lager made with, yes, iceberg water said to be 10,000 years old. "It's crisp and light," says Ian. "You can drink it on the patio all day long. It goes very well with the spice and citrus you'll find in the ceviche."
Next, Ian offers Honey Brown Ale, the sweetness of which complements the honey sauce permeating the moose meatball. The accompanying jerky is a lean meat that Rebecca has spiced perfectly to balance the mildly wild flavour. It doesn't have that elastic snap of beef jerky because Rebecca uses ground meat rather than shaved. Ian has paired it with Quidi Vidi's 1892, an award winning red ale that has a warmth to complement the jerky.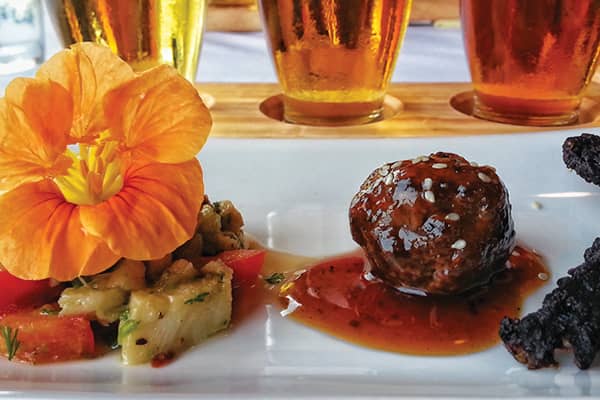 I am surprised to learn from Ian that the moose comes from the park itself. "We're the only national park where you're allowed to hunt." Ian explains that moose—a species introduced to Newfoundland about a century ago—are changing the park's forests into grasslands by browsing and killing young trees.
From the Cat Stop, we make our way to the Black Spruce Restaurant at Nettie's Harbour Inn for silky seafood chowder and mussels in Moroccan curry. Slivered almonds and house-made thick cut bacon give the chowder an unusual complexity. The paired Pinot Blanc by Mission Hill in British Columbia has what Ian describes as a crisp pear-apple character that cleanses after the richness of the chowder and mussels.
At our next stop—Chanterelles at Sugar Hill Inn—owner Vince McCarthy is in the kitchen and we start with his house smoked salmon touched with a spicy aioli served on crostini.
"Oh my gosh, that is so good," says one of the other participants. Vince—a soft-spoken, genuinely humble self-taught cook—emerges to share his secrets. The salmon is brined in salt, brown sugar and a little rum, then hot-smoked with alder.
It turns out, brining is Vince's go-to technique for fish. "How Vince does his halibut, that's how everybody is doing it now," says Ian of Gros Morne's residents. "The secret is out." Even after so many appetizers, the main course proves to be so perfectly prepared, I clean the plate of brined, pan-seared halibut served on braised leek coulis with creamy chanterelle risotto—Vince collects the mushrooms himself—with roasted cauliflower and beets and a stack of bright green beans.
For a wine pairing, Vince hand-selected a 2014 Chardonnay from Mauro Molino, a small winery in Italy's Piedmont region. He travels to Europe every year to search out wines for his restaurant. Although unusual for Italy, Vince says of the Chardonnay, "It's got a nice minerality and citrus acidity."
We end our evening, as Ian's clients usually do, at the highly entertaining Anchors Aweigh musical comedy show in the Anchor Pub at the Ocean View Hotel, where we finish the dining portion of the evening with a slice of creamy New York-style cheesecake served with generous helpings of two sauces, rhubarb and wild bakeapple, also known as cloudberry. Both are tart, but the bakeapple has crunchy seeds and a unique apricot grassy flavour that erupts with the burst of each tiny pocket of juice.
"When I came back," Ian muses over Prosecco and cheesecake, "I wanted to create a small business geared towards non-timber forest products: berries, mushrooms, teas—the goods from the woods." Dessert like this at an average small hotel is definitive proof that the wild flavours of Newfoundland are being successfully captured and curated by creative Newfoundlanders like Ian and Rebecca out to show off and share the riches of this dramatic land and bountiful sea.
Recipes