Delicious ways to put local pork on your fork
The pork industry in Atlantic Canada is vibrant and thriving, encompassing everything from small-batch artisan producers making various types of charcuterie all the way up to commercial processing plants putting fresh, locally-produced meats onto the shelves of our grocery stores across the region.
Charcuterie is one of my favourite ways to enjoy pork. Before refrigeration, people needed a way to make their precious meats last as long as possible. Charcuterie was developed by the French and consisted of curing meats to aid in preservation. Common examples were bacon and ham; the art of charcuterie evolved to include the making of sausages, terrines, patés and confits to name a few. In Atlantic Canada there are shops dedicated to this culinary art form and farm markets often have producers selling these special offerings.
Most pork raised in Atlantic Canada finds its way to commercial processing plants. Here the hog is broken down into popular cuts such as roasts, chops, shoulders, and tenderloins. Then you have by-products such as hocks, which are amazing for soup-making; trotters, which are exactly what they sound like but aren't commonly used locally; and the heads, used primarily in the making of head cheese and also as a base for very rich and flavorful soup broth. Where beef liver, heart and tongue are often found for sale at speciality shops, pork organ meats are not as popular. If you're a hardcore enthusiast, you may consider using the intestines for sausage casing.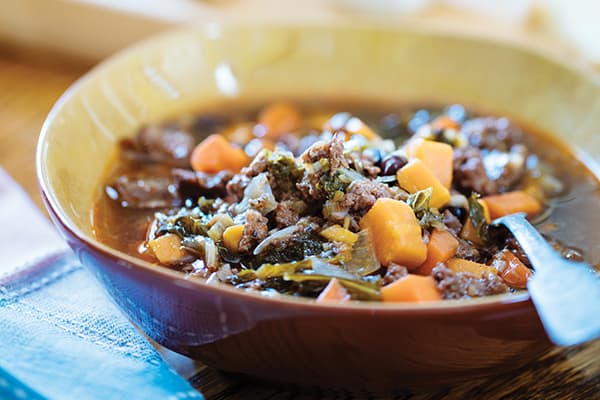 Tony's Meats in Antigonish is a local pork plant and their products are exceptional. We especially love their ground pork and their pork riblets, which make a wonderful boiled dinner.
As a chef I have a limitless amount of respect for the person who can break down and use a whole hog. This is the guy (or gal) who recognizes that the pig's cheeks are unbelievably lean yet moist, who knows how to separate the tissue that is flavorful and good to eat from that which isn't. This same person will take the time to roast and simmer the bones to extract the smallest bit of marrow; this is a process that takes hours with minimal yield, but it is so worth the effort!
And then there is bacon. I refer to bacon as the duct tape of the culinary world; if your recipe is heading south, adding bacon will fix almost anything. There are so many excellent varieties of bacon on the market. Margie Lamb of Meadowbrook Meat Market in Berwick, NS spends many hours in the test kitchen developing new flavors. If you manage to stop by, try her wonderful hams and be sure to try one of their Jimmy Dogs. The double-smoked bacon that David Wall produces at The Pork Shop in Pictou County is one of my favourites; the capicola steak is a close second. One of my favourite things to make is candied bacon; simply sauté chunks of double smoked bacon, remove from the pan and get rid of any excess fat, return to the pan, sauté and then top with maple syrup. This is what chefs eat for dessert. It is phenomenal and is nice on a Caesar salad or as a garnish on soup.
Below are some of our favourite pork recipes. We hope you enjoy them as much as we do!
Recipes