Kitchen Door Catering
I am so pleased to feature the Taste Of Nova Scotia Cutting Edge Culinary Competition winner from our 2016 Saltscapes Expo: Brad Wammes from Kitchen Door Catering.
Brad grew up in Clinton, ON, a farming community three hours west of Toronto. The region is the largest producer of road salt in Ontario and the mine is 2.5 miles beneath Lake Huron. Mining wasn't in Brad's veins, but cooking was. Both his parents worked, so one of his daily chores was to make the evening meal. Brad developed a love for reading his mother's old church cookbooks; we all know that's where all the best recipes can be found! That led him to enrol in the Culinary Management Program at Toronto's George Brown College. After graduation Brad opted to follow the Michelin trail through Europe, working in a series of star restaurants in Scotland and England, the Scilly Islands, then through areas of southeast Asia, Thailand and Australia.
When Brad became a father to twin girls 11 years ago, he chose Halifax as his place to settle. He first worked offshore but then came the chance to join the team at Kitchen Door Catering, located in Bedford. As executive chef, Brad is in charge of food development and quality control as well as production, procuring and staff mentoring.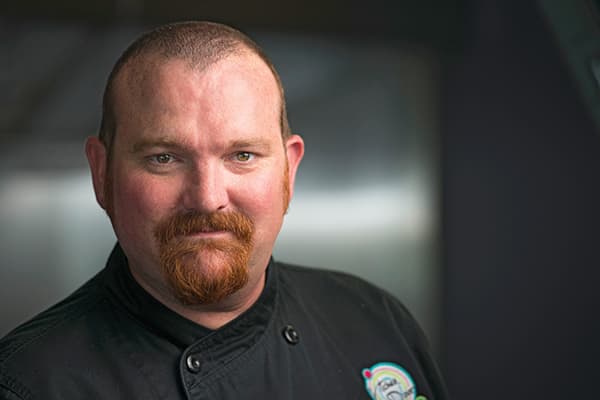 Q What is your favourite meal?
A Nostalgic: canned Campbell's tomato soup and grilled cheese on white Wonder Bread with Kraft Singles. Current: authentic Thai green curry with shrimp, seafood and rice noodles.
Q Who do you look up to?
A My favourite chef is Stew Eddy, my executive chef at St. Martiens on the Isle in the Iles of Scilly. He was the first Michelin star chef with whom I had the opportunity to work. His cuisine was simple, but he taught me the foundation of proper seasoning and structure. He was a short man (about five feet two inches) compared to me (over six feet), so when he was yelling at me, he would look up above his glasses. It always made me chuckle.
Q What is your favourite ingredient to work with?
A Anything and everything local. I have a love for local meats and butchery like Oulton's or The Pork Shop; I love working with pork. I love making my own sausage, charcuteries and pates. I love how local, seasonal produce tastes so much better.
Q Do you have any cooking tips you could share with us?
A Layering your seasoning—always season three times, at the beginning of the cooking process, in the middle and again at the end. Taste. Taste. Taste!
Q What is your favourite style of cooking?
A Low and slow. The flavours you can develop and the tenderness you can attain is unlike any other method of cooking. Braised short ribs, lamb shanks, and a good old-fashioned stew.
Q What do you see as upcoming trends in food?
A Zero-waste cooking—why do we peel a carrot when the peel is equally as delicious as what's inside? There is a trend to waste less and use every part of the ingredient you are using—whether a vegetable, fruit, or animal. It goes back to the nose-to-tail philosophy.
Q Do you have a favourite cookbook?
A Right now, my favourite is Heritage by Sean Brock. Other well-loved books on my shelf are Marco Pierre White (White Heat), Heston Blumenthal (The Fat Duck) and Martin Picard (Au Pied de Cochon).
Q What do you not like, food-wise?
A Lavender used in food reminds me of eating soap.
Q What kitchen tool can you not live without?
A My microplane—a little bit of lemon zest can add so much to a dish.
Q What is the most embarrassing thing that has ever happened to you in the kitchen?
A Water and hot fat. A very long time ago, in Toronto, one very young, very stupid kid was cleaning a deep fat fryer—and I drained the hot oil but didn't close the spigot. I dumped in the hot water to clean it, and it went right into the hot oil and created an explosion of hot oil and water everywhere.
Q What makes you tick?
A My kids. They are very inspiring some days and other days they are just a lot of fun.
Q If you could cook for any three people—who would they be and why?
A Stew Eddy, to show my first mentor how far I have come. Marco Pierre White would be an interesting night. His philosophy on life and food really make you think. Sean Majumber—It would be a funny night!
Q What foods do you eat in secret?
A Chicken wings and beer.