Great gadgets and beyond
Summer is the perfect time to renew and refresh our supply of fun and functional kitchen gadgets. Not only did we find a few really nifty items to make entertaining more enjoyable indoors, we found a few that make outdoor entertaining even more fun as well!
So, pick a cool spot in the shade, pour yourself a tall glass of whatever cools your jets and relax with our list of great finds!
1. Danby Ice-n-Easy
Ice, ice, baby! No more last minute trips to the convenience store because you've run out of ice. The Danby Ice-n-Easy ensures a steady supply of fresh cubes in three sizes and, best of all, this little guy does not need to be plumbed in. Simply plug in, fill the reservoir with water and select the desired size. The Ice-n-Easy will produce up to 33 pounds of ice in a 24-hour period and will produce its first batch in just 10 minutes. $149 at costco.ca.
2. Mini spiralizer
This hand-held spiralizer from Joie is ideal for those without a lot of storage space. Much more compact (and economical) than its larger counterpart, this one fits into any utensil drawer. It produces a spiral very similar to larger products, albeit the spirals are a bit shorter making the garget ideal for spiralizing fresh cucumber and zucchini to add to salads or soups. This product is a great addition to the cottage and RV. Kitchen supply stores, $4.
3. Fruit infusion pitcher
We all know the benefits of staying hydrated during the hot summer months, but sometimes you need a little more personality in your H2O. Adding fresh sweet and savoury flavours is the perfect way to do so! Think of all the amazing combinations: strawberry-kiwi, basil-lime, or cucumber-raspberry, among many others! This pitcher from Prodyne is a favourite because of the top strainer which allows you to pour while leaving the fruit behind. The company suggests that you can use the same fruit for up to a week before the flavour is lost, making it economical as well as delicious. Winners or Homesense, $20.
4. Strawberry huller/corer
There is nothing better than the taste of fresh, sun-ripened strawberries and no better way to preserve that flavour than by making jam or jelly. A strawberry huller goes a long way towards speeding up the process. This one from Trudeau removes not only the hull but the core as well, a terrific feature because strawberry centres can sometimes be a bit bitter. Simply insert the tube into the bottom of the berry, push it up through, taking the core and hull with it; then express the bulb to remove them. Kitchen supply stores or from shoptrudeau.com, $9.
5. Olive oil
Olive oil is a staple in our kitchen, but never more so than in the summer months. It goes on fresh grilled veggies, and we use it as a simple and light dressing on our summer salads and as a topping for our fresh summer pasta dishes. We've been long-time fans of Luckett Vineyards, so when we heard that Pete Luckett had branched out and was importing olive oil from the Lake Garda region of Italy, it was a must try! It didn't disappoint. It's light and fresh and just a bit fruity, and perfect with a fresh crusty baguette and a great balsamic! $25.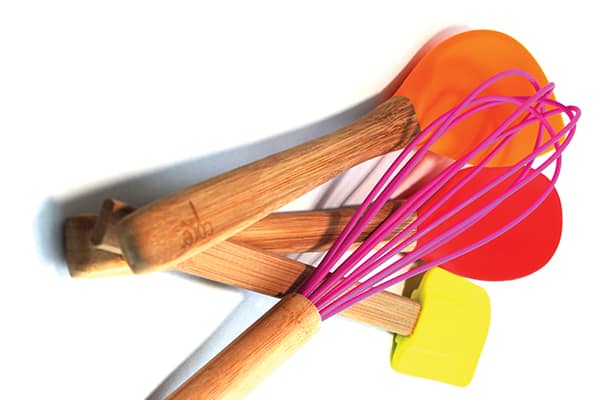 6. Beautiful small wares
All the beautiful light food that we prepare in the summer deserves an equally beautiful presentation and our wonderful oil from Luckett's looks absolutely stunning in this beautiful multi-purpose dish from Kiln Art in Chester, NS. Each fused glass piece is inherently unique, as artist Sharon McNamara creates each piece individually, ensuring that your special piece is truly one of a kind. Visit her shop Chez Glass Lass in Chester or her website at kilnart.ca for prices and to find your perfect piece!
7. Iced tea press
Summertime and iced tea were made for each other and now that flavoured teas are more popular than ever, the selection that is available is astounding. Tea shops such as David's Teas produce an almost limitless selection of blends, from sweet to savoury and their tea press makes it both easy and practical to brew and go. Simply add loose tea to the reservoir, add hot water and allow to steep, fill the reservoir with ice and when you're ready to drink press the plunger and enjoy perfect iced tea every time. $30 Instore at David's Teas or online at davidstea.com.
8. Colourful utensils
Add a pop of colour to your countertop without breaking the budget by displaying some colourful utensils in a unique container such as an antique crock, a colourful advertising tin or a clear jar. Easy to come by and relatively inexpensive, these items offer a lot of bang for your buck! Various kitchen supply stores. Prices vary.
9. Lawn games
The next time you host a family get together you'll be able to provide hours of entertainment with a homemade 'Yardzee" game. These have been popping up at craft sales all over but they're fairly easy to craft with a minimal effort (says a guy who's better with a spatula than a saw!) Simply cut a 4X4 into the desire size, sand and paint. The rules follow the indoor game with the similar name. More detailed instructions can be found online at such sites as remodelaholic.com, which offers printable templates as well.