Da dee da dee daa… The beat goes on...
Sonny and Cher might have had a different beat in mind, but it applies in our case too, because the beet really does go on. The red beet, which has been around since the Middle Ages, originally wasn't used as sustenance but rather as medicine to treat stomach ailments and blood disorders. At some point it moved from the medicine cabinet to the kitchen larder where it was unfortunately to become the world's most oft-pickled vegetable. Now don't get me wrong! I love pickled beets and there's rarely an autumn, no matter how busy we are, that we don't put up a couple dozen jars. In general, though, I feel the beet is maligned and under-utilized, and I'm working to change that!
My wife didn't eat pickled beets growing up but fondly recalls her mother making Harvard Beets, a recipe that involved draining canned beets, adding orange juice and sugar to the beet juice, thickening it all with corn starch, then warming the beets in the "sauce." This was a very popular recipe at that time. Make no mistake; canned beets hold all the nutritional value of fresh and make a wonderful alternative without as much mess.
On a recent trip to Switzerland I had dinner at the home of a chef friend. His wife, who is from Kazakhstan, made a borscht or beet soup that is a tradition in her part of the country. While I've had borscht before, it has always been quite smooth from simmering over a long period of time. This soup, however, had wonderful chunks of beet in it and was absolutely delicious. I left their home feeling quite satisfied and with recipe in hand.
I also enjoy beets in salads and because there are so many colour variations including white, striped (chioggia) and yellow or golden, these dishes can take on a very appealing appearance. Golden beets are a particular favourite, being quite a bit milder than the red, and are really gaining in popularity. While many people are just becoming familiar with them, they are actually a very old variety that has been around since the 1800s, proving that everything old is new again.
Roasting beets for salad isn't a difficult task. Simply boil them for about 40 minutes depending on their size; you want them tender but not soft. Slip the skins off under running water, cut the beets into wedges and place on a parchment-lined roasting pan, sprinkle with sea salt, drizzle with a bit of olive oil and balsamic vinegar (or maple syrup if you prefer) and roast in a preheated 375-degree oven for 35 minutes. They are wonderful as is or added to a bed of fresh greens.
No matter which way you slice it, the beet is gaining popularity, showing up on menus on everything from veggie sandwiches to a beet hummus. I've even seen it used as a pasta alternative. In my humble opinion this humble vegetable is finally getting the terrific recognition it has long deserved.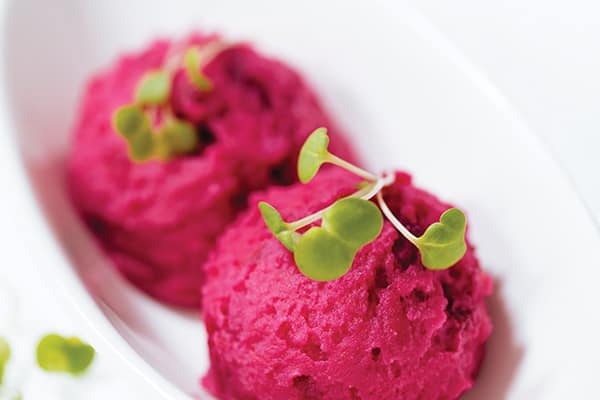 Recipes