Forget those imported Granny Smiths and choose tasty locally-grown apples
Eating local has a lot to do with knowing what exactly is growing in your area, and making conscious decisions about what goes into your grocery cart. One of the commodities that gets a bit confusing is apples. We have an abundance of amazing apples grown in Atlantic Canada but many of the named varieties such as Gala and Honeycrisp are also grown in other parts of the world. If you're purchasing apples at a grocery store, check the label to make sure you're actually getting a locally-grown apple.
One of the biggest misconceptions regarding apples surrounds the green Granny Smith. Although there are a few trees of this variety around, most of them in the Annapolis Valley, they don't grow well here and aren't sold commercially. Yet the imported apples are very popular at grocery stores and some people swear by them for cooking and fresh eating. The Granny Smith is popular because it is very crisp and a bit sweet, but we have products that are grown in Atlantic Canada that are as good if not superior, including Honeycrisp and Golden Delicious, for fresh eating and cooking.
There are always new varieties popping up onto the market, varieties with appealing names such as Ambrosia, SweeTango, Zestar! and Pazazz.
Apple varieties come and go. Some varieties lose favour with consumers, some lose favour with producers because of production challenges, and many have disappeared because they don't store well. Apples are harvested in the fall and over wintered in facilities where temperature and humidity are carefully monitored and controlled. Apples in controlled atmosphere storage keep their flavour and texture very well, and their shelf life is dramatically extended, meaning you can be looking for local apples not only during harvest season but year-round.
In the early 1900s there were close to 1000 apple varieties grown in Canada! At this time the Atlantic Provinces produce approximately 40 varieties, although these are grown in various quantities; some may only be available for a brief time while others will be available year round. Honeycrisp is by far my favourite apple and an example of an apple that can't always meet supply and demand, because it's so popular it's difficult (but not impossible) to find them year round.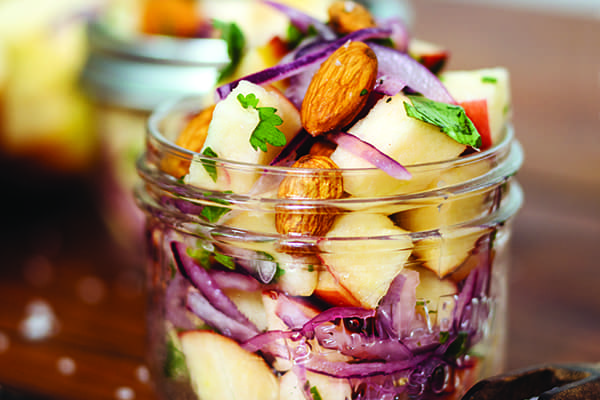 Recipes