Rock Recipes, St. John's, NL
I first heard about Barry Parsons after Johanne made a fabulous curry for dinner one evening. When I asked where the recipe had come from, she replied, "I've found a new blog that I'm obsessed over called Rock Recipes and this guy from Newfoundland named Barry Parsons is the author. His recipes are amazing!" It continues to be one of her favorites and we have many of his recipes in rotation at home.
I met Barry last year when he sat on our 2016 recipe judging panel for Saltscapes' annual recipe contest. Barry is a fulltime blogger, published cookbook author, food writer, recipe developer, husband to Lynn and dad 
to Olivia and Noah; and an absolute natural in the kitchen to boot. Johanne is a fan of the blog but I'm a fan of Barry; he's funny and intelligent and I thoroughly enjoyed getting to know him. I hope you do, too.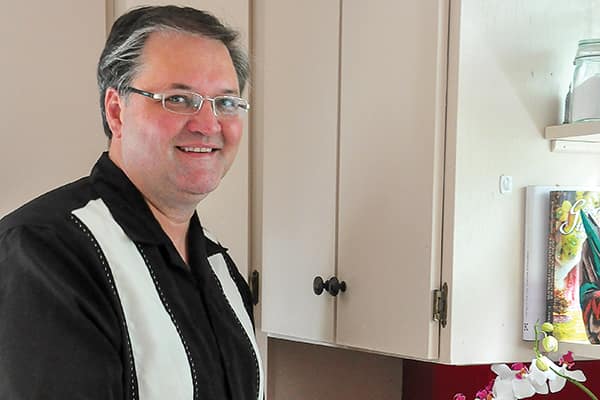 Q Where are you from?
A I'm a classic Newfoundland confliction.
I started life as a "bayman" in my hometown of Bay Roberts but I've been a St. John's "townie" for most of my life.
Q What inspired you to become a chef?
A People often assume that I'm a chef but I'm not. "Expert home cook" is as far as I venture. I cooked & baked from a very early age, and the women in my family were my biggest influence. I was a finicky eater as a child and started cooking for our entire family of eight before I even hit my teens. I figured out early that if I cooked, I controlled the menu…and could banish those damn yellow onions that Mudder put in everything!
Q What's your favourite meal?
A I love a good curry, but I still default to a great roast turkey dinner with Newfoundland savoury stuffing and roast potatoes. We have it once a month at least. My turkey gravy is legendary; trust me, you'd chew through a picket fence to get at it!
Q What's your greatest joy?
A My two kids, of course. My daughter is studying on a full scholarship at Ryerson in Toronto and my son enters Memorial University this September. They make us proud every single day of the people they have grown to be.
For myself, I am probably most proud that I had the courage to leave my "real" job and have the conviction that I could make my blogging and writing career a success. Conquering self-doubt is the biggest struggle for anyone trying to achieve anything. I took my time, but I got there in the end.
Q What is your favourite ingredient to work with?
A Seafood of any kind. Strangely, that finicky kid I grew up as didn't like much of it. My uncles were snow crab fishermen and we always had massive crab boils growing up but it wasn't my thing. Boy, did that change!
Q What is your favourite style of cooking?
A Just good honest home cooking; that's what readers on my blog respond to and the reason it has been such a success. You don't need complicated methods or exotic ingredients to make really good food. The most creative dishes can come from the simplest of ingredients and preparation.
Q What do you see as upcoming trends?
A Baking is making a resurgence...people find the simple creativity of baking very therapeutic. People often tell me that they love late night baking after work as a stress reliever. People are genuinely proud of the fact that they created something beautiful and delicious…and they love showing it off to family, friends and co-workers.