Summertime…and the cocktails are easy
Owen Ritchie and Andrew Cameron were both commercial divers working as underwater welders for a company based out of Halifax NS when their labourious, high-intensity career found them spending a lot of time away from home. During this time they developed their enthusiasm for spirits. "When we had down time, we would tend to get quite dehydrated and would seek out new and exciting spirits to quench our thirst. We decided with a lot of research, that we could make a product as good as what was offered in the local liquor commission, while saving money at the same time."
They both happened to rent rooms from their soon-to-be lawyer and began hobby distilling in his basement. It wasn't uncommon for Owen and Andrew to finish a 14-hour work day and then distill until two or three in the morning. Their roommates were not big fans initially, because when the still was running, the washrooms were out of order. The finite water pressure in the house would alter the final product if someone would run a tap or flush a toilet, so they were always off limits.
Owen and Andrew didn't sell any of their products as hobby distillers, but they always loved to bring Granny's Apple Pie Moonshine to gatherings in a four-litre jug or one-litre mason jars. This product gained popularity rather quickly and their lawyer-to-be advised them to start a legitimate company; and thus Still Fired was born.
Owen and Andrew did not expect the company to grow as quickly as it did and they are still amazed by how loyal their customers have been to their products. When they started the company they began writing their batch numbers by hand and some of their fans have made it their mission to try each individual batch and give their tasting notes along the way.
The guys have always maintained the quality of their spirits by being hands-on in every aspect of production. They are one of the few distilleries in the province that oversee the entire process, from fermentation to distillation, as well as bottling and labelling. Everything they sell is made from scratch at the distillery and they use as many local flavours as they can. Their spirits are truly unique because with the help of a family friend, Daniel McSparron, they designed and built their stills, "Kirby "and "Morgan," the first legal stills to be built in Nova Scotia.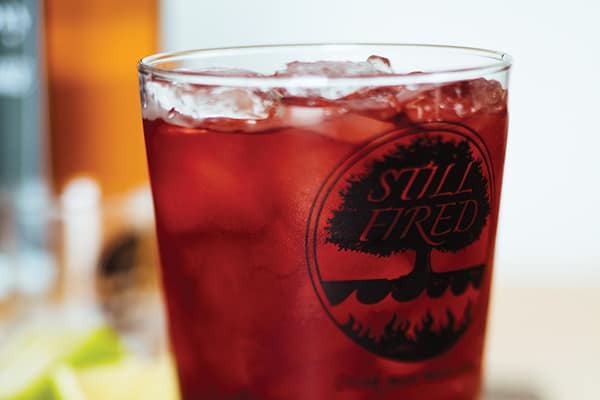 Still Fired's most popular product is their signature Granny's Apple Pie Moonshine. Not to be mistaken for Granny Smith apples, it is named for the award-winning apple pie recipe from Owen's 86-year-old Grandmother. This is a delicious blend of their corn moonshine, fresh pressed cider from Boates Farm, and a medley of spices. Mixed down to 20 per cent alcohol, this is a treat to be enjoyed chilled on ice or, as Andrew suggests, with local ginger beer.
Legal moonshine is in very high demand in the United States and Canada, with the ever-popular Moonshiners television show on the Discovery Channel paving the way.
Moonshine today is no longer a classification of spirits made in a bathtub or in the backwoods; it is defined as an unaged corn whisky. The Canadian Food Inspection Agency classification for whisky requires the spirit to age in an oak barrel for a minimum of three years so anything less than that is now classified as an original spirit or moonshine.
Andrew considers Still Fired to be a fun-loving, "sit around the campfire with friends and family" kind of company. When asked where they hoped to be in five years, he said, "We want to come into work each day and enjoy what we do, with many great people around us. We hope that five years from now, we have a much larger Still Fired family, because creating jobs in rural Nova Scotia is the real objective.
"Hopefully, we can maintain the great enthusiasm our customers have towards our products and as a result we can grow our line and see our products reach across Canada and beyond."
Both Andrew and Owen hope that you can take the time to head to beautiful Annapolis Royal this summer and stop into their location for a chat, a laugh, a free sample and a tour. "The only way to get the true experience is to walk through the doors of our distillery, take in the smells, see our stills Kirby and Morgan in action and chat with us about the process."
For a list of products please check out their website at stillfireddistilleries.com and join them on Facebook to participate in all of the fun events they will be attending across the province this year.
Recipe