Our archaic liquor laws are in perfect step with our archaic distribution laws
On a warm afternoon strolling among the grapevine rows at Domaine de Grand Pré in Nova Scotia's lush Annapolis Valley, one might forget this is Atlantic Canada, were it not for the nearby Bay of Fundy. There's a very youthful, bumming-around-Europe feel about the place, perhaps infused from the owner, Hanspeter Stutz, a laid back but passionate former Swiss banker.
The landscape itself—a certified UNESCO Heritage site—is almost stunning enough to overshadow the world's highest tides. And it's all covered in anticipation for the main event, dinner at the Le Caveau restaurant, deemed one of the top-20 winery restaurants on the planet by Wine Access Magazine.
Dinner is served, of course, with Nova Scotia wine. And it's really, really good. It's not just the view that attracts 35,000 visitors per year.
Have you ever tried local wines? How about the Newfoundland Distillery Company's gin (made with abundantly available local juniper), its vodka or Scandinavian-style aquavit? A Sydney Stout from the Prince Edward Island Brewing Company?
If you have, you're in the minority. Your indulgence may have required a visit to a local distillery, brewery or winery. And even if you found your favourite local drink in the liquor store, you likely paid a premium for the privilege.
Inconsistent Rules
If you don't have time to visit Hanspeter Stutz's Grand Pré Winery, you might still find his products in one of a handful of private wine stores or at a Nova Scotia Liquor Corporation (NSLC) retail outlet, sold among the other local wines. But the reality is, most of his revenue comes from visitors buying wine on site. Some are Nova Scotians on day trips, but they come from all over the world; they are tourists spending money on accommodation and meals and transportation, taking in the sights and sampling local wares.
Strangely, there is a disconnect from Stutz's product to the people who live closest to the winery, in Atlantic Canada—especially those in New Brunswick, Newfoundland and Prince Edward Island. This is despite strong vocal support from Nova Scotia's agricultural department for the product and the entire wine industry here.
Stutz is appreciative of that support and the fact that his wines are available in liquor stores in Nova Scotia. But the regulatory regime doesn't match his ambition.
"We would find it very interesting to go to British Columbia, Ontario or Quebec," he says. But the markup and the red tape involved in selling in other provinces is prohibitive. "It's easier to send one container to Europe or China than one case of wine to New Brunswick."
As a result, he says, our liquor stores are filled with too many wines from other countries. Local wines are suffering a "nearly 180 per cent markup…we end up selling a bottle for $25 but we only get $9…"
Staff in liquor stores are beginning to acquire more expertise in any specific alcoholic beverage, like wine, he said, so they have a great chance to learn how to steer customers toward the products that best match their culinary plans.
The local stuff doesn't get noticed as much and there's a snowball's chance of selling in a neighbouring province. He sums up his frustrations this way: "We should have an open Canadian domestic market—and if this is still too far away, we should work on an Atlantic Canada solution and give all producers a fair markup." He sees this also under the umbrella of tourism as a great promotion.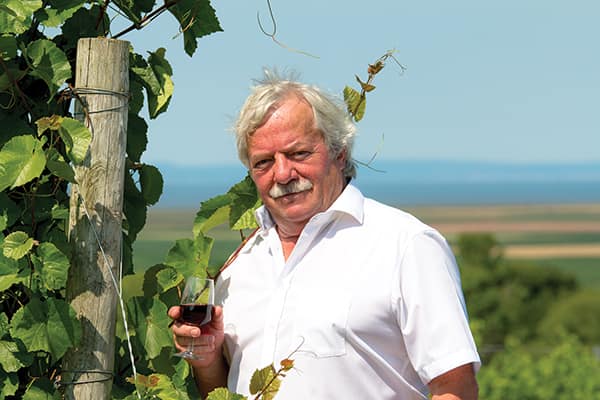 Additionally, Stutz says, the market is overregulated and the rules are inconsistent, with each province having its own set of regulations. "Nobody understands the overregulation."
Nova Scotia decided in 2015 to accept wines from other provinces but it doesn't always work the other way around, so it hasn't helped Stutz reach more lucrative markets in Quebec or British Columbia, where alcohol products are more widely available. He can sell in Ontario, where there are stronger rules to support domestic products.
"It's still not open in New Brunswick," he says. "It's not Canada-wide."
Beverage Expertise
Stutz notes that there is "some small progress" being made to liberalize the liquor market, bringing it closer to the way Quebec operates, with beer and wine available in corner and grocery stores. New Brunswick recently began allowing wine sales in grocery stores.
"We launched wine sales in all of our Sobeys stores in New Brunswick in late March," says Shauna Selig, communications manager for Ontario and the Atlantic region. She sees this ability as being about providing better customer service. "Customer response has been very positive. It makes for one less stop and one more to-do checked off their list."
Unsurprisingly, it's also good for overall revenue. Not because customers are loading their trunks with wine, but because the presence of wine brings more people into the store. "Our data show that having a liquor store adjacent to a Sobeys store positively impacts both traffic and sales," Selig says.
In Nova Scotia, grocery outlets have employed a slightly less direct tactic. "We rent space inside our store to breweries or private wine stores," Selig says. "Their space is accessible both from inside our stores but outside as well and I believe they set their own hours."
While the presence of private liquor producers next door and connected to the grocery store doesn't directly contribute to Sobeys' bottom line, there are obvious benefits to traffic through the store, which in turn boosts sales. The traffic goes both ways–for the producers, having a retail outlet next to a supermarket exposes the product to far more people than even the most beautiful winery will see in a year.
Perhaps most importantly, customers get access to people who actually know beer or wine, who can talk knowledgeably about flavour, body, nose, food pairings and more.
Maximizing Liquor Sales
Hanspeter Stutz calls all this "a certain kind of opening in the market," but far from what he is familiar with from Europe. He has a deeper vision of a special wine department within every grocery store, that would be staffed by experts guiding consumers to the best Canadian wines for their palate, like some upscale stores have done with cheese—and the wineries would have another direct sales channel besides provincial liquor stores.
"For wine from outside Canada, why do consumers accept to pay twice as much as you would in Europe?" he says. "It's old fashioned. Germany and Switzerland and France are all federally regulated, controlling import, production and sale of alcohol."
But those federal governments are not in the business of direct sales, nor are they motivated by maximizing alcohol revenue. "It's absurd to have a government that is responsible for protecting people from drinking too heavily also depending on the sale of alcohol for revenue.
"The best solution would be to take the provincial liquor jurisdiction back to Ottawa and create a Canada solution, like most western countries have. Give the provinces the control mechanism plus the authority for permits."
Here, there is a fundamental point. As detailed in Part One in the Aug/Sept issue of Saltscapes, Canadians have been in this habit of letting our provincial governments take on those conflicting roles of regulation and marketing since prohibition ended in the early-20th century. Now our provincial governments are addicted to the income, not to mention the fact that operating liquor stores boosts the number of government jobs in rural areas.
But to see the bigger picture we must also consider the costs. About one in five drinkers—or 16 per cent of all Canadians—drinks "above the Canadian low-risk drinking guidelines," according to a 2013 study funded by the Canadian Institutes of Health Research (CIHR). Yes, booze has been good for government revenue; last year Canadians spent $22 billion on alcohol, six billion of which was pure profit for government coffers. But it costs taxpayers more than twice that, $14 billion a year, to medically treat alcohol-afflicted Canadians. Nearly 80,000 were hospitalized last year.
In other words, alcohol is still costing taxpayers more than we are making from it. As businesses tasked with a marketing function, liquor commissions are driven to maximize revenue by selling more alcohol. It's a vicious cycle.
An Open Market
Like any marketer, liquor commissions are tasked with the complex job of setting price. Although they are providing a product always in high demand, numerous studies over the years have proven that alcohol consumption is highly price sensitive. In fact, public health organizations across Canada consistently recommend high alcohol prices, corresponding with alcohol percentage so that stronger drinks cost the most per unit of alcohol, as a key tactic for fighting alcohol abuse. Faced with high prices, addicted drinkers will often switch to cheaper and usually lower-alcohol products like beer, which is a way of reducing harm.
The Canadian Institutes of Health Research recommends maintaining government controls over liquor marketing and places Nova Scotia, with its strong controls, among the best provinces at alcohol-harm prevention. PEI, which has kept liquor prices steady since 2006, and Newfoundland and Labrador are among the worst performers, with New Brunswick being average, at least before it recently opened discount beer stores and allowed wine in grocery stores.
Generally, liquor commissions are happy to oblige, marking up wholesale prices by double or even triple digits, charging nearly twice the price for equivalent bottles of wine sold in US Costco stores, for example. Unsurprisingly, consumers complain about being gouged, especially considering the triple-digit salaries of some commission executives. But to Stutz's dismay, Canadian wine, beer and spirit drinkers don't rebel. After all, we do have some pretty fancy liquor stores, courtesy of the revenues of our provincial liquor monopolies.
What if it's possible to create a liquor distribution and retail system that doesn't penalize local craft producers? Could such a rethinking of our liquor laws allow local breweries, wineries and distilleries to sell their lovingly crafted wares in other provinces? While at the same time protecting those vulnerable to alcohol abuse? Might it be possible to maintain or even increase government revenue in the process?
Stutz's vision is far-reaching. "We need a completely open domestic market," he says. He'd like to see alcohol legislated and regulated federally, as in most European countries.
Scott Brison, the MP for Kings-Hants, Nova Scotia has in the past advocated for an Atlantic Canadian regional liquor management system. In 2014 he told Atlantic Business Magazine that he would like to extend the regional model of gaming control (the Atlantic Lottery Corporation) to many other areas, including healthcare and liquor sales. However, he declined an opportunity to comment on this story.
An open retail market, regulated but not run by government, is not unprecedented in this country. One first thinks of Quebec as operating a more open market. British Columbia and Manitoba have both provincially-owned and private liquor stores. Saskatchewan does the same in addition to licensing separate rural franchises. Newfoundland and Labrador has beer available in some convenience stores and New Brunswick has both beer and liquor available in convenience stores in smaller communities.
Since 1993 Alberta has been the only province selling wine, beer and spirits in private stores. According to a 2015 report from the Chief Public Health office, the percentage of Albertans who drink alcohol is lower than the Canadian average, lower than that of Prince Edward Island and Nova Scotia and higher than in New Brunswick and Newfoundland and Labrador.
Yet those Albertans who drink, drink more. Its total consumption per capita is the second highest in Canada (well behind Quebec), as is its rate of "risky drinking" for long-term impacts, after Newfoundland and Labrador. Its short-term high-risk drinking rate is high as well, along with New Brunswick and Nova Scotia. Newfoundlanders again lead the pack for this kind of problematic drinking. Due to high prices, they also spend the most money on booze.
For non-problem drinkers, Alberta is a veritable utopia, with more than 1,000 liquor stores—a six-fold increase since privatization, creating a three-fold increase in the number of liquor-retail jobs—and nearly eight times as many products available as in most other provinces.
The impact on provincial coffers is perhaps most interesting. Since privatization, government revenue (still in the form of taxes and markups set by the provincial government) has increased by 15 per cent in real terms.
Thinking Bigger
There is an apparent discord between entrepreneurial producers advocating a more open liquor market and professional researchers concerned with public health. The latter champion high prices and limited distribution as two key tactics for reducing alcohol's harm. The rates of consumption, and more importantly short and long-term risky consumption, muddies the waters of any relationship with government liquor control. Heavily controlled provinces with high liquor prices, like those in our region, can—and often do—have high rates of problem drinking.
So, is there some common ground? Stutz craves a federally regulated system. Many public health advocacy groups focused on alcohol organize themselves nationally to get proper perspective on drinking behaviour and policy. Yet we have no federal, or even regional, strategy considering the extensive data and multiple perspectives on alcohol production and consumption.
We continue to function much as we have since prohibition, with tweaks and minimal liberalizations but no carefully considered direction.
Recent developments indicate that the liberalization of our liquor markets has already begun on a rather ad hoc basis. Nova Scotia recently cut its markup on craft beer in half. A decision due from the Nova Scotia courts may eliminate the markup altogether.
And, thanks to New Brunswicker Gerald Comeau, the Supreme Court of Canada may soon overrule a 97-year-old ban on bringing alcohol across provincial borders and throw the liquor commissions' level of control—the ability to impose markups on out-of-province liquor—into question, which will likely spur a chaotic period of adjustment to the new rules.
Given the absurdity of that archaic law—restricting trade within a sovereign nation—and given its very basis on prohibition, perhaps it's high time for an overhaul. Alberta has shown that government revenue needn't even suffer. It is in fact possible that governments could increase revenue using licensing systems for wholesaling and retailing, with regular renewal periods.
However it looks in the end, modernizing liquor laws, making them more rational, is a complex process. But doing so could benefit local brewers, winemakers, distilleries and consumers. It might even serve as an opportunity to improve our strategies for curbing problem drinking.
Seems worth sober second thought.