St. Jacques, NB
Winters in Edmundston and surrounding area are well-known to be long and challenging, especially for businesses. Le Patrimoine was originally established in 1990 when the local golf course in St. Jacques (now part of the city of Edmundston, but retaining its name) was challenged to find a way to sustain itself. With some creative thinking, the golf course clubhouse was re-invented and turned into a restaurant featuring a wood-fired pizza oven. The restaurant became well-known for its warm ambience and delicious pizzas; however, the golf course closed its doors in 2004.
In 2011 local entrepreneurs Sylvain and Brigette Cyr came into the picture. With plenty of experience in the hotel and restaurant business in and around the Edmundston area, they were the perfect team to rebuild and restart the restaurant portion of the business.
The Cyrs quickly recognized that the wood-fired pizza oven was the heart of the business, and built the restaurant around it. Today they offer 22 pies; all made on homemade dough (your choice of white or whole wheat) and with a gluten-free option available. All varieties are topped with homemade sauces; and if you aren't a huge fan of pizzas, there are also soup and salad options available. The Patrimoine salad vinaigrette is a local favourite and is available to purchase by the bottle.With so many pizza choices it's hard to narrow down the list to a favourite but I would highly recommend the Italian; it's topped with fresh local sausage from Boucherie L. Ouellette, along with pepperoni, onions, green peppers, and mushrooms. My second vote would be for the Mediterranean with artichokes, sundried tomatoes, red onion, Kalamata olives, feta and mozzarella cheeses. There are also seafood pizzas, donair pizzas and a pulled-pork pizza.
Still unsure of which to choose? You can always select their half and half, which allows you to choose two individual pizzas on one 12-inch crust. This is a great way to try a new flavour combination while also having an old favourite. Perhaps you want to try two completely new-to-you pizza combinations. Whatever the case, you won't be disappointed.
Le Patrimoine also offers a very nice selection of beers and wines to accompany your meal. There are a number of international choices, and as well as local beer and wine choices from each category.
The restaurant has many devoted fans—it's where the locals love to eat—from all around the region and beyond. Some people travelling through the Edmundston area on business or vacationing from elsewhere make Le Patrimoine a must-stop on their road trips.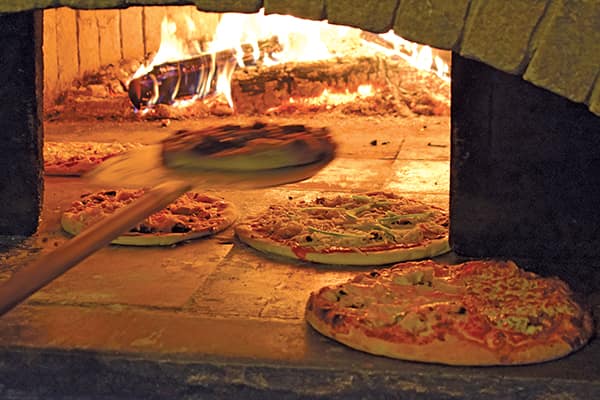 Le Patrimoine is at 15 Rivière-à-la-truite in St-Jacques, NB. Tel: 506-735-6041 and their email is This email address is being protected from spambots. You need JavaScript enabled to view it.
Hours of operation are Wednesday through Sunday for dinner only, beginning at 4pm. Take away is available. Reservations are recommended.