Take the mystery (and terror) out of preparing for your nuptials
An East Coast Wedding Planner
by Elegant Productions and Elegant Paper Company
Nimbus Publishing. $49.95
Weddings seem to be particularly magical here on Canada's East Coast. They also tend to be complex events with seemingly endless details to be sorted out before the big day arrives. For those who have popped the question and are now wondering, "What's next?" this is the book for you. Part organizer, part memory book, and completely beautiful, An East Coast Wedding Planner helps take the mystery out of preparing for your nuptials.
Three women have combined their talents to create this lovely book. Katelyn Bellefontaine has been a wedding planner since 2011 and is the brains behind Elegant Productions Planning and Design. Lisa MacPherson is a design consultant for wedding stationary and is developing her own company in modern calligraphy. Rebecca Dimock is a graphic designer who also creates greeting cards through her Paper Chain Stationery business.
In the introduction, there is a delightful and amusing page that could have been inspired by Michael de Adder's books of cartoons, You might be from [province, Canada] if... The East Coast couple, "Ends every party with a delicious donair"; "Understands the meaning of being both piped-and screeched-in"; "Isn't fazed by the weather and an 80 per cent chance of rain…." That last point is truly vital because as we all know, even a warm and sunny midsummer day can abruptly change to rain, fog and drizzle. Humourous this page might be, but it also helps the reader to relax and realize that she or he is planning a very special day and it's supposed to be all about love and joy.
Being a wedding planner, the book is packed with lists, which are filled with helpful "to-dos" from the date of engagement to the wedding day. Best of all, the lists are broken out by month, so that you can make a plan for up to a year before your wedding. Among the first things to do? Set a budget and book a wedding planner or get a friend or family member to help with all the details.
There are a LOT of details to research and decide on. Where will you be married? Where will the reception be, and who will cater it? Who will be in the wedding party? Do you have a theme for your marriage activities? Will you have a wedding website? (This last was news to me, as are many of the questions or to-dos on the master lists.)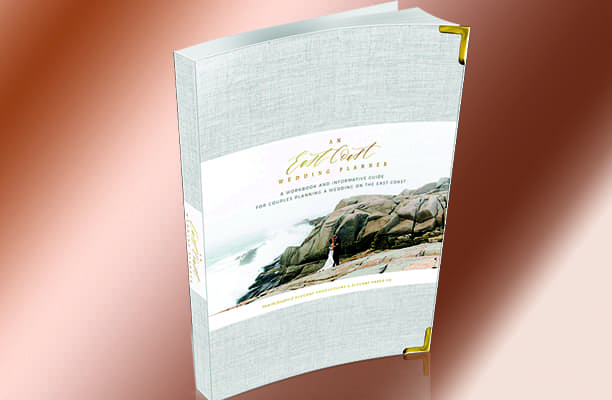 The wedding planner isn't merely a book of lists. It's meant to be completely personalized and kept forever, and includes a section on how the happy couple met and what their favourite things are—music, food, colour, book, and so on. There are gorgeous pictures throughout of happy couples in their "just married" glow, decorating ideas, and so many useful tips on everything from determining the guest list to how to choose a wedding photographer or videographer to selecting caterers and discussions about budgets to pay for the event. It's especially pleasing to see a number of East Coast professionals—caterers, DJ services, photographers, floral designers and more—offering expert advice on their particular specialty throughout the planner.
Which leads us to an important part of this book's honesty: budgets. Weddings can be hugely expensive with unexpected expenses—if you're at an outdoor venue, will you have to rent portable washrooms, for example?—and since money and budgets can be a big bone of contention in a marriage, better to plan way ahead than to be arguing about expenses on your honeymoon.
Helpfully, the authors also offer suggested ways to cut costs, which can help make your nuptials even happier for you—and your bank account.