Kitchen Door Catering
Patty Howard was born in Saint John, NB and grew up in the community of Westfield. She didn't really discover cooking until her late teens, when she had taken some time off from studying in university. She was living in Halifax at the time and fell in love with a cooking show on PBS featuring Caprial Pence, an award-winning chef from Seattle. Patty would watch the episodes then replicate the recipes for family and friends. She went on to obtain a degree from Johnson & Wales University in Rhode Island before apprenticing at Wolfgang Puck's restaurant Spago in Los Angeles.
Six years ago Patty opened her own business, Kitchen Door Catering, focusing on one simple idea: to create delicious meals using fresh local ingredients, making them available as fresh and frozen, chef-crafted convenience food. Today, Patty is out of the kitchen and in the office, where she oversees Kitchen Door's Bedford operations, which employs more than 30 parttime and fulltime staff. She lives in Bedford with her husband Ted and their two children, James and Kathleen.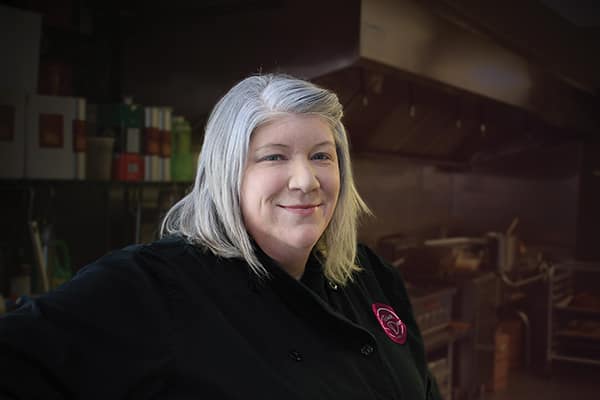 Q What is your favourite meal?
A I absolutely love Indian cuisine so my favourite meal would definitely include deeply flavoured curries, crispy samosas with tamarind, fluffy biryani with saffron and beautiful naan bread—enjoyed with family and friends, of course!
Q Who do you look up to?
A That is a tough one really—so many people in my life. From a chef perspective, I have great respect for one of my first chefs out of culinary school. Chef Francois Kwaku-Dongo was the executive chef at Spago and hired me on after my term. He taught me so much: kitchen management, banquets, off-site catering, restaurant line cooking. Plus he was such a creative genius and had such a passion for cooking; he loved that food could make people so happy. He came to the US from the Ivory Coast—worked as a cab driver, studied linguistics and started as a dishwasher.

From a business perspective, I really look up to my aunt and uncle Maureen and Lynde Harding. They ran a successful business and have helped guide me through all the stages of growth and supported me through the challenging parts of owning and running Kitchen Door Catering. Even today, in their retirement, they come in and help when we need it—whether scooping cookies or doing dishes—they show up and support the team.
Q What accomplishment are you most proud of?
A All small business owners know how tough it is to start and sustain a business. Read any of the statistics and many businesses fail within the first five years. The food industry has even higher rates of failure. I am most proud that Kitchen Door made it through to the five-year mark and has continued to have really great growth year over year. I am proud that my little vision of Kitchen Door has morphed into this fun, profitable small business, with a really terrific team and [having] a solid vision for the future!
Q What kitchen tools can you not live without?
A A sharp, good quality chef's knife and a really good blender.
Q What is your favourite ingredient to work with?
A I really love celeriac; people are always surprised at how delicious it is, a mild celery flavour and a great starch alternative. I usually just simmer it in salted water or vegetable stock and mash it with butter and salt and pepper. It is so simple and tasty.
Q What is your favourite style of cooking?
A We have a wood-fired pizza oven—I love cooking with wood—we do amazing pizzas in it but I also did one of my signature dishes, lemon roasted chicken in the oven and it was so freaking good! The skin was perfectly crisp; I love cooking over an open wood-flame, plus you can add wood chips for a lovely hint of smoke.
Q Do you have any cooking tips you could share with us?
A Biggest skill that will change your daily cooking and impact your finished dishes is seasoning. Season in layers and in small amounts: you can always add more but you can never take it out. Taste and season.
Q Do you have a favorite cookbook?
A I love a good cookbook! I read cookbooks like people read a good book; with a glass of wine for hours. When I first started Kitchen Door, my husband gave me The French Laundry and Bouchon. He reached out to Thomas Keller who kindly penned a personal letter to me, so those books are special to me. I also love The Dirty Apron Cookbook [by David Robertson].
Q What foods do you eat "in secret"?
A I don't really have "secret" foods, but I love toast: a great sourdough with butter or a hearty grain bread with butter. Plus Saltine crackers with peanut butter.
Q What makes you tick?
A I have discovered over the years that I really like business. I love figuring out all the pieces, creating business models and tweaking all the pieces for the best outcome.
Q What do you like to do when not in the kitchen?
A To be truthful, I am very much "out of the kitchen" now at Kitchen Door. I started the company soon after the birth of my son James and then expanded again with the birth of my daughter Kathleen two years later. In the beginning, I wore all the hats: chef, delivery driver, dishwasher, and sales, so as I added new team members, I had to make the decision to work more on the management/sales side of things versus being a "working chef" in the kitchen. I was lucky to have great culinary staff who understood my vision.

I spend most of my time outside of work with my family, thrifting for vintage furniture, painting/renovating at home and visiting family and friends.
Q If you could cook for any three people, who would they be?
A Julia Child: She was such an authentic, honest person. I loved her whimsy and humour.

Chef Francois: It has been many years since we worked together and I would love to cook and share and talk about our lives now.

My grandmother Rose: She was the only grandparent who was still alive in my lifetime. My family moved in with her during her last few years when I was testing my skills and trying new recipes. One night, I brought her dinner, Pasta Carbonara; pasta was not something that she would have ever made as a meal. I later found out she called my aunt and told her that I had made her a giant plate of stewed celery! She couldn't believe it—despite assurances from my aunt that it was not likely stewed celery, she was convinced! I think a re-do would be in order.
Q What is the most embarrassing thing that has ever happened to you in the kitchen?
A This story is from before my culinary days. Way back when I was 14, I was working as a server at the local golf course one summer. The head cook asked me to go downstairs and get a giant frozen turkey out of the freezer and bring it to the kitchen. The staircase was just off the dining room and I retrieved the turkey, got all the way up to the top of the stairs, and the turkey slipped out of my hands and crashed down the stairs. It was shockingly loud! All the guests in the dining room and the staff came running, to find me frantically trying to stop the giant, crashing, frozen turkey. I was mortified but everyone had a good laugh.