Great dishes are made with this versatile, inexpensive veggie
A lot happens in 10 years. Our family has seen children grow and move on; we've built our dream home; we've watched Winston go from an eager young pup to a grey haired senior. I have traveled the world and written many articles for this wonderful magazine that we've all come to love for its unique ability to unite us all and bring us back home.
Ten years ago I was given the honour of taking over as Saltscapes food editor, and had very large shoes to fill. Following in the footsteps of the fabulous Marie Nightingale was daunting to say the least, but in true Marie fashion she welcomed me into the position with open arms and even penned a lovely introduction that appeared in the magazine and hangs on my office wall to this day.
A lot has changed in 10 years. We've seen many food trends come and go, we've experienced many "super foods" emerge, we've seen foods go from the "never eat" column to the "we think this food is great" column; and in some cases return back to the former. As food editor, I've always tried to focus on food that was not just nutritious and delicious but on foods that could be traced back to the source. "Know your farmer, know your food" has been my motto from day one, and the opportunity to work with Saltscapes has connected me with many producers, processors, farmers and fishers over the years.
How lucky we all are to live in this region where food is nurtured and respected. Go to any farmers market in any of the Atlantic provinces and marvel at our farmers: these passionate people care about the earth, they care about what they're growing and they truly care about what they are putting on our plates. It's never been more exciting to write about food than it is today. So much has happened in ten years.
My very first story for Saltscapes was about onions. Is any vegetable more humble than an onion? It doesn't matter if you've graduated from a culinary institute or you are a college student with a hot plate and an almost non-existent food budget, every great dish starts with a 39-cent onion.
Over the years I've had the pleasure of working with Country Magic in the Annapolis Valley. They are Atlantic Canada's largest onion producer and each year they harvest approximately 15 million pounds of yellow onions and another half million pounds of red onions. There are also two experimental varieties being grown; Spanish and white. The farm has three independent harvests each year—early-, mid- and late season; staggering the crops in this manner ensures a steady supply of onions in stores throughout the year. Country Magic onions can be found in major retailers throughout and Atlantic Canada and are easily recognizable by their jaunty green and blue tag.
Some of my favourite recipes over the years have focused heavily on onions, and in honour of 10 years of breaking bread with you all via this column, I would like to revisit a few of them with you. Onions are a vegetable that I just can't do without. Some things don't change much in 10 years.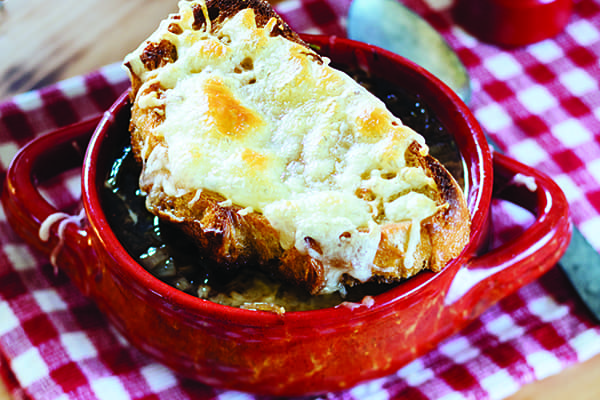 Recipes