Encouraging your children to embrace good food
It's a well-known fact; a child's eating habits are the building blocks to growth and development. These habits also set the framework to their health and habits into adulthood. After all, many chronic diseases do not just start in adulthood. A child needs many important nutrients and fruits and vegetables provide a large component of those needs. In fact, fruit and vegetables should make up the majority of the foods we eat but despite this, adults and children alike are falling short. According to the Heart and Stroke Foundation, 70 per cent of children ages four to eight are eating fewer than five servings a day. A study in 2016 found that 90 per cent of kids in grade 6-12 are not meeting their recommended needs. Inadequate vegetable and fruit intake is associated with increased risk of disease including heart disease, stroke, cancers, diabetes and obesity. Most recent stats show that 31 per cent of Canadian children and youth are overweight or obese.
The issue of poor eating habits is based on many factors including affordability, convenience, availability, upbringing and other issues, including the picky eater. If your child is constantly turning his or her nose up to fruits and veggies, it can make for unpleasant and frustrating mealtimes. There are tricks and tips that may improve your child's eating habits and decrease the pressure on you as parent.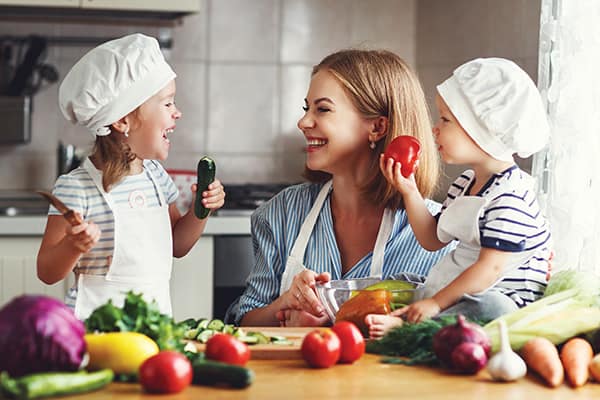 Minimize the power struggle.
Young or old, no one likes to be told what to do, including what to eat. Give kids a few healthy choices at meals and snacks. Acknowledge the division of roles: as a parent your role is to decide when, where and what foods to serve, your child's role is to decide if they will eat and how much. Avoid guilting like the classic line "there are starving children in the world," bribing with desserts or being excused from the table. These create negative associations with foods and children lose touch with their natural fullness/hunger cues.
Avoid operating like a restaurant.
Many of us can relate to family meals that consisted of one option, whether you liked it or not. Somewhere along the way, adults' and children's meals have become two very distinct categories. Parents have taken on the role of short-order cook, and restaurants add to this with the kids menu, mostly offering deep-fried, highly processed foods with few vegetables and fruit. Children should be eating smaller portions of 'adult' meals. Allow 15-30 minutes at the table and if they refuse to eat, take it away without a fuss and save it for later; they must wait until the next meal or snack to eat again. They will not starve if they miss a meal. They'll be hungry and more open to trying new foods. At restaurants, children should order off the regular menu; inquire about lunch size portions and pricing, or share your entrée with an extra side.
Try, Try and Try again.
A child's developing palate is similar to learning to read. It requires constant practice, and little by little their reading skill develops, including those trickier words and sounds. Likewise, some foods require ongoing practice and exposure to develop appeal. It can take up to 20 exposures to the same food before a child will accept it. Provide a variety at all meals, including smaller portions of foods they like, along with new items. Try mixing new foods with flavours they enjoy; for instance, add zucchini to spaghetti sauce, and fresh fruit in their yogurt. Spruce up the flavour of veggies by adding dips such as hummus, salad dressings, nut butters, salsa, yogurt.
Do take caution in sneaking veggies into their foods. If your child discovers that you're doing this, it may result in ongoing suspicion and unwillingness to try new foods. If you can pull off the puréed cauliflower in mac and cheese or spinach in a smoothie, great; but keep exposing them to fruits and vegetables in their whole form so they learn to appreciate the texture, appearance and variety.
From farm, garden, store to the table.
Involve your child every step of the way. Review the produce section of flyers and have them circle the items they want; make a list and go shopping. Take it a step further and plan your meals for the week. This will save money and help build a solid foundation to budgeting, meal planning and learning about a variety of healthy foods.
Teach them where food comes from. Plan a trip to a farm, take them to the farmers market or involve them in growing a garden or herbs on a windowsill. Order weekly local produce boxes; it's exciting to discover what's inside.
The lost art of cooking.
Families are spending less time in the kitchen and relying more on processed foods. One study showed that 30 per cent of college students do not know how to boil an egg. It may not be realistic to cook all meals from scratch, but try to schedule in some time to prepare meals throughout the week. Simple ideas include making an omelet, yogurt and fruit parfait, tuna melts or sandwich with veggies. Involve your child in measuring, mixing, pouring, chopping. There's benefit to simple tasks like putting baby carrots on their plate. Research has shown that children who help in the kitchen have an overall healthier diet with a higher consumption and variety of fruit and vegetables than those who do not cook. It not only teaches important kitchen skills but also encourages conversation around food while providing a sense of ownership for the meal. They'll be more likely to eat it, too.
Mom and Dad, eat your veggies, too!
Children watch and mirror your every move. If you're not eating what's served, why should they? Healthy eating has to be taken on by the entire family. Get back to the basics by making meals about eating together at the table, turn off distractions, savour your food and talk about your day.
Structure and routine.
Establish set meal and snack times, typically three meals with two or three snacks. Only water should be provided between meals (that excludes juice and milk). Kids' tummies are small and constant grazing can lead to poor appetite at meals, especially when encouraging new foods. Provide consistency and variety with fruits and vegetables making up the majority of foods you offer. Incorporate two food groups per snack and three to four food groups at meals. Your child will get the variety of nutrients they need and learn to expect fruit and vegetables as a snack and at meals. But don't expect your child's eating to be consistent. It will likely vary from day-to-day, even meal-to-meal depending on mood, growth spurt, activity level, and how much they ate at previous meals.
Who chooses broccoli when you can have fries?
If given the choice, children are going to opt for foods based on taste. The more our taste buds are exposed to sugary, fatty and salty foods, the more accustomed they become to those flavours. These foods also trigger feel-good chemical reactions, further enforcing our desire to want more. Fruits and vegetables unfortunately don't trigger the same reaction. Luckily we can re-train those taste buds and decrease cravings. Don't go cold turkey, start by slowly swapping out for healthier options.
Avoid labeling foods as 'the good, the bad and the ugly.'
Encourage food in a non-judgmental way that includes fruits, vegetables and sweets alike. Junk-food shaming can lead to skewed perception of foods. All foods can fit into a well-balanced diet. Talk about the purpose of foods, including the ones we should eat regularly as opposed to those we eat less often. Discuss their role in relation to nutrition, pleasure and in social and traditional settings. Explain some foods taste better than others but it's important to give all foods a try.
Tricky marketing.
A company's objective is to sell their products. Be wary of health claims such as 'natural' or 'contains fruit and vegetables.' A loaf of 'vegetable' bread provides the equivalent of one carrot per entire loaf. Fruit snacks made with real veggie and fruit juice contain sugar as the first two ingredients. Even all-natural, 100 per cent fruit juices will contain 28g/7tsp of sugar per cup. Always check the nutrition label and ingredient list for amounts of those sneaky additives.
Improving a child's eating habits can be a daunting process for exhausted parents. Keep in mind that it's not expected that you're perfect all the time, but hopefully some of these tips will make the task a bit easier for everyone—and healthier too. If your child continues to struggle with their eating habits or you sense there's a deeper issue, it's important to talk to your doctor about it.
Maureen Tilley, PDt. is a registered Dietitian and Author of Hold the Salt! & Hold that Hidden Salt!