MANY OF US have felt the stress of planning a dinner party for four or six friends. But how about multiplying the guest list by 100 or 200? What would the stress level be then?
At least one man I know does it all the time and more often than not, keeps his cool.
Christophe Luzeux, executive chef at the World Trade and Convention Centre, in Halifax, loves the challenge of feeding several hundred people at a time. He spends hours planning the perfect meal-his reputation, earned through years of culinary training and competition, hangs on it.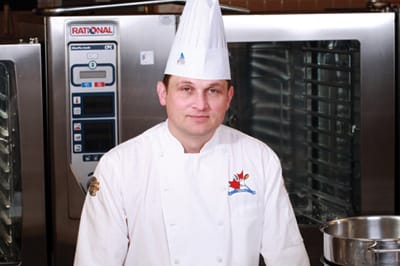 Menus must be planned sometimes up to a year in advance. After the meals are sampled by representatives of the host group, discussions and suggestions fly back and forth between chef and host, with consideration given to budget and culinary match-ups.
At the end of March, this culinary Olympic Gold Medal winner is serving 1,400 or so people at an event hosted by the David Foster Foundation. A fundraiser for the foundation, which provides financial support for Canadian children needing organ transplants, the gala will command a high price, but Christophe is up to the challenge. The group will have high expectations of something far from traditional, yet seafood will be at least one option, true to the Atlantic Canadian setting.
So what's the difference between a Christophe dinner and one I might serve to my friends? Well first, I won't need 15 cooks, nor do I have the creative juices to envision a trilogy of milk-fed veal or a pistachio risotto.
And then, there's the matter of pride. This man, who has cooked for Prince Philip, the leaders of seven of the world's largest industrial nations, and thousands of conventioneers, wants any meal he creates to be the best. And when he reveals his menu for the David Foster Foundation dinner, which is kept under wraps until the big night, it just might be.
Born and raised in Lille, northern France, Christophe started his culinary education at the age of 16, earning certification in both classic and hotel cuisine. Following five years of seasonal work in three Michelin star restaurants in the French Riviera and the Swiss Alps, the chef answered an ad in a French publication that brought him to the Digby Pines for the summer of 1988. A year later he returned to Nova Scotia to take up a position at the WTCC and has been there ever since, becoming executive chef in 1992.
In 1998 he was chosen the Nova Scotia Chef of the Year and in 2002 the Nova Scotia Culinarian of the Year, two accolades of which he is very proud.
Is he happy? Yes.
"I can grow here. I have great support from management and from my staff, and I can express my skills," he says, giving one of his rare, charming smiles.
Those skills have been honed during several competitions where he is no stranger to gold and silver medals on provincial, national, and international levels-all steps on the way to the 2004 Olympics in Erfurt, Germany, as a member of the gold medal-winning Culinary Team Canada.
His induction into the Gold Medal Plates Hall of Fame last October was just another notch in his whisk.
A Canadian citizen since 1994, Christophe and his new bride, Melanie Cameron, a dental hygienist from Tatamagouche, NS, are happily settled in their suburban home near Halifax. So who cooks? Usually, it's Melanie, except when company comes for dinner; then Christophe takes over.
Can you blame him if he shows off a bit?