Atlantic Canadians showed their true colours in the best possible way when a devastating crisis hit the beef industry early this summer - we ate beef; and we are also showing our support of Atlantic beef producers in other innovative ways.
One supportive event was held on a beautiful sunny day in August when an impressive crowd turned out for "The Great Island Beef Barbecue" on the expansive grounds of the Culinary Institute in Charlottetown. Island celebrities teamed up with beef producers to wield their tongs and knives as they dished out samples of the delicious barbecued beef prepared for the hungry masses. The amateur chefs were ably assisted by students of the Culinary Institute.

Among the celebrity cooks were Premier Pat Binns, Agriculture Minister Mitch Murphy, fiddler Richard Wood, Guardian news journalist and song writer/performer Steve Sharratt, and radio host Anne MacRae. Also in the celebrity mix were Liam Dolan, owner-chef of The Claddagh Room, and special guest Anita Stewart, of Elora, Ontario, culinary activist and founder of Cuisine Canada.

Another celebrity, Island native Doug MacLean, NHL coach of the Columbus Bluejackets, was my barbecuing partner. Along with culinary student Shawn Taylor, we did a pretty good job of preparing Blue Cheese Medallions (which, appropriately, was Gordie Howe's favourite recipe). The Medallions are a new cut designed to merchandise larger carcasses. Ours were a little larger than a hockey puck, and a great deal more tender.

Although the American border has opened to certain cuts, the need for support of Canada's beef industry continues. It is for this reason that I have given my menu over to beef for the Holidays. There is no more festive entree than Prime Rib au Jus, and this year might be a good time to break tradition and turn to beef for one of the holiday feasts.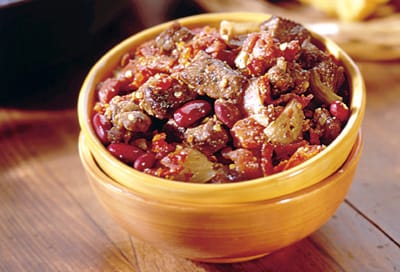 For those busy days leading up to Christmas, it will be comforting to know that a basic meat loaf, when embellished with a pepper jelly glaze, can be proudly served to house guests and family alike. Nor does it take long to put a pot roast into the oven to slowly simmer while you're busy with your decorating or other seasonal tasks. And who wouldn't appreciate a delicious chunky chili that can be prepared in less than an hour when you arrive home late after a day of shopping? The chili works well with ground beef, too.

For entertaining, bring meatballs back. They've never lost their popularity as an appetizer. You can make several batches ahead, if you wish, and store them in the freezer for thawing and reheating in the microwave, or wrapped in foil in the conventional oven.

For something different, we turn to the Quebec favourite of Raclette (pronounced rah-clet). While the traditional raclette was a type of cheese fondue that originated in Switzerland, a Quebec beef producer improvised with his favorite meat and made a delightful dish that's fun for entertaining.

Instead of the appliance that gives the dish its name, we use a non-stick skillet to achieve the same results. Mushrooms, sweet pepper strips and tiny boiled potatoes can be sautéed in a second skillet in the herbed butter to accompany the beef. Melted Camembert or other soft cheeses and Dijon-flavoured mayonnaise can be used as dips. It's fun. And it's beef.

Just make sure it's Atlantic or Canadian beef.
Recipes featured in this article: