Well, if you're game for a wild dining experience, you may learn from gracious hosts who annually host formal wild game dinners for a select circle of friends-including one couple who eat no meat other than game all year.

Wild game dinners are cropping up in the best places these days, for those who appreciate natural, chemical-free, low-fat, low-cholesterol table fare.
The wild game dinner hosted mid-winter by Ben and Joanne McCrea of Halifax for the past 10 years started with just a few close friends, but the guest list has grown steadily to more than 40. Fortunately, Mr. McCrea (an accomplished outdoorsman, committed wildlife conservationist, and no mean cook himself) can call upon the able assistance of one of his employees, Vince Snyder, Executive Chef at the Ramada Plaza Hotel, Dartmouth. After 10 years of cooking game, Vince says he has learned a lot and is still learning.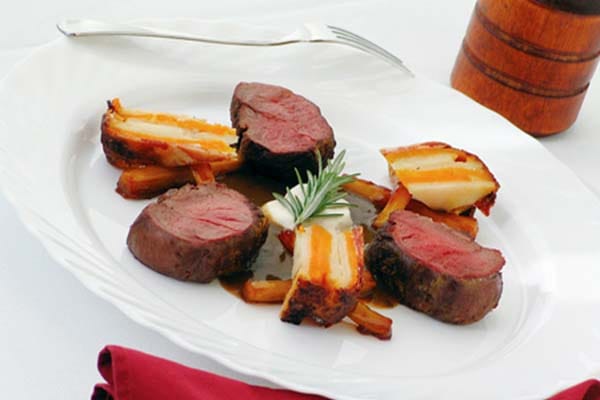 "I have found that the key to lean game cooking is larding; something we've almost forgotten about," he says. "We had a bucket of salt pork fat on hand and I decided to try it with a moose roast. We butterfly open the roast, cut salt fat pork into a long strip, about a quarter of an inch thick, laid it in the centre of the meat, rolled it up, laid thin slices of fat pork over the top and tied it together with butcher knots. After roasting it to medium-rare-not well-done or it will be tough-it was absolutely incredible," he says.

A group of a dozen or so is invited to the annual game dinner at the home of Orren Carey and his wife Linda Wood-Carey of Avonport, NS, who share the bounty of the rivers, fields, and forests with friends lucky enough to get the nod.

"We begin our meal with a thick caribou-barley-vegetable soup with a tomato salsa sauce base with potatoes, carrots, onions, and pasta," the menu reads, identifying the caribou as being from the migrating George River herd in northern Quebec. The soup is sometimes served with squash biscuits.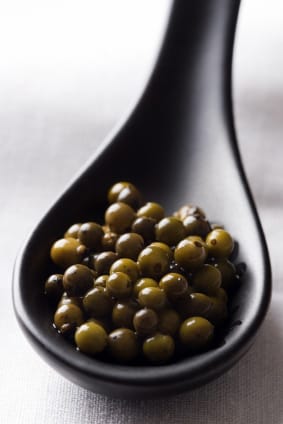 Other items on this menu of "Simple Abundance" include:
Baked Newfoundland salmon "seasoned with freshly frozen dill from Linda's herb garden;"
Baked Labrador lake trout, seasoned with freshly frozen lemon basil from the same herb garden;
Hasenpfeffer-(featuring Cape Breton hare), stuffed caribou heart (filled with Orren's potato-breadcrumb stuffing, and basted in wine);
Roasted black ducks -(it's the special preparation that removes the marshy flavour);
Epicurean venison-"strips of venison, browned, then simmered in three creamed sauces with white wine and our local wild mushrooms from our pasture";
Braised bear-pork patties;
Sweet-and-sour Highland moose meatballs;
Caribou roast in onions and wine-and "our own home grown veggies simmered in a barbecue and mustard sauce."
The meal was finished off with "pies from our own apples, or strawberry-raspberry tart from our patch."
Both dinners add, as entertainment, humorous hunting and fishing stories, true or otherwise, from hosts and guests (as the various wines take effect).

Although the 2004 McCrea wild game dinner menu (usually seven courses) hasn't yet been finalized, it is certain to start with a goose liver terrine, which, after marinating in a cup each of Pear Williams Flavour and port, incorporates some very pricey PEI goose liver mousse.

"It's one of the highlights of the dinner and it doesn't get any better than that," Chef Snyder says.

There will also be Roast Newfoundland or Cape Breton Moose a la Snyder, and Smoked Breast of Annapolis Valley Pheasant with Caramelized Valley Apple Wedges and Mahone Bay Raspberry Dressing.
Recipes featured in this article: