Gone are the times when entertaining friends at formal dinners and multi-nibbler cocktail parties took days of preparation and expense. Now folks are welcoming the casual mid-morning brunch, when food can be prepared ahead of time and reheated as guests walk through the door. This is life in the low-pressure lane-which we especially appreciate during the holidays, when everyone is ready to relax but still wants to enjoy the camaraderie of friends.
Preparation is easy with your loyal appliance, the freezer, humming away as it stores made-ahead foods that only need to be taken out and thawed overnight in the refrigerator before reheating. Planning the menu is important; this isn't the time for omelets, sausages, pancakes and toast-things that must be made at the last minute. With a little thought, the meal can still be festive, hearty and pleasing to any palate.

You can be fairly certain that your guests will arrive ravenous. If your brunch is set for 11 a.m., some will have skipped breakfast in anticipation of your culinary offerings. If it's set to start at noon, early risers will be ready for lunch, but late sleepers may be in limbo until they get a mug of hot coffee in their hand. A wise host plans for this. It may be necessary to borrow an extra coffee pot so you can have one ready to pour right away while the other waits to be turned on after everyone has finished eating.

If you're lucky enough to have a good-sized kitchen island or table, you can set out the food there so everyone can serve themselves. Remember, it's important for you to enjoy this party too. If things tend to be too crowded in the kitchen, use the dining room table and invite your guests to pick up a plate and move clockwise around the table, helping themselves to whatever they like. Of course, you'll have laid things out in order of pick-up: plates, entrées, salad and side dishes, forks and napkins. (Try to dispense with knives, since most of your guests will likely be eating from plates on their laps.)

A few seasonal decorations, lighted candles (unscented, in case some of your guests are sensitive to perfume), a small floral table centrepiece and colourful napkins (and for the record, there's nothing wrong with good-quality paper serviettes) are all you need to set the mood-but a little seasonal music in the background never hurts.

While the oven is finishing its job of reheating, you may want to start with a festive beverage; non-alcoholic is best because of the time of day (the sun is a long way from the yardarm). Even those who need coffee first will enjoy the colourful and refreshing Cranberry Orange Spritzer, which is especially nice served in wine goblets or champagne flutes.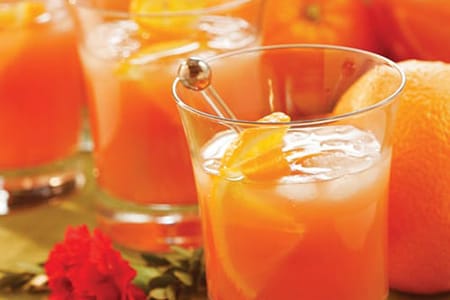 A hot egg dish, such as a quiche or strata, is always a good entrée choice, but I opted for a colourful Tomato, Green Onion and Ham Pie. It's easy to make, especially if you use frozen pie shells, preferably the deep-dish type. Make as many pies as needed (one pie will serve six). When baked and cooled, wrap the pie in foil and store it in the freezer until the night before it's needed, then thaw it in the refrigerator.

Your guests will love the Caramelized Bacon-and so will you, because you can cook it a couple of hours ahead and serve it at room temperature. The delightful aroma that may linger as guests arrive is a bonus. Don't skip the salad; it received rave reviews when 11 of my favourite tasters tested it. Much of it can be prepared ahead.

The dressing can be made a couple of days in advance, and the greens can be washed, dried and stored with a paper towel in a sealed plastic bag overnight. The oranges can be segmented and stored in a plastic bag. All of the salad ingredients should be refrigerated until needed.

Most of the fruit for the Festive Fruit Bowl also can be prepared a day ahead and stored separately in plastic containers. Only the bananas need to wait until the fruit bowl is finished and ready to serve for dessert. By the time the second pot of coffee is served, you'll be able to relax thoroughly-while, if luck will have it, someone else is loading the dishwasher.
Holiday Brunch Menu Recipes: