A sunny summer's day at the Fairmont Algonquin in St. Andrews, NB, isn't hard to take, especially when accompanied by the tall, handsome strawberry-blond Ryan Dunne, the hotel's talented executive chef. If anyone's looking for my job, I'm telling you now to back off. I'm having the time of my life.
In fact, a posse from Saltscapes enjoyed a week in southern New Brunswick last June, all of which was prompted by the judging of our 2006 Comfort Food Recipe Contest. While two of our group attended to business matters, others sampled the dishes that made it to the final judging. But it wasn't fast forward to the Algonquin. We stopped to experience and admire some of Saint John's popular dining spots, tour the market and get a close-up view-although still on dry land-of the Reversing Falls. On the road again, we tasted, tallied and rated "the best" fried clams and smoked salmon. We also spent time on Grand Manan, in Fundy National Park and along the southern tip of the Acadian Coastal Drive. And, a few in our group had been fly fishing on the Miramichi the weekend before-all part of a bigger plan to explore a few of the province's riches.

But back to the recipe contest judging: we arrived at the Algonquin in time to freshen up and sip on exotic cocktails before meeting the hotel's director of sales and marketing, Hélène Moberg, for dinner. The next day it was all business-as the stage was set for the final judging of this year's 343 entries. With Chef Dunne in charge, the seven main-course salads and seven apple desserts that made the final cut were brought in one at a time, and set before the three judges for tasting and rating. This was serious work and performed to the letter by Laura Calder, Paul Castle and Jim Crooks, all of Saint John.

Laura, who spends as much time in France as she does in Saint John, is the author of French Food at Home (HarperCollins, New York, 2003) and host of the new Food Network show by the same name. Paul is the popular host of CBC Radio's regional afternoon program Shift; Jim is co-owner of the Mahogany Manor Bed and Breakfast. All have a good acquaintance with and an appreciation for… food. The judging was blind; only code numbers identified who had submitted the recipes. Taste was an important criterion, backed by comfort appeal, creativity and ease of preparation. At times the judges looked a bit pensive, and we knew nostalgia was kicking in. Four hours after the first salad was tasted, we had seven winners. While an entourage had been separated from the judges' table during the evaluating process, they were permitted their opinions during the discussion that followed. All agreed with the winning entries but, given personal preferences, not necessarily in the ranking order. However the judges had the last word. "The dishes brought back a lot of childhood memories for me," said Paul. Jim agreed, saying that many had "a taste of home." "I love any recipe that uses local ingredients and makes them shine," added Laura.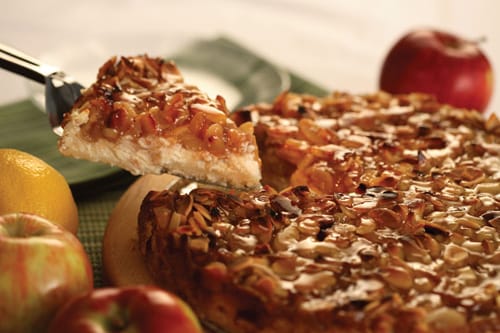 And now, you can test the judges' home theories for yourself.
Grand Prize: Tuna Pasta and Bean Salad
For Helena MacKinnon's husband, Doug, commuting from Hantsport, NS, to Halifax for his 10-hour shifts as a police officer made for a long day. Helena, a nurse, constantly looked for recipes that would provide hearty, nutritional lunches and suppers to take with him. One recipe, found several years ago in Canadian Living magazine, has become such a favourite with the couple that she decided to enter it in Saltscapes' 2006 Comfort Food Recipe Contest. It was the first time she'd ever entered a contest, but her Tuna Pasta and Bean Salad wowed the judges. Although Helena and Doug are both now retired and he no longer depends on packed meals, the salad keeps popping up on the table-they like it that much.

"It's quite garlicky and tastes even better the next day, " Helena says. That's a plus, since there are only two of them to enjoy the six to eight servings the recipe makes. Helena credits her mother, of Polish heritage, playing an inspirational role in her interest in good food.

Originally from Prince Edward Island, the couple has lived in Hantsport for the past 22 years. Until Helena's retirement she nursed at Hants Community Hospital, in Windsor, NS. Now, when she isn't "aqua-cising" in the swimming pool at Acadia University, in nearby Wolfville, or walking to stay fit, she will have more time to search out and test recipes for future contests.

Click here to view the recipe.

Main-Course Salad Category
First Prize: Leafy Artichoke and Salmon Salad
Growing up in Sydney Mines, NS, Marie MacPhee became solidly steeped in the cuppa tea tradition-heating the milk first, and pouring it into a warmed cup. It's the Cape Breton way, she says, sounding as if it's the only way to prepare a proper, refreshing cup of tea. "I always remember in Cape Breton, they would ask, 'What did you have for tea?' It could be just bread and tea, but you had to plan what to serve with tea," she says.

Having started cooking and baking the treats that go with that cup of tea early in life, today she has a curiosity about the food of other cultures, combined with a love of travel. Marie, a social worker who lives in Dartmouth, NS, with her mother, collects ethnic cookbooks and tries to speak to the cook wherever she eats in the countries she visits. "I did Mexico last year, the Cancun area, and found good ideas there," she says. "And I love the pumpkin soup of the Caribbean." While she enjoys trying new, exotic recipes, it's the homey, family-type meals that Marie cherishes most. "I love the kitchen thing. I find it soothing to sit down with family and friends and share good food." When she read about the annual Comfort Food Recipe Contest in Saltscapes Marie decided to enter the salad category and, keeping it simple, looked in the fridge to see what was there: some leftover salmon and potatoes. Adding to these a head of lettuce, a green pepper and a bunch of green onions, Marie was well on her way to winning first prize with her creation.

Click here to view the recipe.
Second Prize: Curried Cranberry Chicken Salad
Treva McNally, of Charlottetown, loves to cook, but she eases off somewhat in the summer. That's when she turns to substantial salads for the meals she prepares for her husband, Foch, and herself. So when she saw the main-course salad category announced in last year's recipe contest, she was ready to enter her favourite: Curried Cranberry Chicken Salad. It was a hit with the judges, as well as the others on the sidelines who sampled it. She says the recipe, clipped from a magazine, was possibly from a Craisins ad. "When I see a recipe I like, I cut it out and put it on a recipe card, so I have the recipes in their categories for when I want to try something new."

Although she hadn't noted which magazine or the date (a good idea for when sources are requested), her plan seems to be working. Last year she won first prize in the vegetable category with her Vegetable Pot Pie, a delicious recipe she found in Canadian Living magazine. And as soon as the categories are announced for this year's contest, she'll no doubt be looking through her recipes for another winner.

When we talked, Treva and her two grown daughters had just returned from a 10-day Mediterranean cruise that included visits to Barcelona, Turkey, Pompeii and Naples. Always on the lookout for meals that are different, she said there was a lot of good eating along the way. "We had an incredible meal in a family-style restaurant in Athens. The leg of goat was really good. And there was lots of good olive oil, everywhere," she said. Was it hard to return to down-home fare? Not as long as there are meals like her winning Curried Cranberry Chicken Salad.

Click here to view the recipe.
Third Prize: Lobster Salad
Margot Walker, a seventh-generation Quebecer, chose to retire on the East Coast after working for 25 years in management training. That was eight years ago, and although Margot misses the Montreal restaurants where she could enjoy her favourite dish of sweetbreads, she is happy to switch to the lobster she serves in her winning salad. "This is a comfort salad, mainly because it tastes so great," she says. But it also comes with memories of good times. "I have lived most of my life in Montreal, and the Windsor Hotel was the scene of many dances and wedding receptions in its beautiful ballroom. Sadly, the hotel closed in 1981."

But not before Margot managed to get the recipe for its famous salad dressing, which accompanied the Windsor's popular shrimp cocktail.

"Since I moved to Halifax in 1999, this salad has become the 'traditional' Christmas Eve dinner for my 87-year-old, Toronto-based mother and me," she says. That means packing a Mason jar of the dressing and a frozen can of knuckles and claws to take with her to Toronto, where she buys the remaining ingredients. Margot, who loves to cook everything from classic French, to Indian and Chinese cuisines, is always sure to have enough left-over lobster to make a pasta sauce to serve on Boxing Day. But it's Christmas Eve that steals the show.

"After seven of these dinners, I do not dare show up without the lobster salad. I think I'd be disinherited."

Click here to view the recipe.
Apple Dessert Category
First Prize: Apple Marmalade Pudding with Butterscotch Sauce
When Joyce Brodie, of Moncton, read that apple desserts would be one of the categories in the 2006 Comfort Food Recipe Contest, she knew she had to enter a recipe she has been making for years. She had never entered a recipe contest before, but felt sure she had a potential winner. And she did. Just as it had captured the taste buds of her family throughout the years, her Apple Marmalade Pudding with Butterscotch Sauce won first prize in its category. Not a bad beginning to what hopefully will be many future entries.

Married with four grown children and looking forward to the birth of her first grandchild in March, Joyce says her husband, Glen, an obstetrician, is a marmalade fan. And since the recipe serves a crowd, she often makes it for Sunday dinner when family members congregate.

"I got this recipe about 25 years ago from a newspaper supplement called The Star Weekly," she says. "It was originally submitted by Don Herron, but under his pseudonym Charlie Farquharson, who said it was 'farnishously fine'."

Although Joyce says she doesn't do as much baking as she did when the children were growing up, she still makes the dessert for the couple's trips to their camp, where she enjoys the outdoors and Glen likes to fish. While she loves to try new recipes, Joyce considers this to be "a keeper"-true comfort food.

Click here to view the recipe.
Second Prize: Russian Apple Charlotte
It was difficult to keep Sherry Conley focused on what went into her Russian Apple Charlotte dish. "Yes," she would say, "or you could use this, that, or whatever you have on hand." Obviously Sherry loves to get creative with recipes, changing them a bit here and there, seldom coming up with the same results. But we persisted in our discussion in order to share the recipe that the judges awarded second prize to in the apple dessert category.

I think we've got it. A wife, mother and grandmother who has lived all but three years of her life in Hants County, NS, Sherry loves to cook "anything and everything." But sometimes recipes get in her way. She's an innovator from the word go, and felt she had to do something about the bread pudding that she never liked while growing up. So, starting with the basics in a recipe found "among some loose family recipes that had once been a cookbook," she experimented, adding, subtracting and tamping as she went, modifying the dish believed to have been introduced to Czar Alexander by French chef Anton Careme.

"It's a glorified bread pudding," she says of her dessert. Sherry's husband, Jim, "a meat-and-potatoes man," runs a convenience store in Noel, and their two children, Mark and Angie, are both grown, married and, having picked up some of Sherry's traits, are good cooks, she says. Now she's working on the next generation, as she bakes with Melody, 11, and Douglas, 6. A chocolate dessert pizza was a recent endeavour-"the children just loved it."

Click here to view the recipe.
Third prize: Apple Kuchen
Robert Martel, of Grand Pre and West Arichat, NS, says he's an amateur baker, aiming for perfection in the recipes he develops. Limiting himself to desserts, he started working on "a winner" for the apple dessert category when he found out about it-and Apple Kuchen was the result. Living most of his time in Nova Scotia's Annapolis Valley puts him in close proximity to apples, so the category was a perfect fit. With an abundance of ricotta cheese in the fridge needing to be used and a bottle of apple jelly that his wife, Felicity, had made, he had everything he needed to put chemistry in motion. It took a couple of tries but after two so-called failures, he was ready for the tasters. A group of nurses who work at the Valley Regional Hospital, where he is an emergency room doctor, were his willing-and "very honest"-tasters. The seal of approval was bestowed, and the dessert was ready to place before the judges. With their two daughters, Sophie and Lise, grown and away from home, Bob and Felicity, who is also a doctor, like to entertain, usually at dinner parties of eight to 10 people. And once a year they prepare a buffet for 60 people. Last year Bob made 17 desserts and Felicity did the rest, including the breads. Bob's kitchen activities are not without a goal. He plans to develop and perfect 50 recipes to print off and give to friends. "The recipes have to be simple-can be made within 30 to 45 minutes-and shouldn't be too expensive," he says. He's been at it for five years and is two-thirds of the way there. Perfection, it is said, takes time.

Click here to view the recipe.