Potluck suppers conjure up images of community and familial gatherings that bring people together for a common goal or cause, meeting new people, and enjoying a wide variety of good food. A potluck is an informal, congenial social occasion, and everyone shares in the workload, an approach that's tailormade for today's busy lifestyle. Is it any wonder a potluck has such worldwide appeal?
With summer nearly upon us, and gatherings of friends and family to plan or attend, there may be no more perfect time to plan your own potluck. When hosting and organizing a potluck, consider a theme such as comfort food or international cuisine. Assign each guest a specific course, including appetizers, main and side dishes, and dessert. To prevent three crocks of brown beans, the eternal comfort food, ask guests to commit to a general category for their course or perhaps request their specialty dish. Dishes should be easy to transport: nobody wants seafood chowder on the back seat of the car. Keep in mind specific food preferences and dietary restrictions such as allergies.

All dishes should be prepared in advance and should be ready to be popped in the oven or microwave for reheating. Remember that the serving size of the dish need not be equal to the number of guests attending, since most people will want to try a small serving of a variety of dishes.

As the host, you should provide plates and bowls, flatware, glassware, serving dishes and utensils, napkins and linens, and condiments. You can also supply all beverages or provide non-alcoholic beverages and ask guests to bring something they would like to drink with their meal.

Over the years, my family of five siblings has expanded to 20. When we all get together, we range in age from 12 to 75, making family gatherings enjoyable and interesting as we share old memories and make new ones. We have found that with our wide age range, food preferences and busy schedules, a potluck works wonderfully for family gatherings. We have tried various potluck themes, but one of our favourites is centered around a roast of beef, pork, ham, chicken, or turkey. The host prepares the roast while the rest of the family provides the starters, side dishes, breads, and desserts. The following is a selection of our favourite recipes.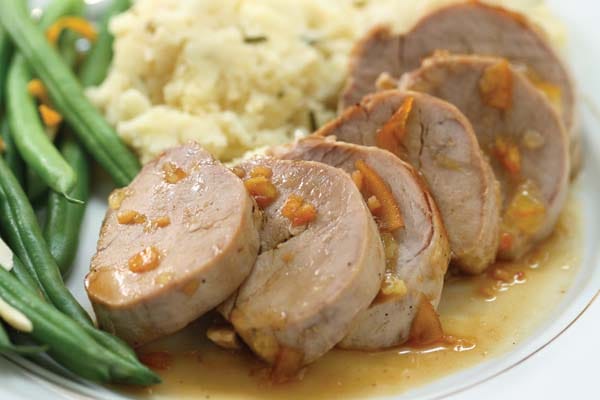 Recipes featured in this article: